Greek Debt Fears Pummel Wall Street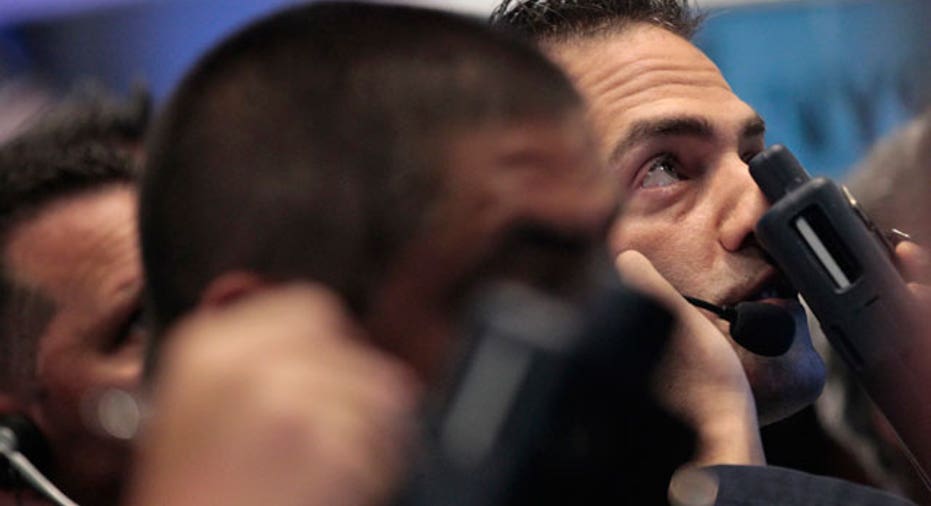 FOX Business: The Power to Prosper
Wall Street extended a deep global selloff on Monday, with the blue chips sustaining triple-digit losses, after worries over Europe's sovereign debt crisis once again weighed heavily on traders' confidence.
Today's Markets 
As of 9:32 a.m. ET, the Dow Jones Industrial Average slid 134 points, or 1.2%, to 10,861, the S&P 500 sunk 11.3 points, or 0.98%, to 1,143 and the Nasdaq Composite tumbled 24.8 points, or 1%, to 2,443.
The markets have struggled over the last several weeks, with the Dow plummeting 13.3% over the period, and tumbling 2.7% on Friday alone.
Traders across the world raced to the safety of U.S. Treasuries, pushing the yield on the benchmark 10-year note to a record low of 1.879%, before it came back slightly.  The German bund, which is a safe-haven asset on that side of the Atlantic, also traded at a record low.  Volatility has also been quite high in recent sessions as traders have grappled with a slew of economic and euro-zone developments.
Fears over Europe's sovereign debt crisis have swelled in recent months as highly indebted countries like Greece and Italy have struggled to pay back lenders.  Greece, in fact, has needed two enormous rescue packages to stave off a default on its sovereign debt.
However, there are fresh concerns Monday that political tensions across the European Union, particularly in Germany, Europe's largest economy, may hamper the payout of the next aid tranche.  The EU and International Monetary Fund have pushed for substantial deficit reduction, and deep austerity measures, in exchange for the rescue, which have been highly unpopular among Greek citizens.  The Mediterranean nation is also in a steeper-than-expected recession, potentially heightening the country's fiscal challenges.
Greece's cabinet did agree to levy a new $2.7 billion property tax to help cover the shortfall, however, the country presently only has enough cash to pay its debts through October, according to a report by Reuters.
French banks Societe Generale, BNP Paribas and Credit Agricole nose dived as much as 10% on a report saying Moody's plans on slicing their rating as a result of their heavy exposure to Greek sovereign debt. The Euro Stoxx 50 recently plunged 4.1%, with French equity markets taking some of the heaviest losses.
Market participants will also be paying close attention to a conference by Bank of America (NYSE:BAC) chief executive Brian Moynihan.  Moynihan is expected to announce thousands of layoffs as part of a broad restructuring plan.
The euro traded higher 0.46% against the U.S. dollar, while the greenback fell 0.05% against a basket of world currencies.
Energy markets were broadly lower following weakness in equities.  Light, sweet crude fell $1.12, or 1.2%, to $86.16 a barrel.  Wholesale RBOB gasoline dipped 4 cents, or 1.3%, $2.73 a gallon.
In metals, Gold fell $16.40, or 0.89%, to $1,843 a troy ounce.
Corporate News
Broadcom (NASDAQ:BRCM) unveiled plans to buy NetLogic Microsystems (NASDAQ:NETL) for $3.7 billion as it looks to expand its chipmaking capabilities.
McGraw-Hill (NYSE:MHP) is going to separate into two publicly traded companies, one that focuses on capital and commodities markets, and another that is focused on education.
Foreign Markets
The English FTSE 100 tumbled 2.5% to 5,085, the French CAC 40 plunged 4.6% to 2,839 and the German DAX sunk 3.3% to 5,021.
In Asia, the Japanese Nikkei 225 slumped 2.3% to 8,536 and the Chinese Hang Seng fell 4.2% to 19,031.