Greece: austerity protesters reach prime minister's office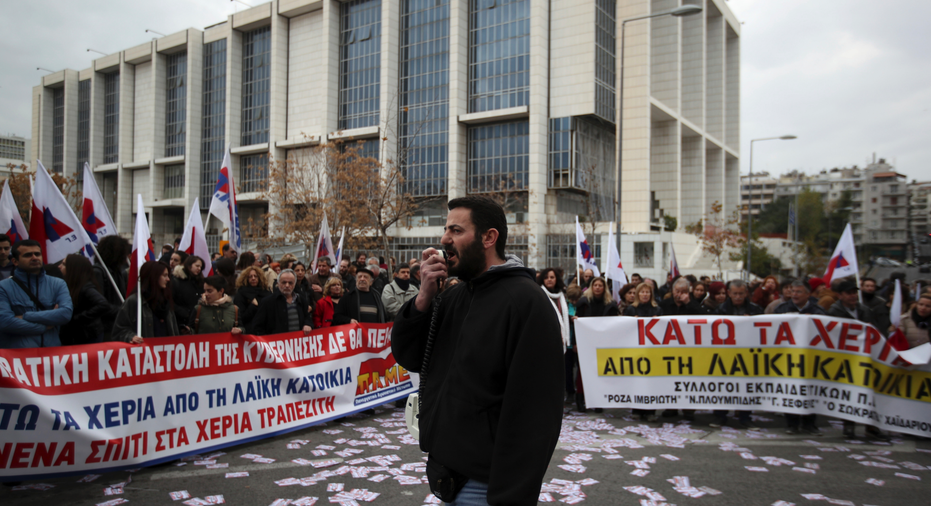 Anti-austerity protesters in Greece reached the entrance of the prime minister's official residence Wednesday, as demonstrations have intensified against a new austerity bill due to be voted in parliament next week.
Police said one officer was hospitalized with light injuries while trying to stop the protesters getting out of a bus that drove up to the heavily-guarded site. The protesters eventually left peacefully and no arrests were reported.
Prime Minister Alexis Tsipras was not at the residence when the incident occurred.
Lawmakers on Wednesday began debating the 1,326-page bill that includes further benefit cuts, stricter rules on strikes, and plans to increase the number of online auctions of properties in mortgage default. The measures are deeply unpopular with the left-wing government's former political allies.
Tsipras' government is under pressure to push through unpopular reforms before Greece's international bailout ends in August. Top of the list of problems is the mountain of non-performing loans, roughly half the total.
"This government is fixing problems that have been there for years. But no one wanted to touch them," Finance Minister Euclid Tsakalotos told parliament.
The government is facing mounting opposition from left-wing protest groups which are coordinating a campaign of disruption. On Tuesday, demonstrators occupied the offices of the Labor Ministry and unfurled a huge protest banner on the facade of the eight-story building.
Outside a high court in central Athens on Wednesday, about 200 demonstrators gathered in opposition to the online auctions, including former members of the government.
Among them was Panagiotis Lafazanis, a former energy minister who in 2015 formed a breakaway left-wing protest party known as Popular Unity.
Lafazanis said the Athens offices of his party had been sold in an auction Wednesday.
"It happened today ... It's an appalling thing that is happening — and it happened to us. The same banks that put up properties for auction are often the ones buying them up," he said.
"It's totally wrong. It's speculation."
Court demonstrations were also organized in Thessaloniki, northern Greece, where protesters set fire to a European Union flag.
___
Costas Kantouris in Thessaloniki, Greece contributed. Follow Gatopoulos at http://www.twitter.com/dgatopoulos