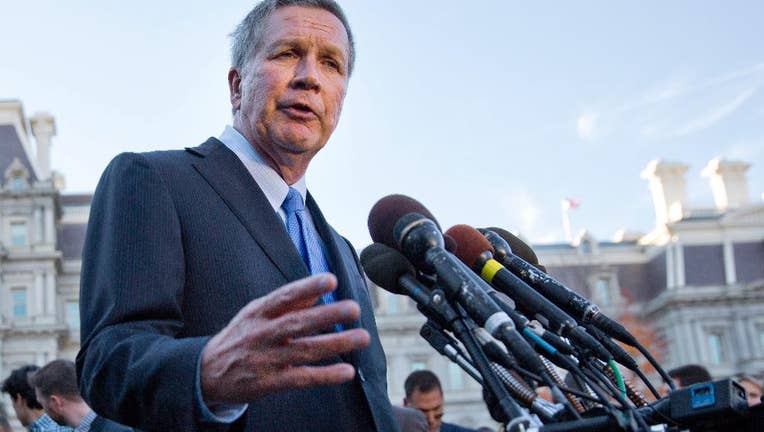 Gov. John Kasich, the heads of the state Republican and Democratic parties and other statewide leaders plan to address their top priorities this year at a forum sponsored by The Associated Press.
The annual event, which will be held Wednesday, comes two days after Kasich, a Republican, introduced his final two-year spending plan, which includes a 17 percent income tax cut, a two-year college tuition freeze, and tax increases on alcohol, tobacco products and gas drilling.
The $66.9 billion proposal also would impose a half-percent increase in the state sales tax, from 5.75 percent to 6.25 percent, and extend it to additional services, including cable TV subscriptions, elective cosmetic surgery and lobbying.
Other attendees include Secretary of State Jon Husted, Attorney General Mike DeWine and Auditor Dave Yost, as well as new Ohio Republican Party chairwoman Jane Timken and Democratic Party chair David Pepper.
GOP House and Senate finance chairmen and Democratic legislative leaders also are expected.
Husted and DeWine, both Republicans, are expected to run for governor in 2018. Yost, also a Republican, has announced a run for attorney general.
Timken was President Donald Trump's pick to head the Ohio Republican Party over former chair Matt Borges, a Kasich ally.
Covering the two years beginning July 1, Kasich's budget spends $4.3 billion less in state general revenue than the previous budget. The final result will include GOP lawmakers' own priorities.
The budget calls for modest additional spending for K-12 schools, higher education and prisons, while delivering flat funds or cuts to a number of other agencies.
Balancing the budget relies on $200 million from a new monthly premium that would be charged to Medicaid beneficiaries who are childless, not pregnant and have an income level above the poverty level.
___
Andrew Welsh-Huggins can be reached on Twitter at https://twitter.com/awhcolumbus. His work can be found at http://bigstory.ap.org/content/andrew-welsh-huggins