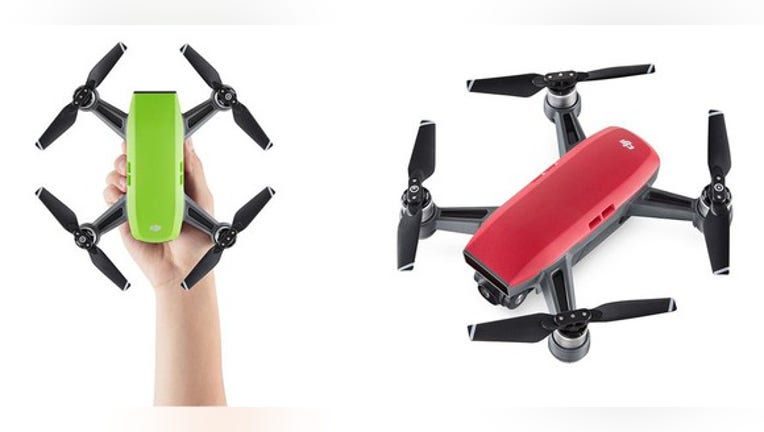 GoPro (NASDAQ: GPRO) went from Wall Street darling to outcast in less than three years. The action-camera maker's stock surged from an IPO price of $24 to the high $80s in late 2014, then tumbled all the way to about $8 at the time of this writing.
GoPro's decline was caused by slowing demand for action cameras, which was exacerbated by the rise of cheaper and more innovative competitors within that shrinking market. GoPro responded by launching smaller cameras, high-end VR rigs, and new software. But none of those products matter as much as its new Karma drone and its upcoming Fusion 360-degree camera.
Image source: GoPro.
The Karma, which was initially launched last October, is a portable drone for Hero cameras. After power failures caused the product to be recalled before the holidays, the drone was relaunched this February. The Fusionis an upcoming stand-alone 360-degree camera for capturing panoramic photos and videos. GoPro bulls hope that these two products will diversify the company's top line away from its core action camera business and lift its sales growth again.
Unfortunately, two recent product launches -- DJI Innovation's Spark drone and Garmin's (NASDAQ: GRMN) VIRB 360 camera -- could wreak havoc on GoPro's comeback plans. Let's see why GoPro investors should be wary of both products.
DJI makes GoPro look bad... again
DJI, which makes the popular Phantom drones, is the world's biggest drone maker. To counter GoPro's Karma, DJI launched the Mavic Pro -- a foldable drone which was lighter, smaller, and cheaper than theKarma -- during last year's holiday season. The Mavic Pro also boasted a longer battery life, more intelligent flight modes, and better image stabilization features than the Karma. Many industry reviews already favored theMavic Pro over the Karma, and then GoPro shot itself in the foot with its embarrassing recall.
This year, GoPro likely thought that the Karma would only have to compete against the Mavic Pro. Unfortunately, DJI recently introduced the Spark, a $499 mini-drone which can be launched from the palm of your hand and flies at up to 50 km per hour with a 2-km range for16 minutes.
DJI's Spark. Image source: DJI.
Those specs are slightly lower than Karma's top speed of 56 kph, range of 3 km, and 20 minute flight time, but the Spark is much smaller and cheaper than the Karma, which costs $1,099 (with the camera included). The Spark also features obstacle avoidance, pre-programmed flight patterns, a return-home feature, and a built-in camera and gimbal -- all features which the Karma lacks. Looking ahead to this year's holiday season, it's tough to see why any drone or action camera enthusiast would buy the Karma instead of the Spark, which costs just $100 more than GoPro's Hero 5 Black camera.
Garmin launches a pre-emptive strike on GoPro's Fusion
In late April, GoPro introduced theFusion, a stand-alone 360-degree camera which captures panoramic videos at a 5.2k resolution at 30 fps. The device can capture both 360-degree and fixed-perspective content, while a new "OverCapture" feature enables content creators to produce non-spherical photos and videos "punched out" from panoramic content.
Those features probably won't surprise action camera enthusiasts, who have already seen similar features in Samsung's Gear 360, Ricoh's Theta, and Kodak's SP360 cameras -- all of which cost roughly the same as one of GoPro's traditional action cameras. But instead of launching the Fusion as soon as possible, GoPro plans to first launch a pilot program during the summer to "refine" the user experience before a mainstream release. The final price also hasn't been set yet.
Unfortunately for GoPro, Garmin -- which is already challenging GoPro on the action camera front -- recently introduced the VIRB 360, a waterproof 360-degree camera which records 360-degree audio and features an "augmented reality" digital overlay for action-related stats like speed, altitude, and distance traveled. It also includes a mini-tripod.
Garmin's VIRB 360 camera. Image source: Garmin.
Garmin plans to launch the VIRB 360 in June for $799, so it should arrive while GoPro is still running its pilot program for the Fusion. The VIRB 360 could also win over some of GoPro's core outdoor enthusiasts, who might be looking for a new 360-degree capture device for their summer activities.
What does this mean for GoPro?
GoPro often waits too long to respond to competitive threats, and when it finally does, the products are often uninspiring clones of existing products. We already saw this happen with the Session, which arguably mimicked smaller form factor devices like the Polaroid Cube; the Odyssey and Omni VR rigs, which were similar to rigs from smaller third-party companies; and the Karma, which is remarkably similar to a patented design from one of its employees.
Unless GoPro can start innovating -- instead of simply following market trends like VR and drones -- the company could continue to fall behind nimbler rivals like DJI and Garmin. This means that its sales slump could continue and cause more pain for its long-suffering investors.
10 stocks we like better than GoProWhen investing geniuses David and Tom Gardner have a stock tip, it can pay to listen. After all, the newsletter they have run for over a decade, Motley Fool Stock Advisor, has tripled the market.*
David and Tom just revealed what they believe are the 10 best stocks for investors to buy right now... and GoPro wasn't one of them! That's right -- they think these 10 stocks are even better buys.
Click here to learn about these picks!
*Stock Advisor returns as of May 1, 2017
Leo Sun has no position in any stocks mentioned. The Motley Fool owns shares of and recommends GoPro. The Motley Fool has the following options: short January 2019 $12 calls on GoPro and long January 2019 $12 puts on GoPro. The Motley Fool has a disclosure policy.