GoPro's Drone Delay Is Bad Karma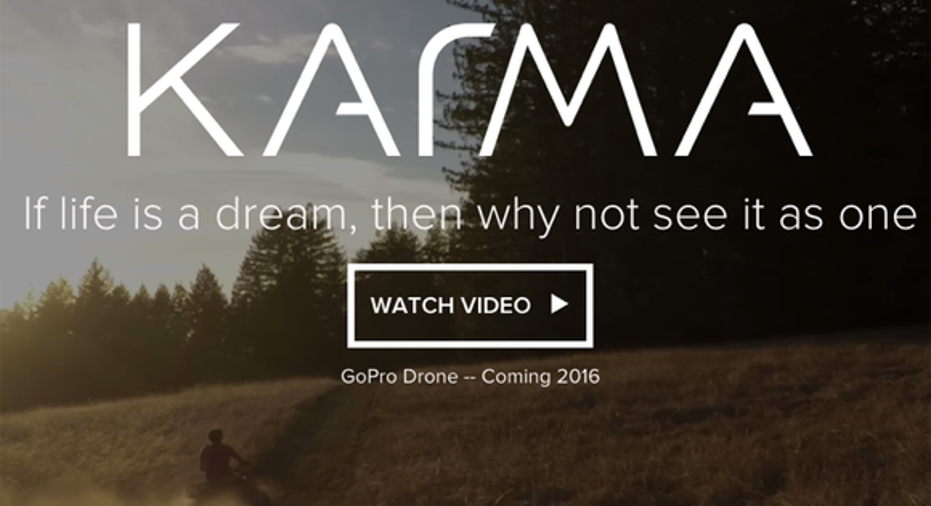 Image source: GoPro.
With GoPro's recent Q1 2016 filings, the company said its long-anticipated Karma drone will be delayed until later this year. That's a change from its original launch window of earlier this year.
Devices get delayed all the time, for various reasons, so it's not all that surprising GoPro's Karma isn't coming to market yet.
The company's founder and CEO, Nicholas Woodman, said, "While we had to make the difficult decision to delay our drone, Karma, the upside is that Karma's launch should now benefit from the holidays."
I don't disagree that the holiday season could help Karma sales in the short term, but the delay is not a good thing. Rather, I think GoPro may be taking longer with the Karma because it doesn't know how to set the drone apart from the rest of the market.
Drones everywhereThe high-end drone market may be relatively young, but there are already strong competitors -- and more of them entering all the time.
Aside from the company's strong action-camera brand, the Karma will have to have at least one or two killer features that set it apart -- and that's becoming increasingly hard to accomplish.
The Karma will likely have a follow-behind feature that allows the drone to fly autonomously and film by itself while the user climbs mountains and skis off of cliffs. But other high-end drones already have these features.
Perhaps the company is delaying the Karma so it can work on the one feature that will set itself apart from the rest of the drone pack, but GoPro's more recent moves don't give me a lot of confidence it can do that.
GoPro already has an expansion problemCase in point is the company's Hero4Session camera that it released this past July. The company overshot demand for the device and priced it too high. As a result, GoPro dropped the price (twice!) from $399 to the eventual $199. The Hero4 Session's failure led to some very poor sales at the end of last year and resulted (at least in part) in the company laying off about 7% of its workforce.
Secondly, the company recently made its first consumer-facing foray into virtual reality with its Omni VR rig. But the device (if you can call it that) is essentially just a ball that you can mount six GoPro cameras to. If the Omni is any indication of what we can expect from the Karma, then investors and consumers probably don't have a whole lot to look forward to.
Foolish final thoughts There's no denying GoPro's stellar camera hardware and its strong brand. But when we look at its development of new product categories, like the smaller Hero4 Session camera and Omni VR cube, there's not a whole lot to indicate that GoPro knows what to do outside of its core camera sales.
That's why I think the Karma is going to have a hard time getting off the ground. If it launches around the holidays, that could certainly help sales, but that's just a short-term gain. The Karma needs to have substantial features that set it apart from the competition in order to help turn GoPro's revenues around -- and so far, that's something the company hasn't quite figured out.
The article GoPro's Drone Delay Is Bad Karma originally appeared on Fool.com.
Chris Neiger has no position in any stocks mentioned. The Motley Fool owns shares of and recommends GoPro. Try any of our Foolish newsletter services free for 30 days. We Fools may not all hold the same opinions, but we all believe that considering a diverse range of insights makes us better investors. The Motley Fool has a disclosure policy.
Copyright 1995 - 2016 The Motley Fool, LLC. All rights reserved. The Motley Fool has a disclosure policy.