GoPro, Inc. Soars and Ciena Corporation Drops as Stocks Rise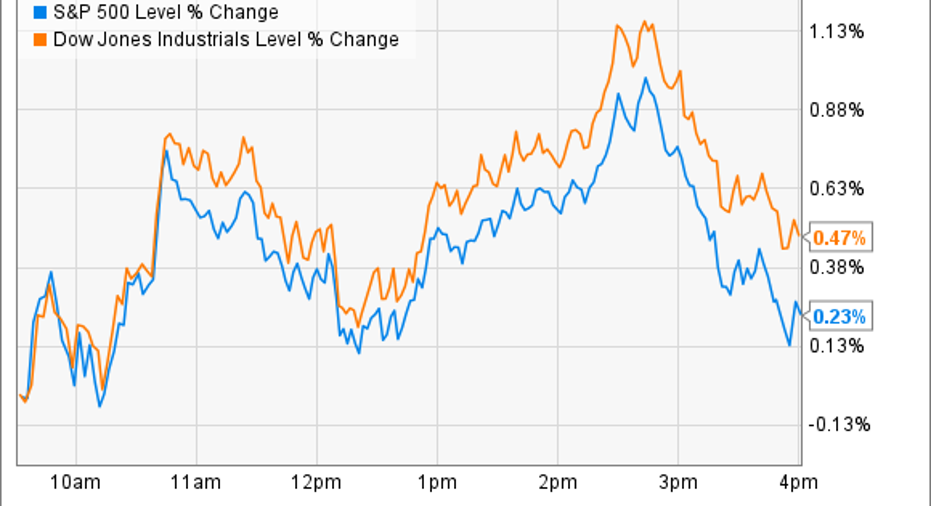 Stocks broke their three-day losing streak today. The S&P 500 gained five points, or 0.23%. The Dow Jones Industrial Average added 82 points, or 0.47% on the day.
Individual stocks on the move included action-camera manufacturer GoPro and networking specialist Ciena . Both stocks posted double-digit swings today -- although in different directions.
GoPro buyout speculation GoPro's stock surged 13% higher on twice its normal trading volume. Yet even with that pop, most shareholders remain deeply in the red. The stock is down 23% during the last month and 70% below where it started the year.
Image source: GoPro.
In addition to some likely bargain hunting, today's bounce was powered by new speculation that GoPro could become a buyout candidate for Apple (NASDAQ: AAPL). In a note to investors, Wall Street analyst Daniel Ives argued that "conditions are ripe" for the tech king to make some expensive bolt-on purchases. One of the smartest such moves, Ives said, would be a buyout of GoPro. Its action-camera niche, after all, fits well within the wearables, smartphone, and multimedia ecosystems that Apple is aiming to dominate, he contended.
Sure, with its market capitalization of $3 billion, GoPro would be an easy purchase for CEO Tim Cook -- the iPhone maker had more than $200 billion in cash on its books at the last quarterly check in. But Apple is famously picky about going outside of its own operations to acquire technology. That's why existing shareholders shouldn't bank on a buyout to make their positions whole again. Instead, the stock's long-term trajectory will have more to do with how well CEO Nick Woodman and his team do at improving the business afterlast quarter's disappointing growth results.
Ciena's soft outlook Networking specialist Ciena saw its stock sink 17% -- on more than 10 times its average volume -- after announcing third-quarter earnings results. The $692 million of revenue and $0.42 per share of earnings it posted were both above consensus estimates. The company logged an encouraging improvement in profitability: Adjusted operating margin rose to 13% from 3% in the year-ago period.
Management was pleased with the results that marked the end of Ciena's fiscal year. "Our strong financial performance in fiscal 2015 included substantial increases in gross and operating margin as well as meaningful cash generation, which enabled us to exceed the longer-term financial milestones that we established several years ago," saidCEO Gary Smith. Chief Financial Officer Jim Moylan was blunter in a subsequent conference call. "By every measure, we delivered in 2015 what we said we would deliver," he told analysts.
Wall Street reacted harshly to Ciena's forecast for the current quarter and for the new fiscal year. Sales in Q1 are targeted to be $572 million at the midpoint of guidance compared to consensus estimates for $637 million. For the full year, Smith and his team project sales growth of between 8% and 9%, or significantly below the 14% that analysts were expecting.
The gap, management explained in the quarterly conference call, is due to the slow pace of ramp up for some of Ciena's biggest network deployment projects. These are multi-year deals that, in many cases, won't show significant sales or profit until after the current fiscal year.
The article GoPro, Inc. Soars and Ciena Corporation Drops as Stocks Rise originally appeared on Fool.com.
Demitrios Kalogeropoulos owns shares of Apple. The Motley Fool owns shares of and recommends Apple and GoPro. Try any of our Foolish newsletter services free for 30 days. We Fools may not all hold the same opinions, but we all believe that considering a diverse range of insights makes us better investors. The Motley Fool has a disclosure policy.
Copyright 1995 - 2015 The Motley Fool, LLC. All rights reserved. The Motley Fool has a disclosure policy.