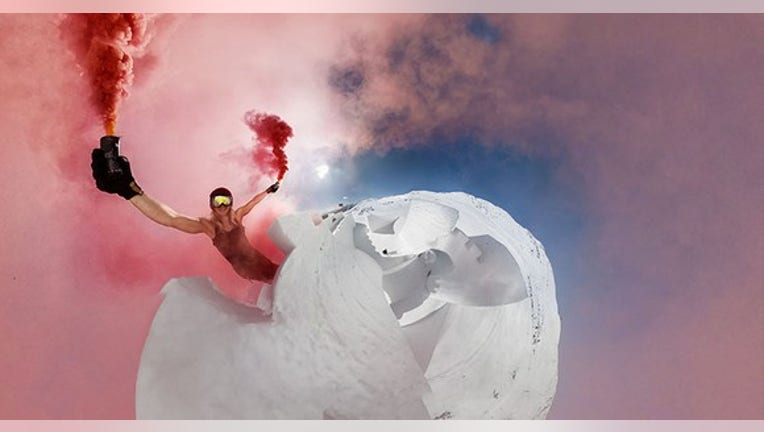 The last two years have been a wake-up call for GoPro Inc. (NASDAQ: GPRO), forcing the company to address deficiencies in its product line. The GoPro Hero 5 line of cameras is now simpler and more intuitive to use, adding voice controls and cloud connectivity. Editing software Capture and Quik are also certainly a step up from old download and editing options.
Where there's now a huge opportunity for improvement is in taking those edited images and videos and posting them to social media networks like Facebook (NASDAQ: FB), Instagram, and Snap's (NYSE: SNAP) Snapchat. Sharing images and video socially is, after all, a huge reason GoPro users take these images in the first place. So, if sharing them were as easy as saying, "Share photo on Snapchat," it could change the game for GoPro.
Image source: GoPro.
Social is a big opportunity for GoPro
The challenge for a GoPro camera has always been getting from the moment the image is captured until it's shared on social media. That's gotten easier with the Capture and Quik apps, but if GoPro can reduce even more friction in that process, it'll be a big win. And with voice activation, it's only a step away.
Integrating sharing with either the touch of a button on a Hero 5 camera or with voice activation would be an incredible advancement. Right now, you can say, "GoPro, take a photo" and adding "GoPro, share photo to Facebook" or another social network would be a huge advancement. Editing or curating photos could happen later, but being able to instantly share a photo when skiing, skydiving, or kayaking would be a huge seller for GoPro.
Snap and GoPro are a natural fit together
One of the reasons I think Snap is a perfect fit is that both GoPro and Snap are looking for ways to make their user experience easier. Snap's Spectacles are all about making the image capture and sharing process easy and a GoPro camera could take images Spectacles aren't designed for.
The Snapchat user experience is also more raw than Facebook or Instagram, where you might want to do more curation or add filters to photos. On Snapchat, what's shared eventually disappears so the raw images from a GoPro can be perfect. "GoPro, take a Snap" could be a big hit for both companies.
Get social before someone else does
As flagship smartphones from become waterproof and more durable, the space for GoPro's niche gets smaller -- and the harder it is to go from that niche to social media, where people are sharing content, the more difficult position GoPro is in. If GoPro integrates more closely with social media networks, particularly if it can do so with voice activation, it would be a big win. One way or another, GoPro needs to get more social in 2017.
10 stocks we like better than GoProWhen investing geniuses David and Tom Gardner have a stock tip, it can pay to listen. After all, the newsletter they have run for over a decade, Motley Fool Stock Advisor, has tripled the market.*
David and Tom just revealed what they believe are the 10 best stocks for investors to buy right now... and GoPro wasn't one of them! That's right -- they think these 10 stocks are even better buys.
Click here to learn about these picks!
*Stock Advisor returns as of February 6, 2017
Travis Hoium owns shares of GoPro. The Motley Fool owns shares of and recommends Facebook and GoPro. The Motley Fool has the following options: short January 2019 $12 calls on GoPro and long January 2019 $12 puts on GoPro. The Motley Fool has a disclosure policy.