GoPro Drops on a Mixed Holiday Quarter, Disappointing Guidance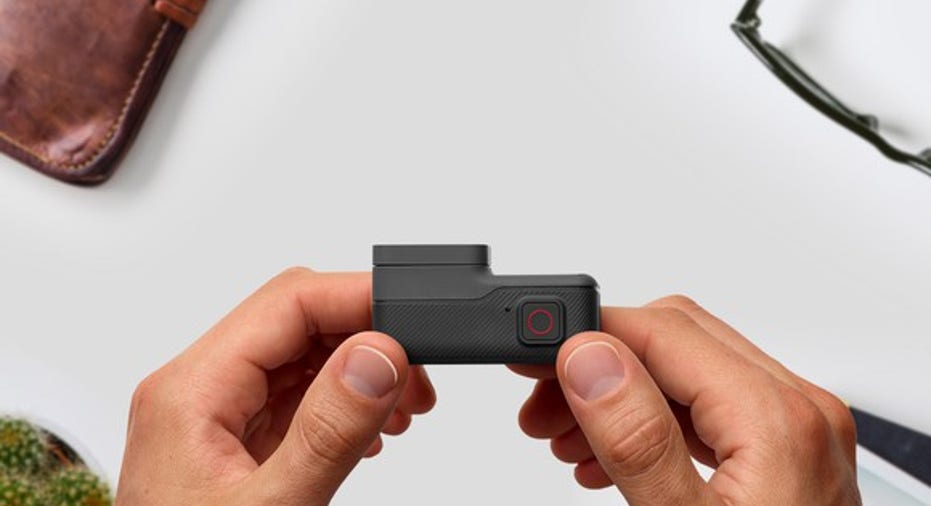 GoPro (NASDAQ: GPRO) announced mixed fourth-quarter 2016 results Thursday after the market closed. With shares down 13% in after-hours trading as of this writing -- and keeping in mind that GoPro stockclimbed more than 25%over the past month leading up to this report --it's apparent the market isn't pleased.
But before we get there, let's have a closer look at what the action-camera specialist had to say.
GoPro's new HERO5 Black camera, IMAGE SOURCE: GoPro, Inc.
GoPro's results: The raw numbers
| Metric | Q4 2016 | Q4 2015 | Year-Over-Year Growth |
| --- | --- | --- | --- |
| Revenue | $540.6 million | $436.6 million | 23.8% |
| GAAP net income (loss) | ($115.7 million) | ($34.5 million) | N/A |
| GAAP earnings (loss) per share | ($0.82) | ($0.25) | N/A |
DATA SOURCE: GOPRO INC.
What happened with GoPro this quarter?
GoPro's GAAP (generally accepted accounting principles) net loss included charges of $102 million for a full valuation allowance on U.S. deferred tax assets, and almost $37 million in restructuring costs.
On an adjusted (non-GAAP) basis, which adds perspective by excluding stock-based compensation, acquisition expenses, and restructuring costs, GoPro generated net income of $42.4 million, or $0.29 per share, compared to an adjusted net loss of $11.4 million, or $0.08 per share in last year's fourth quarter.
Adjusted gross margin was 39.5%.
By comparison, GoPro's guidance called for fourth-quarter revenue in the range of $600 million to $650 million, and adjusted earnings per share of $0.25 to $0.35 -- though these ranges were also provided in early November, just before GoPro's recall of its Karma drone,which was relaunched on GoPro.com and at select retail stores on Feb. 1, 2017.
For perspective -- and though we don't usually pay close attention to Wall Street's demands -- analysts' consensus estimates predicted higher fourth-quarter revenue of $574.5 million, and lower adjusted earnings of $0.22 per share.
Revenue by channel included:
a 0.2% year-over-year decline in direct revenue, to $290.3 million
71.7% growth in distribution revenue, to $250.3 million
Revenue by geography included:
A 4% decline in revenue from the Americas, to $274 million
64.2% growth in Europe revenue, to $168 million
102% growth in Asia and Pacific revenue, to $98.6 million
Shipped 2.284 million units during the quarter, up from 2.002 million in last year's fourth quarter, and down from 2.385 million units in Q4 of 2014.
Average selling prices (ASPs) were approximately $237, up from $218 in last year's fourth quarter, and down from $267 in Q4 of 2014.
According to market research company NPD Group, GoPro accounted for three of the top-five products in the digital camera/camcorder category in the United States. The recently launched HERO5 Black and HERO5 Session commanded the first and second place spots, respectively.
NPD also reports GoPro's fourth-quarter combined digital camera/camcorder unit share rose 400 basis points year over year, to 26.7% in the U.S.
According to market research company GfK, GoPro gained 90 basis points of digital imaging unit share in Europe, to 12.2%.
China is still a top-10 country for GoPro, with Q4 sell-thru of 61% year over year, and 2016 sell-through of 90%.
Notable accessorylaunches during the quarter include:
Karma Grip, a handheld stabilizer that retails at $299.99.
Remo, a waterproof, voice-activated remote that retails at $79.99.
Quik Key, a microSD card reader enabling quick editing and sharing from smartphones, for $29.99.
Increased social media views of GoPro content 40% year over year, to 238 million, including a 160% year-over-year increase in Facebook views.
Instagram followers grew 53% year over year, to almost 12 million, including a 245% increase in international followers.
Enjoyed "high" retention rates in early U.S. adopters of the $4.99-per-month GoPro Plus subscription service. GoPro Plus is also set to launch internationally "in the coming months."
Number of shares initiated from GoPro's Capture App grew 128% year over year during the quarter.
What management had to say
GoPro's founding CEO Nick Woodman added: "In 2016, big investments in hardware, cloud, and mobile yielded a solid foundational experience for our customers. In 2017, we will build on this foundation for our customers while improving efficiency and managing cost to achieve profitability."
During the subsequent conference call, Woodman elaborated,
Even so, Woodman also noted the "biggest challenge" to GoPro's top line was the recall of Karma, which was expected to account for just under 10% of GoPro's quarterly revenue. With Karma now back on the U.S. market -- albeit in limited quantities as it ramps production -- and set to launch internationally in the spring season, GoPro is rightly looking forward to capitalizing on the fast-growing consumer drone market.
Looking forward
For the first quarter of 2017, GoPro expects revenue in the range of $190 million to $210 million -- well below consensus estimates of $264.5 million -- and gross margin (both GAAP and non-GAAP) in the low 30% range. GoPro also anticipates GAAP operating expenses of between $168 million and $178 million, and adjusted operating expenses between $145 million and $155 million.
GoPro declined to offer specific revenue or margin guidance for the full year. But it did offer guidance for 2017 GAAP operating expenses to be below $688 million (down from $834.9 million in 2016), and for adjusted operating expenses below $600 million (down from $708.8 million in 2016). GoPro should be able to achieve these massive operating-expense reductions thanks to a combination of its recent business restructuring -- which eliminated several high-cost initiatives including its entertainment division -- and leveraging the enormous investments it already made in its hardware, software, cloud, and mobile solutions in 2016.
Nonetheless, GoPro's revenue guidance for the current quarter is undeniably disappointing, especially considering it includes sales of the newly relaunched Karma drone. Those sales will most certainly improve as GoPro ramps production and expands Karma's availability to overseas markets, helping supplement the company's expense reduction efforts in its quest back to sustained, profitable growth. But for now, it's no surprise to see GoPro stock pulling back again.
10 stocks we like better than GoPro When investing geniuses David and Tom Gardner have a stock tip, it can pay to listen. After all, the newsletter they have run for over a decade, Motley Fool Stock Advisor, has tripled the market.*
David and Tom just revealed what they believe are the 10 best stocks for investors to buy right now... and GoPro wasn't one of them! That's right -- they think these 10 stocks are even better buys.
Click here to learn about these picks!
*Stock Advisor returns as of January 4, 2017
Steve Symington has no position in any stocks mentioned. The Motley Fool owns shares of and recommends Facebook and GoPro. The Motley Fool has the following options: short January 2019 $12 calls on GoPro and long January 2019 $12 puts on GoPro. The Motley Fool has a disclosure policy.