Google vs. Ad Blockers: If You Can't Beat 'Em, Join 'Em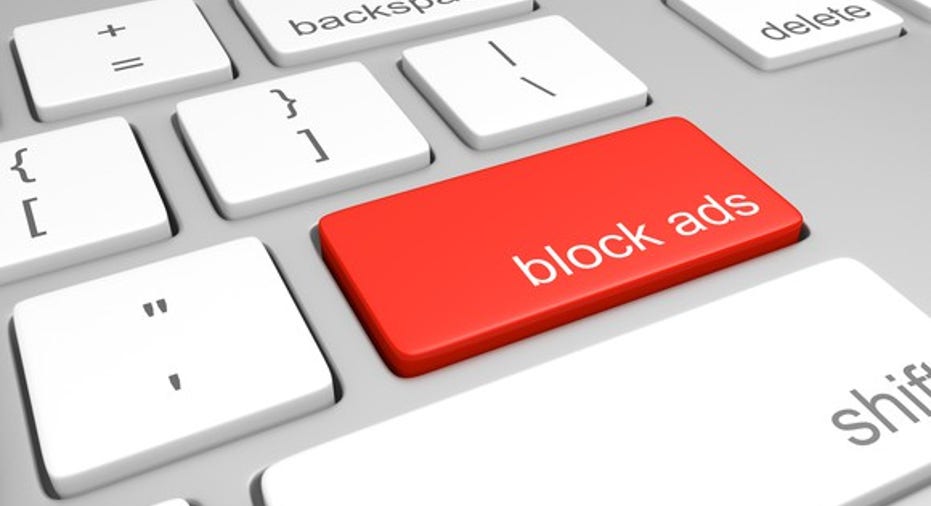 Google is the biggest internet-advertising company in the world, so it's ironic that the Alphabet (NASDAQ: GOOG) (NASDAQ: GOOGL) subsidiary is considering including an ad blocking feature in its popular Chrome web browser. Ad blocking has grown increasingly popular over the last few years; roughly 26% of U.S. internet users now employ ad-blocking software.
Google may be looking to preempt further adoption of ad blockers by automatically disabling the most annoying kinds of ads on the web, like full-screen takeovers and autoplay video ads. Google is backed by the Coalition for Better Ads, which includes some of the largest marketers, ad agencies, and media organizations, along with Facebook (NASDAQ: FB).
The rise of ad blocking is a threat to companies like Google and Facebook that generate nearly all of their revenue from online advertising. If they can control the ad-blocking software, they can control which ads get blocked and which ones don't, a win-win-win for internet users, publishers, and advertising companies.
Image source: Getty Images.
Don't block every ad, just the bad ones
Google has already built functions into its Chrome browser to block ads that result in the biggest drains on laptop and smartphone batteries. The updates it's discussing with publishers and the Coalition will take another step, to block the ad formats that overwhelmingly lead users to seek out ad blockers.
Publishers are drawn to ads like full-screen takeovers and autoplay videos because they typically fetch higher rates than other ad units. However, they can also ruin the user experience, potentially leading to high website abandonment rates. Top publishers understand this and generally stay away from these annoying formats, but with the proliferation of small publishers through Facebook, it's more and more common to come across these types of ads.
The Coalition for Better Ads is in the process of setting standards for publishers to follow. Google's Chrome browser is just one vehicle through which it will enforce those standards. Chrome is used by 58.6% of all web users; with that much of the market, Google should be able to get most publishers to adopt the standards, for fear they'll miss out on a lot of potential ad revenue.
Won't Google be hurting itself?
Google is one of the biggest digital display advertisers in the world, but most of its ad revenue actually comes from its search business. Google doesn't break out search specifically, but its owned and operated properties accounted for over 80% of its total ad revenue last quarter. The other 20% came from its ad network, which it splits with publishers.
Google's own websites have increased their share of Google's total ad revenue in recent years, as people spend more time watching ads on YouTube and searching Google on their mobile devices. While paid clicks on network member sites continue to increase (despite the proliferation of ad blockers), Google's revenue per click is declining.
Facebook actually generates more revenue from display ads than Google. But Facebook investors shouldn't be worried either. Facebook's main ad unit -- native News Feed ads -- certainly falls within the standards set forth by the coalition. Moreover, most of Facebook's audience accesses its platform through a dedicated mobile app, which is immune to ad-blocking services like the one Google is reportedly developing.
Even blocking the most annoying kinds of ads, Google can still let nonintrusive ads through. That's better for both Google and publishers than third-party software, which generally blocks any and all ads. If Google integrates ad blocking into Chrome, it could stop many consumers from going for those third-party apps, saving some revenue for Google and its network partners.
10 stocks we like better than Alphabet (C shares)When investing geniuses David and Tom Gardner have a stock tip, it can pay to listen. After all, the newsletter they have run for over a decade, Motley Fool Stock Advisor, has tripled the market.*
David and Tom just revealed what they believe are the 10 best stocks for investors to buy right now... and Alphabet (C shares) wasn't one of them! That's right -- they think these 10 stocks are even better buys.
Click here to learn about these picks!
*Stock Advisor returns as of April 3, 2017
Suzanne Frey, an executive at Alphabet, is a member of The Motley Fool's board of directors. Adam Levy has no position in any stocks mentioned. The Motley Fool owns shares of and recommends Alphabet (A and C shares) and Facebook. The Motley Fool has a disclosure policy.