Google Home Is Catching Up to Amazon's Echo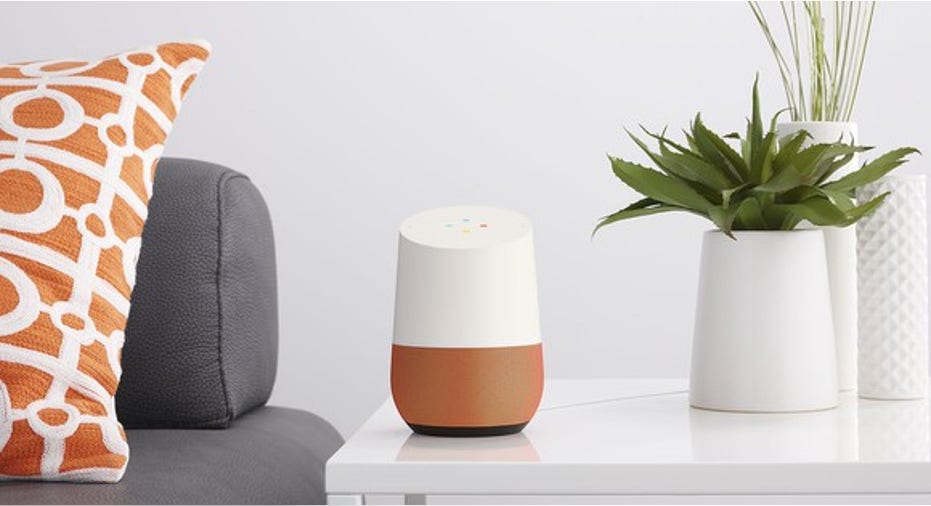 Amazon (NASDAQ: AMZN) had a surprise hit on its hand with the Echo smart speaker. After releasing it exclusively to Prime members in late 2014, the device proved so popular that Amazon was able to quickly open orders to everyone in the U.S. by the following summer. On Christmas Eve of 2015, the Echo was one of the top five items ordered, according to Amazon's annual holiday press release. Last year, Echo device sales climbed nine times compared to 2015's holiday season.
That's despite the November introduction of Google Home, a competing smart speaker from the Alphabet (NASDAQ: GOOG) (NASDAQ: GOOGL) subsidiary. During Alphabet's fourth-quarter earnings call, RBC analyst Mark Mahaney suggested Echo devices, powered by the virtual assistant Alexa, outsold Google Home 10-to-1 in the quarter.
But Mahaney is changing his tune after conducting a more in-depth survey. "Home's awareness and installed base could be much closer to Alexa -- with a brand awareness in the U.S. 80% that of Alexa and an installed base that may be close to a third that of Alexa," he recently wrote in a note.
It looks like Google Home is quickly catching up to Amazon's Echo.
Image source: Google.
Google plans to keep investing in Google Home
Google plans to keep making Google Home a better device by improving its search capabilities and functionality. "We are going to invest a lot in it over 2017," Google CEO Sundar Pichai told investors on Alphabet's fourth-quarter earnings call. "I think there is a lot of work ahead to make all of this work well for users. And this is the core area where we've invested in for the very long term," he added.
Google intends to leverage its massive Android platform to continue improving Google Assistant, the artificial intelligence (AI) behind Google Home. At least 200 million devices will have access to the voice assistant, which will provide Google with a lot more opportunities to learn exactly what people are looking for when they say, "OK, Google."
Google will also have to improve Google Home's capabilities. The device currently has around 80 Actions, which is nothing compared to the 10,000-plus functionalities available with Alexa. To that end, Google launched the Actions on Google developer kit in December.
Strategy Analytics estimates Google will sell 1 million Google Home devices by midyear. That still trails Amazon's sales by a significant margin. The research group estimates Amazon sold 6.3 million Echo devices last year, and that should go up meaningfully in 2017. Mahaney estimates Amazon will sell 60 million Echo devices by 2020, bringing the install base to 128 million.
Google still doesn't know how to monetize voice search
While Google Home sales are improving relative to Amazon Echo, it's not clear device sales will follow a similar path. Google Home lacks one of the key functionalities of Amazon's devices: the ability to easily shop on Amazon.
Seventeen percent of Echo owners use Alexa to place orders on Amazon, according to Mahaney's survey. As the number of devices in use grows, Mahaney expects the amount of shopping done via Alexa on Amazon to grow as well. By 2020, sales through the voice assistant could reach $5 billion, according to the analyst's estimate.
Google doesn't even have a business model for monetizing Google Home beyond hardware sales. Search and display ads don't work very well on a device with no display.
Moreover, Google doesn't offer a compelling differentiating factor for consumers to pick its device over another smart speaker. Comparatively, Amazon Prime members, of which there's a rapidly growing number, have lots of reasons to pick the Echo, like easy access to ordering things on Amazon or inexpensive use of Amazon Music Unlimited.
As such, Amazon is poised to win the long-term competition even if Google Home is catching up in the short term.
10 stocks we like better than AlphabetWhen investing geniuses David and Tom Gardner have a stock tip, it can pay to listen. After all, the newsletter they have run for over a decade, Motley Fool Stock Advisor, has tripled the market.*
David and Tom just revealed what they believe are the 10 best stocks for investors to buy right now... and Alphabet wasn't one of them! That's right -- they think these 10 stocks are even better buys.
Click here to learn about these picks!
*Stock Advisor returns as of February 6, 2017
Suzanne Frey, an executive at Alphabet, is a member of The Motley Fool's board of directors. Adam Levy owns shares of Amazon. The Motley Fool owns shares of and recommends Alphabet (A shares), Alphabet (C shares), and Amazon. The Motley Fool has a disclosure policy.