Google Doesn't Want to Be Just Another Advertising Company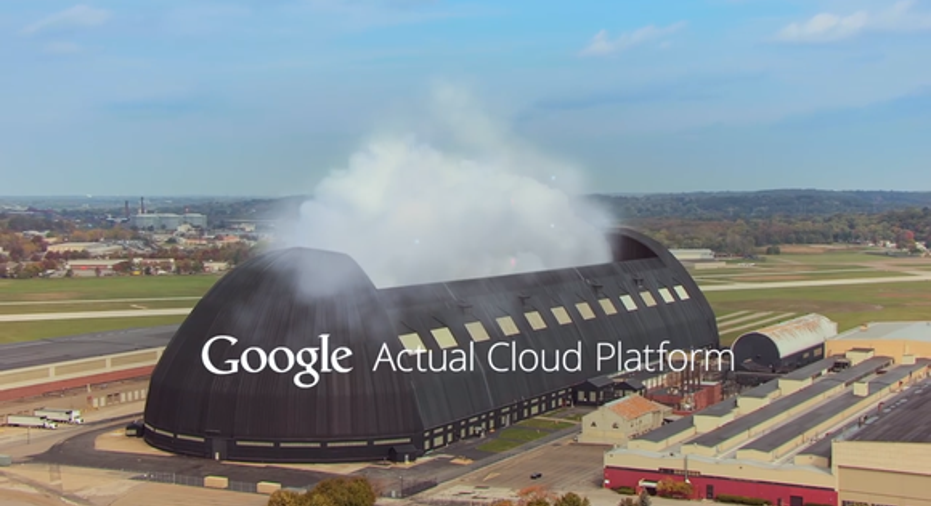 Google's "Actual Cloud Platform" makes real clouds! Image source: Google.
The business model of many Internet-based businesses is to gather an audience and sell ads to businesses that want to reach that audience. It's the business model that propelled Google, an Alphabet company, to $66 billion in revenue last year; 89% of that revenue came from advertisers.
But Google isn't any old Internet company. The company runs a cloud computing division like many other leaders in the software and Internet-based business space. The Google Cloud Platform competes directly with Amazon's AWS and Microsoft's Azure. And the head of Google's cloud division, Urs Holzle, believes the cloud business could be bigger than Google's ad business by 2020. "The goal is for us to talk about Google as a cloud company by 2020," Holzle reportedly said at a conference on Nov. 18.
The competition is way ahead of GoogleGoogle is admittedly playing from behind. Both Amazon and Microsoft have loads of enterprise customers for their respective cloud businesses, and they have become increasingly focused on growing their cloud platforms over the last few years.
Microsoft CEO Satya Nadella is on a mission to transform Microsoft from a client services business based on PC software to a cloud services business focusing on multiple devices. As a result, the company has been building out its cloud infrastructure for its own purposes and signing up new enterprise customers to its Azure service.
Amazon, meanwhile, started reporting results for its cloud platform, displaying a lot of confidence in the future of its cloud division. Amazon typically doesn't report any more details about its business than it's required to, but its decision to split out AWS revenue both appeased investors and instilled confidence in the future of the company. AWS continues to roll out new products to turn its platform into a one-stop shop for cloud services.
Last quarter, AWS produced $2.1 billion in revenue, up 78% year over year. Its operating profit margin grew significantly, up from 8.3% to 25% over the last year. And it's still growing -- it improved by 3.6 percentage points last quarter. The Information [subscription required] reports Google generates just 6% of the revenue from its Cloud Platform as AWS does, with the Google number to be less than $500 million this year.
Getting serious about the cloudGoogle, for its part, says it probably has the fastest-growing cloud business in the market. Holzle compared Google's position in cloud to its early position in smartphones with Android. While Android started out behind, it's grown to become the most popular operating system in the world.
In order to compete with Microsoft and Amazon, Google recently hired Diane Greene -- founder and former CEO of VMware.Greene will take overas head of Google's cloud business, clearing up time forHlzle to concentrate on other goals in his role as vice president of technical infrastructure.Google hopes Greene's expertise will help make its cloud service more appealing to big enterprise companies, where most of the industry growth will come from in the near future.
Is Urs Holzle out of his mind?Holzle's belief that Google's cloud business could surpass its advertising business would require either a miracle or a disaster (or both). With $60 billion in advertising revenue last year, Google's Cloud Platform would have to grow its revenue 160% every year for the next five years just to reach the same level of revenue as its advertising business in 2014. While Google might have the fastest growth rate in the industry, it's unlikely to be able to sustain such growth as the business expands.
For perspective, Gartner estimates that Amazon, the market leader, will generate nearly $50 billion in 2020 from AWS. A goal to surpass Amazon in the next five years is one thing, actually doing it is quite another.
The other possibility is that Google's advertising business starts to tank. And while Google has a lot of competition from other digital advertising companies, especially as users shift to mobile devices over desktops, its ad revenue looks poised to continue growing as digital takes ad share from more traditional media.
In other words, it's not going to happen. Google's Cloud Platform will not surpass Google's advertising business. But that doesn't mean it won't grow to become a much more significant part of Google's business. Diversifying away from advertising will be great for Alphabet investors, reducing the seasonality of Google's business and reducing the threat of competitors in the advertising space.
The article Google Doesn't Want to Be Just Another Advertising Company originally appeared on Fool.com.
Adam Levy owns shares of Amazon.com. The Motley Fool owns shares of and recommends Amazon.com. The Motley Fool recommends Gartner and VMware. Try any of our Foolish newsletter services free for 30 days. We Fools may not all hold the same opinions, but we all believe that considering a diverse range of insights makes us better investors. The Motley Fool has a disclosure policy.
Copyright 1995 - 2015 The Motley Fool, LLC. All rights reserved. The Motley Fool has a disclosure policy.