Google and Facebook Will Account for 74% of Digital Ad Growth in 2017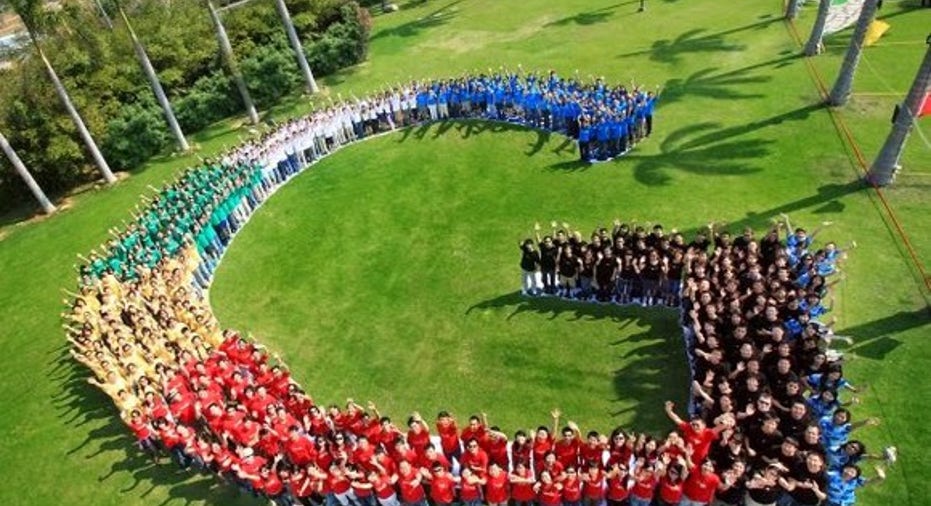 Marketers will continue to shift a larger percentage of their ad budgets to digital in 2017. U.S. digital ad spending is expected to reach $83 billion this year, up 16% according to eMarketer.
By far, the two biggest digital advertisers are Facebook (NASDAQ: FB) and Google, a subsidiary of Alphabet (NASDAQ: GOOG) (NASDAQ: GOOGL). The two will combine to take 57% of the market this year. That's up from 54% last year as the two combine to take about 74% of all the growth in U.S. ad spend.
Even with the recent introduction of ads on the extremely popular Snapchat from Snap (NYSE: SNAP) and continued pressure from Twitter (NYSE: TWTR) and Microsoft (NASDAQ: MSFT), the two giants continue to completely dominate the competition.
Image source: Google.
Google search takes $0.78 of every dollar
Google's biggest business, search, is also its biggest growth driver. Google's search ad revenue is expected to climb 16% this year compared to its overall revenue growth of 15%. eMarketer expects Google to take 78% of all U.S. search ad spend as it takes share from Microsoft and other smaller competitors. The search giant will bring in about $28.6 billion from search ads this year, according to the research group.
Google's growth stems largely from mobile. Android is the most popular mobile operating system in the U.S., and Google is the default search engine on iOS, the second most popular mobile operating system. Microsoft's efforts to penetrate the mobile market largely fell flat, although it is the search engine behind Siri on iOS.
Americans use Google for about 94% of their searches on mobile. As mobile continues to account for more and more of our time, Google's lead in search will only grow wider.
Facebook dominates display advertising
While Google grows more dominant in search, Facebook is increasingly dominant in display ads. eMarketer expects Facebook's U.S. advertising to grow 32.1% to $16.33 billion this year. Google is its next closest competitor, and it's expected to generate just $5.24 billion from display ads.
Image source: Facebook.
eMarketer's projection for U.S. ad revenue growth is actually below analysts' consensus estimate for Facebook's overall revenue growth this year. It's worth noting the U.S. is historically Facebook's largest and one of the faster-growing regions in terms of revenue. However, saturation in ad load could cause U.S. ad growth to slow more significantly compared to regions where Facebook has faster user growth.
Instagram will make a significant contribution to Facebook's U.S. ad revenue this year, growing to account for about 20% of Facebook's total on mobile, up from 15% last year. Mobile accounted for 84% of Facebook's total ad revenue last quarter.
The competition can't touch Facebook or Google
One of Facebook and Google's biggest competitors in display advertising, Twitter, is expected to see its mobile ad revenue decline for the first time in its history. Its revenue on mobile devices will fall about 5% to $1.15 billion, according to eMarketer. Mobile accounted for 89% of Twitter's total ad revenue in the fourth quarter.
The expected to decline comes after management provided anemic first-quarter guidance and followed it up by de-emphasizing certain ad products. Twitter is shifting its focus to its most profitable products in order to make good on its effort to become profitable this year.
Meanwhile, Snapchat is a growing force in video ads. Indeed, eMarketer expects the company's U.S. ad revenue to grow 158% to $770 million. Even with its robust growth, Snap's app revenue still only accounts for 1.2% of the total U.S. mobile ad market, and just 4% of the total growth in U.S. digital advertising.
Even with strong competition, Facebook and Google continue to dominate the market as users flock to their services. The trends favor both to continue growing faster than the rest of the industry for the foreseeable future, too.
10 stocks we like better than FacebookWhen investing geniuses David and Tom Gardner have a stock tip, it can pay to listen. After all, the newsletter they have run for over a decade, Motley Fool Stock Advisor, has tripled the market.*
David and Tom just revealed what they believe are the 10 best stocks for investors to buy right now...and Facebook wasn't one of them! That's right -- they think these 10 stocks are even better buys.
Click here to learn about these picks!
*Stock Advisor returns as of February 6, 2017.
Suzanne Frey, an executive at Alphabet, is a member of The Motley Fool's board of directors. Teresa Kersten is an employee of LinkedIn and is a member of The Motley Fool's board of directors. LinkedIn is owned by Microsoft. Adam Levy has no position in any stocks mentioned. The Motley Fool owns shares of and recommends Alphabet (A and C shares), Facebook, and Twitter. The Motley Fool has a disclosure policy.