Good Thing U.S. Silica Holdings Has Its Industrial Sands Segment to Prop Up Earnings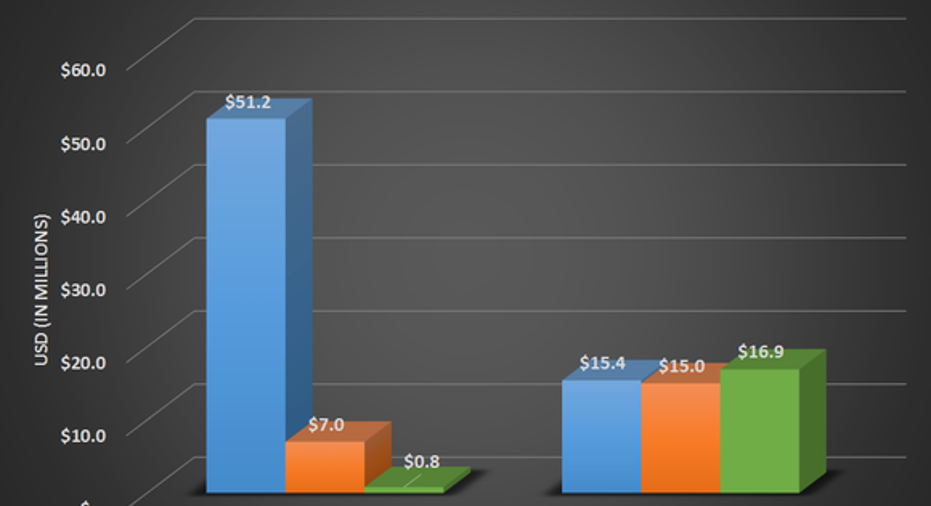 Image source: U..S Silica Holdings corporate website.
Even six months ago, it was hard to imagine that things could get much worse for companies in any facet of the oil and gas business, yet today we're at a point where drilling activity in the U.S. is at one of its lowest points since we started keeping track of it more than half a century ago. U.S. Silica Holdings' most recent quarter was another reminder that it has been affected by the downturn in drilling activity, but its other business segment -- industrial and specialty products -- came to the rescue for the third straight quarter.
Here's a quick snapshot of U.S. Silica's most recent quarter and the one thing investors should keep a keen eye on in the upcoming quarters.
U.S. Silica's quarter: The raw numbers
| Metric | Q1 2016 | Q4 2015 | Q1 2015 |
| --- | --- | --- | --- |
| Revenue | $122.5 | $136.1 | $203.9 |
| Operating income | ($14.3) | ($12.6) | $25.1 |
| Earnings | ($10.6) | ($15.3) | $14.8 |
| EPS | ($0.20) | ($0.29) | $0.28 |
Source: company earnings report. Numbers in millions, except per-share data.
Chances are that when investors originally looked at this stock, the company's industrial sand segment was a bit of an afterthought. With shale oil and gas production across the U.S. booming and the demand for sand for hydraulic fracturing going through the roof, it was easy to forget that U.S Silica's bread and butter for more than a century was industrial sands. Without this business to lean on, the losses that have racked up over the past few quarters would have been much worse.
How much? In this past quarter, industrial sands made up 95% of the company's contribution margin -- the company's proxy for gross margin.
Image source: U.S. Silica Holdings earnings report. Chart by author.
What happened at U.S. Silica this past quarter
The company took a $2.2 million restructuring charge in the quarter that affected overall results. Management says these are one-time charges to "help bring the business more in line with current market conditions."
In March, the company completed a public offering of 10 million shares, which raised $186 million in cash. This sale left the company with a total of $470 million in cash at the end of the quarter and $490 million in total debt. So in all, the company's balance sheet remains in relatively good health despite the rapid decline in revenue and earnings.
Capital spending for the quarter came in at $6.1 million, which puts it above of the company's guidance for the year of $15 million to $20 million in total capital expenditures. Management said the spending was mostly associated with maintenance, expansion, and cost improvement projects. This may just be a seasonal high rate of capital spending, but perhaps it's something worth keeping track of in upcoming quarters.
Aside for capital-expenditure guidance, the company has refrained from giving any guidance for revenue or EBITDA, because the market for oil and gas remains unclear.
What management had to sayMost of the comments CEO Bryan Shinn made in the company's press release were pretty cut-and-dried stuff. "The market is tough." "We're focusing on lowering costs." You know, all those things that you'd expect a CEO to say when revenue has dropped 40% in a year. What was more interesting, though, was what Shinn said related to the recent share offering:
"The equity raise provides our company with enhanced financial flexibility and makes a strong balance sheet even stronger. We believe our balance sheet gives us a key strategic advantage over most in our industry and puts us in the best position to drive industry consolidation."
Reading the tea leaves here, it would seem that U.S. Silica may be on the hunt to make an acquisition. It's not the first time management has stated the need for industry consolidation, and just about every investor presentation goes out of its way to mention the fragmentation in the industrial-sands business. So it may not be a surprise to see some bigger news from U.S. Silica in the coming months.
10-second takeawayFrom an operational standpoint, not a whole lot has changed. Drilling activity in the U.S. continues to decline as oil and gas prices haven't yet reached a point where producers have a lot of incentive to drill new wells. Until that happens, the oil and gas proppants business will continue to post weak results, and the company will need to rely on the industrial-sands business to keep the lights on for the time being.
With a dividend cut in the prior quarter and this bare-bones capital-spending budget, the company doesn't have a lot of cash going out the door right now. So the company should remain in decent shape through the downturn. Based on management's comments about consolidation and caputring market share, it could become an even bigger player in the space if it uses that equity raise effectively.
The article Good Thing U.S. Silica Holdings Has Its Industrial Sands Segment to Prop Up Earnings originally appeared on Fool.com.
Tyler Crowe has no position in any stocks mentioned.You can follow him at Fool.comor on Twitter@TylerCroweFool. The Motley Fool recommends U.S. Silica Holdings. Try any of our Foolish newsletter services free for 30 days. We Fools may not all hold the same opinions, but we all believe that considering a diverse range of insights makes us better investors. The Motley Fool has a disclosure policy.
Copyright 1995 - 2016 The Motley Fool, LLC. All rights reserved. The Motley Fool has a disclosure policy.