Goldman Sachs Relents: Stericycle Upgraded to Neutral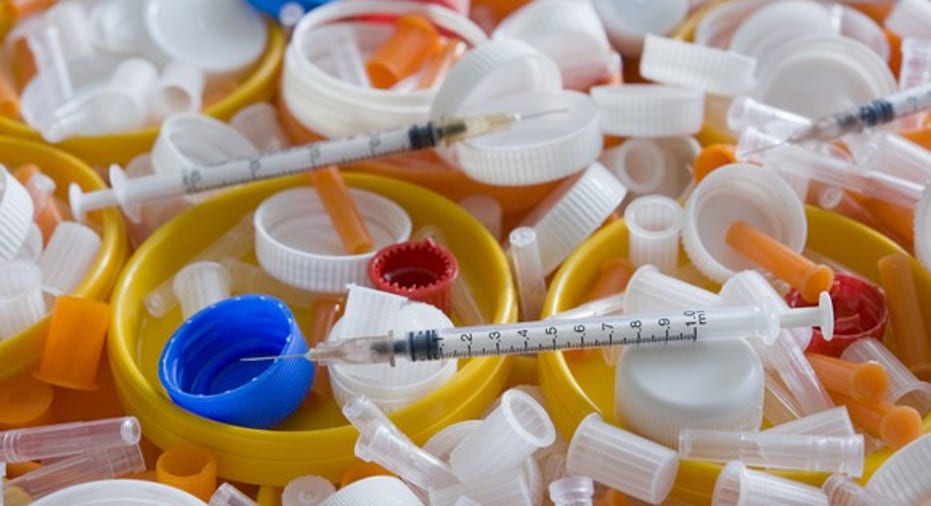 Every day, Wall Street analysts upgrade some stocks, downgrade others, and "initiate coverage" on a few more. But do these analysts even know what they're talking about? Today, we're taking one high-profile Wall Street pick and putting it under the microscope...
Medical waste specialist Stericycle (NASDAQ: SRCL) had great news to announce in its fiscal year-end report last month, sending its sharesup 8% in a day -- and now the news is getting even better. After taking a close look at Stericycle's numbers, analysts at investment Goldman Sachs have decided to remove their sell rating from the shares, and upgradeStericycle stock to neutral.
Here are three things you need to know about that.
Medical trash is cash for Stericycle. Image source: Getty Images.
1. "More achievable consensus expectations"
Analysts weren't optimistic about Stericycle heading into its Q4 report last month. Revenue growth was expected to basically flatline at less than 2% growth, while earnings were predicted to take it on the chin, declining more than 90%.
As it turned out, Stericycle beat modestly on sales growth, and turned in a relatively strong earnings quarter -- beating expectations by $0.07. But even so, Stericycle ended the year earning 30% less profit than it had recorded in 2015. In Goldman's opinion, that decline has helped to reset expectations for the stock on Wall Street, curbing analysts' enthusiasm to the point that Stericycle now has a chance to at least achieve consensus expectations this year, if not actually beat them.
In that regard, S&P Global Market Intelligence notes that analysts are looking for $3.25 per share in GAAP profits on $3.6 billion in revenue this year. Pro forma profits are expected to be about $4.63 per share -- and Goldman says its estimates are about 2% below what the rest of Wall Street is expecting.
2. A possibility of upside
If Goldman Sachs isn't as optimistic as the rest of the Street, neither is it ruling out the potential for a positive surprise. As reported by TheFly.com, Goldman thinks Stericycle's cyclical businesses "could provide upside." This has convinced the analyst to raise its price target on Stericycle shares to $79 -- a 27% increase from Goldman's previous $62 price target.
3. Let the free cash flow!
Now here's the best part: Reviewing Stericycle's Q4 report last month, I pointed out that despite the downturn in official GAAP profits, Stericycle shone on the subject of free cash flow. Cash profits at the medical waste recycler increased nearly 50% year over year in 2016, and came in at almost twice the level of reported accounting profits.
That was a pretty surprising number. Goldman Sachs now believes it may have overestimated the "acuteness" of the pricing pressures facing Stericycle. If the situation isn't as dire as once believed, the analyst says it may have to build in "higher long-term FCFassumptions" for the stock.
Bonus thing: Valuing Stericycle stock
But those had better be significantly higher assumptions, if Stericycle stock is to win an actual buy rating, and not just an upgrade to neutral. Here's why:
The $411 million in positive free cash flow that Stericycle generated last year gives the stock a debt-adjusted market cap (enterprise value) of 24 times cash profits. That wouldn't be an unreasonable valuation if one were to believe Stericycle capable of repeating its 2016 feat, and growing free cash flow 49% in future years as well.
In fact, though, most analysts are forecasting no more than 10% annualized profits growth for the company -- and remember, Goldman says its own assumptions are for earnings 2% below consensus estimates.
With no dividend to recommend it, and an enterprise value-to-free cash flow-to growth ratio that still sits well north of 2.0, Stericycle shares continue to look expensive to me. Accordingly, I agree with Goldman on this one: While the free cash flow rebound last quarter might justify a ratings reprieve, it isn't yet good enough to make Stericycle stock a buy.
10 stocks we like better than StericycleWhen investing geniuses David and Tom Gardner have a stock tip, it can pay to listen. After all, the newsletter they have run for over a decade, Motley Fool Stock Advisor, has tripled the market.*
David and Tom just revealed what they believe are the 10 best stocks for investors to buy right now... and Stericycle wasn't one of them! That's right -- they think these 10 stocks are even better buys.
Click here to learn about these picks!
*Stock Advisor returns as of February 6, 2017
Rich Smith has no position in any stocks mentioned. The Motley Fool recommends Stericycle. The Motley Fool has a disclosure policy.