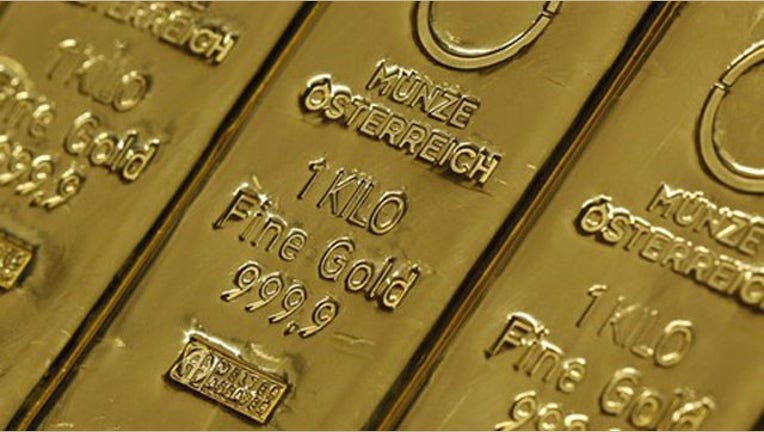 Gold fell for the fifth straight session on Wednesday, hitting a three-week low as the dollar strengthened to a six-week high versus the euro after weak euro zone economic growth data.
While gold has recovered around 7 percent from a two-year trough of $1,321.35 an ounce hit in mid-April, its safe-haven appeal has been battered by record-high U.S. equities and signs of an improving U.S. economy.
Spot gold fell 1 percent to $1,410.51 an ounce at 1157 GMT, having touched its lowest since April 23 at $1,407.54 earlier.
Bullion was on track to post a daily fall for a fifth consecutive session, its longest run of losses since January 2011. It has fallen more than 14 percent so far in 2013 after gaining for the past 12 years.
U.S. gold futures for June fell 1.1 percent to $1,409.50 an ounce.
"The dollar is very robust and seems poised for more strength in the coming months, adding further pressure to technically weak gold prices," VTB Capital analyst Andrey Kryuchenkov said.
The dollar rose to a six-week high against the euro after a surprisingly large contraction of the euro zone economy, while European shares turned higher after a mixed start, hitting multi-year peaks.
While a weak European growth outlook lifts the chance of another interest rate cut by the European Central Bank, the U.S. economy showing signs of a recovery underpins expectations that the Federal Reserve may wind down its asset purchases programme by the end of the year, analysts said.
"The U.S. economy is not out of the woods yet but is so much better than anywhere else and monetary expansion should continue in Europe for longer than in the United States," Kryuchenkov said.
As a gauge of investor sentiment, holdings at SPDR Gold Trust, the largest gold-backed ETF, were unchanged at 33.8 million ounces on Tuesday, but still within sight of their lowest since March 2009 hit earlier.
INDIA RESTRICTS GOLD IMPORTS
Gold buying in India came to a halt as the country's central bank restricted imports after a surge in buying in April sent the trade deficit to $17.8 billion for the month, up more than 72 percent from March.
India's gold and silver imports surged 138 percent on the year in April as customers took advantage of lower prices, increasing pressure on the current account balance and limiting the space for monetary easing.
"With India doing its best through taxation to limit gold buying, the demand from there is not as big as it was the last time we were at these levels," Marex Spectron head of precious metals David Govett said.
"As the market becomes somewhat accustomed to these lower prices, the physical demand slackens and waits once again for dips. I wouldn't be surprised if we see $1,400 tested before long."
In other precious metals, silver fell 1.6 percent to $22.98 an ounce, platinum was down 0.2 percent to $1,493.49 an ounce and palladium dropped 1.1 percent to $718.75 an ounce. (Additional reporting by A. Ananthalakshmi in Singapore; Editing by David Cowell)