Gold Steady On Risk Aversion; Set For Best Week In A Month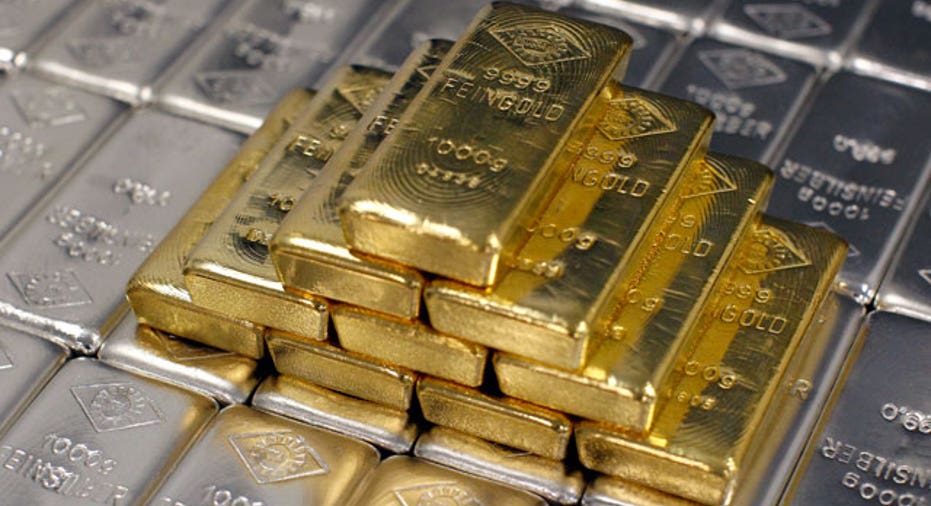 Gold steadied below 2-1/2 week highs on Friday, heading for its best week in a month on sagging risk appetite and increasing hopes the U.S. Federal Reserve will hold off on raising interest rates as soon as early next year.
A day earlier, bullion hit its highest since March 24 at $1,324.40 an ounce bolstered by the Fed's March meeting minutes which showed officials were not keen on increasing interest rates straight after unwinding bond purchases, as the markets had feared.
Spot gold was unchanged at $1,319.03 an ounce at 0955 GMT. It is up 1.2 percent for the week and on track for its second straight week of gains.
Gold futures for June delivery were down 0.1 percent to $1,319.40 an ounce.
"What we saw this week was quite interesting because it emphasises the rolling back of the seemingly hawkish stance that we saw at the previous meeting and I think gold is taking some comfort from that," Mitsubishi Corp. analyst Jonathan Butler said.
"We have no central banks' particular releases next week, although the Fed's Chair Yellen is speaking at quite high-profile conferences and attention will be there."
European shares dropped sharply, while the dollar was flat versus a basket of currencies, still down 1.2 percent for the week, its biggest weekly loss in nine months. The yield on 10-year U.S. Treasury notes fell to their lowest since Feb. 27 at 2.62 percent.
Returns from U.S. bonds are closely watched by the gold market, given that the metal pays no interest.
Gold had come under pressure, falling to a seven-week low of $1,277.90 on April 1, on signs that strong economic data in the United States could prompt further dollar strengthening and after Fed Chair Janet Yellen on March 19 hinted at the chance of hiking interest rates in the first half of 2015.
Low interest rates, which cut the opportunity cost of holding non-yielding bullion above other assets, had been an important factor driving gold higher in recent years.
Political tension further dampened investor risk appetite after Russian President Vladimir Putin warned gas supplies to Europe could be disrupted if Moscow cuts the flow to Ukraine over unpaid bills.
Gold gains were however capped by continuing outflows from gold funds and weak physical demand in Asia.
Outflows from SPDR Gold Trust, the world's largest gold-backed exchange-traded fund, slowed on Thursday to about 0.26 tonnes, compared with 2.70 tonnes earlier in the week.
The fund still hasn't seen any inflows since March 24, implying underlying bearishness.
"We observe quite mixed sentiment towards gold, but equally it's not very extreme," UBS said in a note. "This allows the market to turn on or off to gold quite quickly and frequently."
PHYSICAL DEMAND
Buying in Asia has been quiet for over a month now, with top purchaser China on the sidelines due to a drop in the yuan.
Prices briefly turned to a premium this week but fell back down to a discount of about $1 on Friday.
Gold and silver imports into India, the world's second-biggest buyer of it, dropped 40 percent to $33.46 billion in 2013/14.
In other precious metals, silver rose 0.3 percent to $20.06 an ounce, while platinum was up 0.5 percent to $1,455.00 an ounce and palladium gained 0.1 percent to $787.30 an ounce.