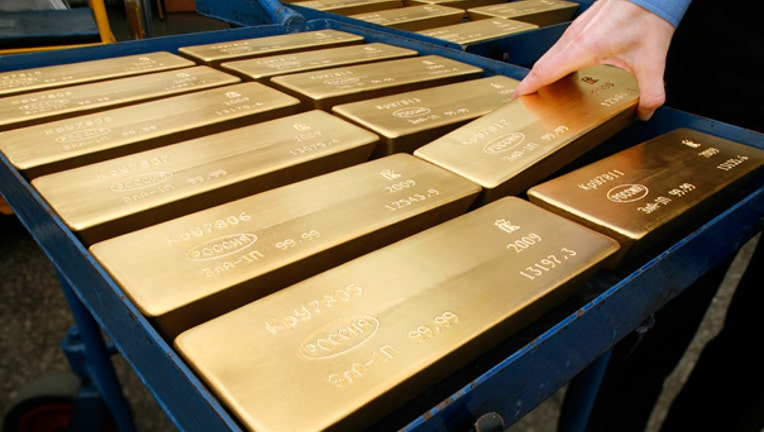 Gold prices hit their lowest since early January on Wednesday as comments from the European Central Bank lifted the dollar to three-week highs against the euro, accelerating a fall sparked by declining expectations of more U.S. monetary easing.
Spot gold was down 1.3 percent at $1,624.21 an ounce at 1338 GMT, having earlier touched a low of $1,617.29, its weakest level since Jan. 10. U.S. gold futures for April delivery were down $45.50 an ounce at $1,626.50.
The dollar rose to its highest since mid-March against the euro as investors compared the outlook for the U.S. economy to that of the euro zone after comments from ECB President Mario Draghi.
Draghi said the euro zone economic outlook is subject to downside risks relating to the debt crisis and commodity prices. European shares also fell after his comments.
"(Draghi) is saying strategy is pretty much that here we need to be accommodative, and that is obviously helping to pull the euro down at the moment," VTB Capital analyst Andrey Kryuchenkov said. "Because gold is inversely related to the dollar, that's what's dragging it (down)."
Gold has fallen 3 percent so far this week, retreating further from the high above $1,790 an ounce it reached in March on expectations for another round of U.S. quantitative easing.
Ultra-loose monetary policy, which keeps real interest rates and consequently the opportunity cost of holding gold low, helped push the metal to record highs in 2011.
But minutes of the U.S. central bank's latest policy meeting published on Tuesday showed only two of the policy-setting Federal Open Market Committee's 10 voting members saw the case for additional monetary stimulus.
"The minutes by the Fed indicated that there would be no quantitative easing unless the economy takes a dip for the worse - gold immediately sold off on that and now the dollar is stronger too, so that's weighing on gold," Standard Bank analyst Walter de Wet said.
"I wouldn't be surprised if we push lower towards $1,600 - that is what we think is a floor and we are unlikely to fall substantially below that," he said.
IMPROVING U.S. ECONOMY
A spate of better-than-expected economic data out of the U.S. in recent weeks has curbed investor appetite for gold, as it has raised expectations that quantitative easing will prove unnecessary.
"Armed with these most recent Fed minutes, a challenging stage is set for gold," UBS said in a note on Wednesday.
"Gold really does need the physical markets to step in right now. So far the response has been limited. The jewellers' strike in India persists, overnight demand from that region was poor and the Chinese market is closed, but returning tomorrow."
Jewellers in number one gold consumer India have been on strike for more than a fortnight, protesting against government plans to increase import taxes and duty on gold, curbing buying of the precious metal.
Trade body officials said on Wednesday that India's finance minister will meet the heads of jeweller associations on Friday to discuss the proposals. "The strike will continue until the excise duty is rolled back," said Kumar Jain, vice president of the Mumbai Jewellers Association.
Precious metals were weaker across the board, with spot silver down 3.1 percent at $31.60 an ounce, spot platinum down 1.7 percent at $1,606.99 an ounce, and spot palladium down 0.8 percent at $643.22 an ounce.