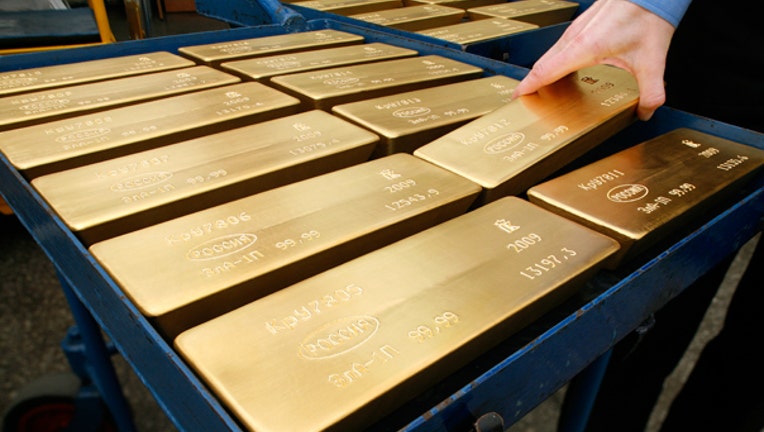 Gold sank over 2 percent to below $1,200 per ounce for the first time in nearly three years on Thursday as investors continued their relentless selling into a ninth straight session, betting on the U.S. Federal Reserve will curb its bond buying.
Bullion reversed small earlier gains triggered by a weaker dollar as selling offset tentative signs of bargain hunting. Investors have been shifting money into equities.
Without physical demand to offset the exodus from exchange-traded funds and institutional selling, gains were temporary, traders said. Buying in top consumers India and China has not picked up as much as it did in the mid-April selloff.
"Bargain hunters are reluctant to act for now," said George Gero, precious metals analyst at RBC Capital Markets Global Futures, in New York. "Wherever investors look, there seems a new negative."
Losses accelerated when stop-loss orders were triggered as prices pierced previous support levels.
U.S. jobless data earlier reinforced expectations that the world's largest economy continues to improve and the Fed will rein in stimulus spending.
For now, the market brushed off comments by two influential Fed policymakers who sought to dissuade investors that monetary accommodation was fading any time soon, each going so far as to say markets have misinterpreted the U.S. central bank's intentions.
Gold's safe-haven appeal has been severely dented since Fed Chairman Ben Bernanke said last week the U.S. central bank plans to start scaling back its $85 billion monthly bond purchases in the next few months. That would support an increase in interest rates, making gold less attractive.
Falling for a ninth straight session, spot gold was down $21.95, or 1.79 percent at $1,204.10 an ounce at 2:40 p.m. EDT (1840 GMT). It fell as low as $1,197.1 an ounce, its lowest since Aug. 12 2010.
Comex gold settled down $18.2, or 1.5 percent, at 1,211.6 an ounce.
The losses were all the more significant as the dollar fell for the first time in over a week, while the benchmark 10-year U.S. Treasury yield fell below 2.5 percent.
As gold pays no interest, the fall in returns from U.S. bonds and other markets is seen as positive for the metal.
CHEAP MONEY
Gold and other commodities have benefited from cheap central bank money over the years. Any pause in U.S. economic recovery momentum would mean a delay in the Fed's rollback of monetary easing and be positive for bullion.
Gold is down over 28 percent for the year and is headed for its worst quarterly performance since at least 1968.
ABN Amro was the latest to pare its price forecasts, lowering its 2013 year-end gold forecast to $1,100 an ounce from $1,300 and 2014 year-end price to $900 from $1,000, citing liquidation in funds.
Holdings of the SPDR Gold Trust, the world's largest exchange-traded gold fund, stood unchanged on Wednesday, after posting their second-biggest percentage drop in holdings this year on Tuesday - down 1.7 percent or 16.23 tonnes - to their lowest levels in more than four years.
Silver, which sank 5.5 percent in the previous session, was down 0.43 percent to $18.54 an ounce. Platinum rose 0.96 percent to $1,314 an ounce and palladium was up 2.3 percent to $643.97 an ounce. (Additional reporting by A. Ananthalakshmi in Singapore; editing by Jason Neely and Nick Zieminski)