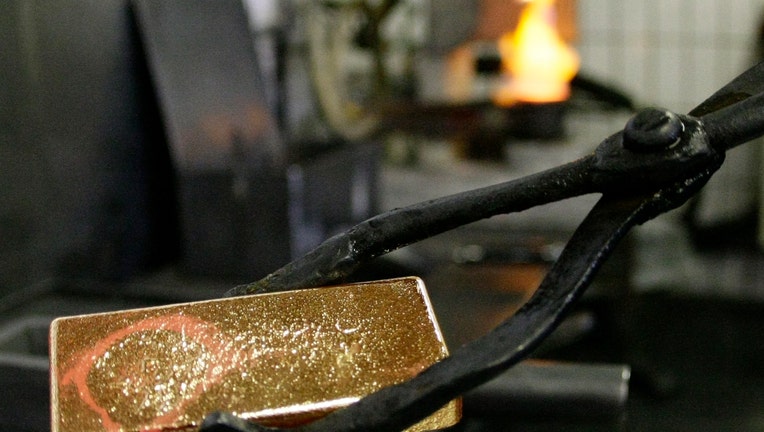 Gold climbed to its highest in nearly two weeks on Monday, shrugging off dollar strength, as U.S. economic data pointed to sluggish growth and the world's biggest gold exchange-traded fund recorded the first inflow in two months.
Holdings in SPDR Gold Trust grew by 0.2 percent to 911.13 tonnes on Friday - the first increase since June 10. The fund has seen more than 14 million ounces in outflows this year, about $19 billion at current prices.
Spot gold rose as much as 1.5 percent to $1,333.31 an ounce earlier in the session, its highest since July 31. It was trading up 1 percent at $1,327.50 by 0951 GMT, on track for its fourth straight day of gains.
U.S. gold futures for December gained $14.70 to $1,326.70 an ounce.
Traders said there was some buying of the precious metal by those who had agreed to sell at future dates in expectation its price would fall.
"The move above $1,300 last week has raised the risk of some additional short-covering, but the technical picture is quite neutral and it could only improve if we see gains pushing prices above the $1,350 level," Saxo Bank senior manager Ole Hansen said.
"It is interesting to see some strength at a time when we are also seeing a stronger dollar, which is a wake-up call to those looking for much lower prices that there is going to be a bit of a fight," he added.
The dollar rose 0.3 percent against a basket of currencies, moving away from a seven-week low hit on Thursday.
A stronger dollar usually makes assets denominated in the U.S. unit more expensive for holders of other currencies.
Gold has also been boosted by data showing U.S. wholesale inventories fell unexpectedly for a second straight month in June, prompting economists to trim second-quarter growth estimates and raising speculation that the Federal Reserve could hold its commodity-friendly stimulus measures for longer.
Accommodative monetary policy in the United States favours gold as low interest rates encourage investors to put money into non-interest-bearing assets.
Elsewhere, hedge funds and money managers trimmed gold net longs and significantly reduced their short positioning to the lowest level since May, a report by the U.S. Commodity Futures Trading Commission showed on Friday.
"Changes in the market perception with respect to Fed tapering or weaker-than-expected data, could trigger a re-establishment of the record gross shorts, exacerbating the downside for gold prices," Barclays Capital said in a note.
CHINA DEMAND
China's gold consumption jumped to 706.36 tonnes in the first half of the year, compared with 832.18 tonnes in the whole of 2012, the China Gold Association said on Monday.
Gold's price decline after 12 annual gains has released pent-up demand across the world for jewellery, bars and coins.
Silver rose to a near two-month high of $21.24 an ounce and was later trading up 2.1 percent at $20.97. Platinum fell 0.3 percent to $1,495.24 an ounce, having touched a two-month peak of $1,507 earlier in the session.
Palladium was unchanged at $739.72 an ounce. (Additional reporting by A. Ananthalakshmi in Singapore; Editing by Dale Hudson)