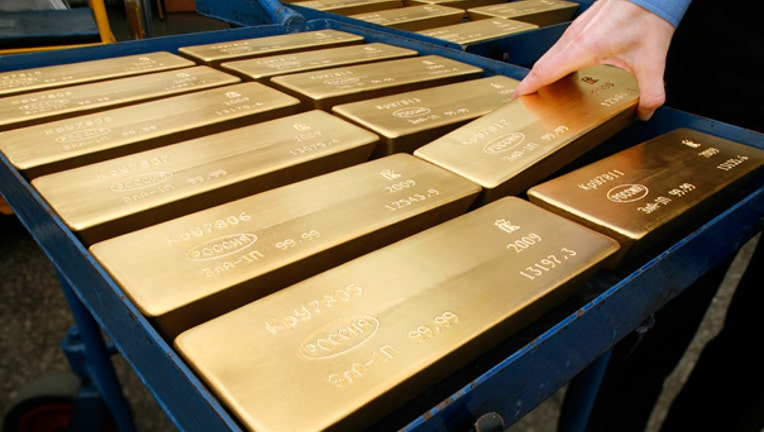 Gold fell to a five-week low on Friday, heading for its weakest week in two months on prospects the United States would curb its stimulus soon and as fears of a U.S.-led military attack on Syria receded.
The United States and Russia started talks on Thursday, trying to flesh out a Moscow plan to dispose of Syrian President Bashar al-Assad's chemical weapons.
Gold was quoted at $1,312.50 an ounce, down 0.6 by 1151 GMT. It hit its weakest since August 8 at $1,304.56 earlier. As technical support at 100 and 50 day moving averages (MA) has been broken, traders said $1,307 should now provide a floor, but a consistent fall through that level would trigger further losses to around $1,275.
U.S. gold futures for December also touched its lowest since August 9 at $1,304.60 an ounce and stood at $1312.14, still down $18.20.
"This is almost certainly the pricing in of the expectations of QE tapering," Mitsubishi analyst Jonathan Butler said.
"The FOMC is meeting next week and there is a great deal of speculation over the beginning of the end as far as QE is concerned as soon as the end of the month of whatever size that might be," he added.
The U.S. Federal Reserve may announce a cut in its $85 billion monthly bond purchases at the end of its two-day meeting on Sept. 18.
Gold lost 19 percent this year after the Fed signalled it would start reining in nearly five years of quantitative easing that weighed the dollar down and encouraged investors to buy hard and non-interest rate bearing assets like gold.
Gold came under pressure from a firmer dollar after a Japanese newspaper report that Lawrence Summers would soon be named to head the Federal Reserve and ahead of U.S. retail sales and sentiment data due later on Friday. [ECI/US ECONUS]
SYRIA EFFECT
Gold prices rallied above $1,430 an ounce to a three-and-a-half-month high in late August on safe-haven buying, as the United States and its allies looked set to launch military strikes on Syria.
But the metal's appeal has been dented by diplomatic efforts to place Syria's chemical weapons under international control, which may avert a U.S. military strike.
Physical dealers reported buying interest from jewellers, which could help gold stay above the psychological level of $1,300.
"We heard in China there's decent buying," said Ronald Leung, chief dealer at Lee Cheong Gold Dealers in Hong Kong, referring to the world's second-largest consumer.
Purchases from jewellers in Hong Kong and mainland China initially helped gold gain more than half a percent, but heavy selling of New York COMEX <0#GC:> and bullion futures on Tokyo Commodity Exchange <0#JAU:> spilled into the cash market.
Of other precious metals, spot silver, which fell to a one-month low of $21.35 an ounce earlier, was trading down 0.1 percent at $21.73. It has lost around 10 percent so far this week, its biggest weekly loss since mid-April.
Spot platinum rose 0.2 percent to $1,432 an ounce, while spot palladium gained 0.3 percent at $691.50 an ounce.