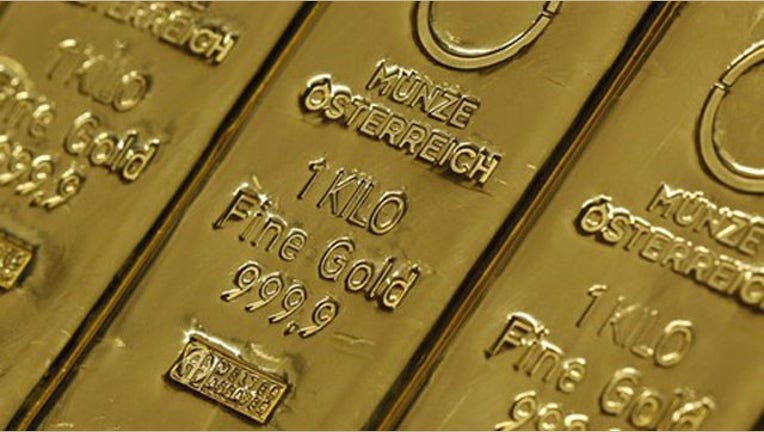 Gold steadied on Monday and was set to end 2012 up around 6 percent, notching up a 12th straight year of gains, but uncertainty over whether U.S. politicians will resolve a fiscal crisis complicated the price outlook into the new year.
Gold was up $5.90 or 0.36 percent at $1,660.8 per ounce at 1210 GMT, having earlier risen almost 1 percent to a session high of $1,668.70.
It was headed for an annual rise, driven by rock-bottom interest rates, concerns over the financial stability of the euro zone, and diversification into bullion by central banks.
U.S. gold for February rose $6.10 an ounce to $1,662.00.
The U.S. Congress comes back on Monday without a deal to avert the "fiscal cliff" and with only a few hours of actual legislative time scheduled in which to act if an agreement materializes.
"It seems that a failure to reach a compromise, which is looking more and more likely, is supporting gold," said Peter Fertig, an analyst with Germany-based Quantitative Commodity Research.
"I think it is more safe-haven buying which is driving up gold today."
Fertig also pointed to positive Chinese industrial activity data, which he said helped support gold prices.
"It would indicate that Chinese investors' demand for gold might be picking up," he said.
Activity in China's vast manufacturing sector hit its fastest pace in December since May 2011, a survey of private factory managers showed, with a sub-index for new orders pointing to continued strength in the new year.
In other markets, world stocks were set to end the year up almost 13 percent on Monday but uncertainty loomed as U.S. politicians prepared for last-minute talks to avoid a fiscal crunch of spending cuts and tax hikes that could drag down the world economy in 2013. [ID: nL5E8NV11L]
ALL EYES ON FISCAL CLIFF
Unless a deal is reached on the U.S. budget, some $109 billion of across-the-board spending cuts are due to kick in immediately at the start of the new year and eventually amount to $600 billion in tax increases and spending cuts.
Failure to clinch a deal may spur safe-haven buying of gold, but if the White House and Congress reach an agreement, the metal may track stock markets higher.
Bernard Sin, a trader at Swiss-based MKS Finance, said uncertainty over the outcome of the U.S. fiscal talks, had underpinned gold.
"As long as there are no conclusions on the budget talks, the market will be trading upwards," Sin said.
"You see some producer selling into the rally," he added.
Sin said some participants also had been reluctant to take new positions as they squared books before the end of the year.
Market holidays were in force in Japan, South Korea, Taiwan, Indonesia, Thailand, the Philippines and Vietnam, with half-day trading in Australia, New Zealand, Hong Kong and Singapore.
Several major Asian stock indexes closed on Monday, with the strongest annual gains in years, but these were overshadowed by the lack of progress in talks to avert the looming U.S. "fiscal cliff".
In foreign currency news, the euro fell against the dollar on Monday as growing concern U.S. lawmakers would not reach a deal in last-ditch budget talks prompted investors to seek refuge in the more liquid U.S. currency.
An agreement on the U.S. budget would be viewed as a positive for riskier currencies such as the euro and Australian dollar, while a deadlock would be deemed positive for the safe-haven and highly liquid dollar.
A softer dollar boosts commodities priced in the greenback by making them cheaper for holders of other currencies.
Buoyed by his re-election in November, President Barack Obama has insisted that any deal must include a tax increase on the wealthiest Americans, who have seen their earnings rise steadily over the past decade at a time when income for the less affluent has stalled.
Gold demand in India, the world's biggest buyer of the metal, was weak on Monday due to year-end, and as prices nudged higher following gains in the world market.
Silver was down 0.07 percent to $29.98 an ounce, while platinum dipped 0.03 percent to $1,517.5 and palladium eased 0.07 percent to $694.49 an ounce.