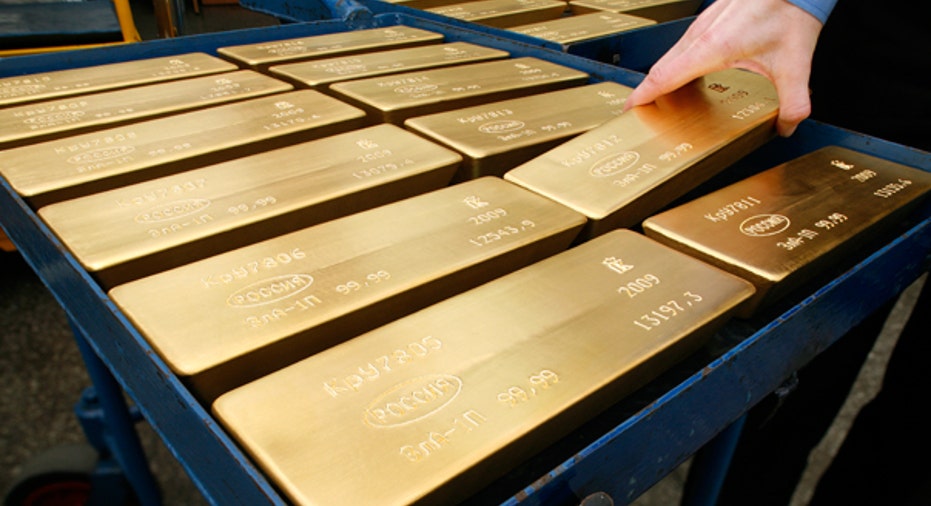 Gold rebounded on Friday after the last session's selloff, but the precious metal was virtually flat for the year to date and posted a weekly drop of nearly 4 percent on deflation worries and a lack of aggressive Federal Reserve stimulus.
In early trade, gold briefly crossed into negative territory for 2012, extending Thursday's 2.5 percent drop. Investors were frustrated by the Fed's decision this week to lengthen its "Operation Twist" program aimed at lowering long-term interest rates instead of a new outright bond purchase program.
Inflation fears have helped fuel several years of strong gains for gold, but investors are starting to worry about deflation after reports this week showed signs of slowing economic activity around the world.
"There is zero inflation out there. With gold being well received as a risk asset, the price is deflated because of the rising dollar," said Phillip Streible, senior commodities broker at futures brokerage R.J. O'Brien.
Streible said investors may rebuild gold positions after the latest price pullback, and might rethink the flow of funds into U.S. Treasuries because they have reached a "saturation point."
Spot gold was up 0.2 percent at $1,568.70 an ounce by 2:59 PM EDT (1859 GMT), just $5 above the closing price of $1,563.80 for 2011.
The metal noted a 3.5 percent this week for its second-largest weekly decline of the year.
U.S. gold futures for August delivery settled up $1.40 at $1,566.90, with trading volume at about 35 percent below its 30-day average, preliminary Reuters data showed.
Silver was up 10 cents at $26.85 an ounce. The metal, widely used in industry, posted a 6.5 percent drop for the week, its biggest weekly decline for the year.
Demand for physical gold in key Asian markets remained lackluster.
Indian gold buying has been hurt by a bad monsoon season and a record low in the rupee, which pushed local gold prices to an all-time high. India's government's decision to double import duty on gold to 4 percent also weighed heavily.
Gold imports to India, historically the world's largest buyer, fell by $6.2 billion in the first two months of the fiscal year that began in April, compared with a year before, the country's finance secretary said on Friday.
GOOD BUY AFTER PULLBACK?
Gold prices appeared underpinned a day after Moody's downgraded 15 of the credit ratings of world's biggest banks to reflect the risk of losses from volatile capital markets.
Worries about the euro-zone debt crisis also supported gold.
LGT Capital Management analyst Bayram Dincer said investors will retain interest in gold as long as the metal can hold strong support near $1,530 an ounce.
"We believe the slide in gold prices may create an attractive entry point for emerging markets buyers and long-term investors such as the official sector and pension funds, who may be looking to diversify away from the U.S. dollars and into a quality hard asset such as bullion," HSBC said in a note.
Among platinum group metals, platinum was down 0.3 percent at $1,426.65 an ounce, while palladium edged up 0.2 percent at $604.35 an ounce.