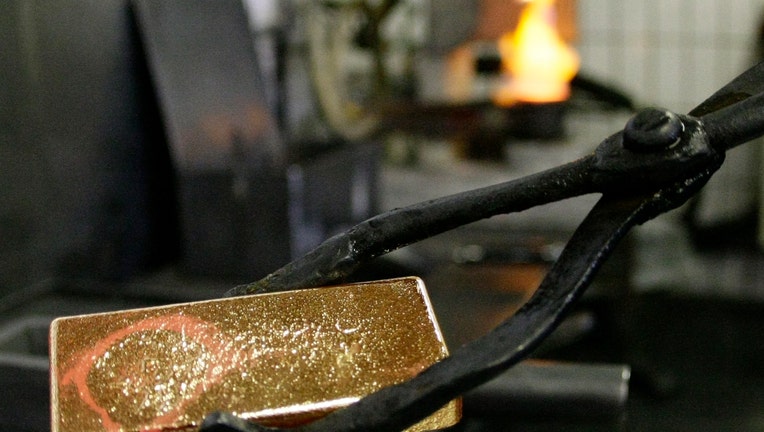 Gold steadied on Thursday after the previous session's sharp drop, ahead of central bank meetings and U.S. jobs data likely to provide clues on the outlook for U.S. monetary policy.
Spot prices fell 1.5 percent on Wednesday after upbeat U.S. data lifted stocks and as oil prices fell on expectations that a military strike against Syria - which helped lift gold to 3-1/2 month high last week - would remain limited.
Spot gold was at $1,391.41 an ounce at 0919 GMT, little changed from $1,390.84 late on Wednesday. U.S. gold futures for December delivery were up $1.40 an ounce at $1,391.40.
A 15 percent drop in gold prices this year has been driven largely by speculation the U.S. Federal Reserve will start reducing its bullion-friendly $85 billion monthly bond-buying programme, with an announcement foreseen at its September 17-18 meeting.
"The fact we are now less than two weeks away from the very eagerly awaited Fed meeting (means) some longs have been reduced, putting the metals on the back foot," Saxo Bank head of commodity strategy Ole Hansen said.
"I'm looking for a $1,379 to $1,397 range today. A break below Monday's low will obviously test the resolve in the market, but I think support will be found ahead of key support towards $1,350, leaving gold rangebound in the near term."
European shares climbed, government bond yields were at near 1-1/2 year highs and the dollar held close to six-week peaks on a combination of a better global economic outlook, nervousness about Syria and pending central bank meetings.
Brent crude oil prices held above $115 a barrel but are unlikely to rise steeply, analysts said, given expectations for a short, limited strike on Syria, unless major oil producers in the Middle East get dragged into the conflict.
U.S. JOBS DATA IN FOCUS
Analysts are awaiting U.S. jobs data due later for clues as to the outcome of Friday's U.S. non-farm payrolls report, which is seen as a barometer of the U.S. recovery. Payrolls processor ADP releases its August employment report at 1215 GMT.
The European Central Bank and Bank of England are holding policy meetings on Thursday which will be watched for any shift in monetary policy. The Bank of Japan earlier maintained its stimulus programme as expected.
Investors expect the European Central Bank to stick to its line that interest rates will stay low to support the euro zone's fragile recovery.
Hong Kong's gold exports to China rose to 129.232 tonnes in July from 111.718 tonnes in June, data from the Hong Kong government showed on Thursday.
Among other precious metals, silver was up 0.1 percent at $23.47 an ounce, while spot platinum was up 0.3 percent at $1,492.99 an ounce. Spot palladium was down 0.7 percent at $690.97 an ounce.
Platinum miners in South Africa, the source of three-quarters of world platinum supply, are watching the progress of pay negotiations in the gold sector. A strike for higher pay hit production at most of South Africa's gold mines on Wednesday.
"Based on the possibility of supply disruptions and generally strong demand, we expect platinum group metals prices to recover," HSBC said in a note. (Reporting by Jan Harvey; editing by Jason Neely)