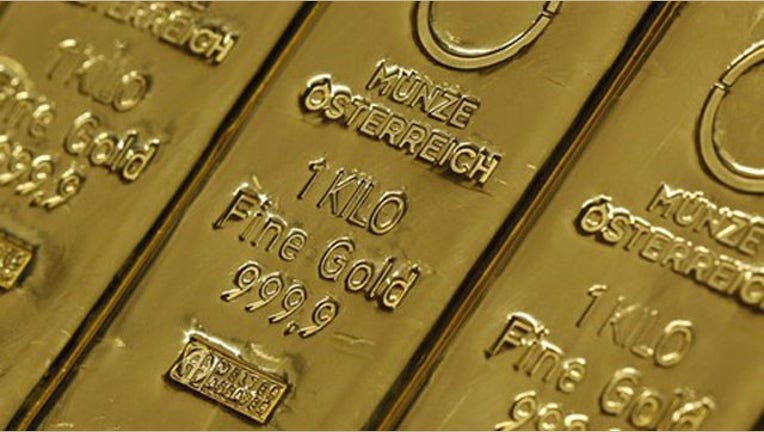 Gold ticked up on Monday, holding near its highest level in more than a week, as a rebound in prices from a 2-year trough failed to curb investor appetite for the precious metal.
Spot gold had risen $1.15 an ounce to $1,463.65 by 0025 GMT, having posted its biggest weekly gain in three months last week. Gold plunged to around $1,321 on April 16, its lowest in more than two years, in a sell-off that surprised ardent gold investors and bulls.
U.S. gold for June delivery stood at $1,463.20 an ounce, up $9.60.
Holdings of the largest gold-backed exchange-traded-fund (ETF), New York's SPDR Gold Trust GLD, dipped 0.66 percent on Friday from Thursday, while those of the largest silver-backed ETF, New York's iShares Silver Trust SLV, climbed 0.25 percent in the same period.
Hedge funds and money managers trimmed their net longs in gold futures and options in the week to April 23 as investors reduced bullish bets, a report by the Commodity Futures Trading Commission (CFTC) showed on Friday.
The dollar dropped on Friday to its lowest against the yen in more than a week after the Bank of Japan left policy unchanged and data showed the U.S. economy expanded more slowly than expected in the first quarter.
U.S. stocks dipped in thin volume on Friday, though the market had a strong week overall despite a mixed bag of earnings and weak economic figures. DATA/EVENTS (GMT) 0900 Euro zone Economic sentiment surveys 0900 Italy Business confidence 1200 Germany Inflation 1230 U.S. Personal income/spending 1230 U.S. Fed Midwest manufacturing 1400 U.S. Pending home sales 1430 U.S. Dallas Fed Texas manufacturing PRICES Precious metals prices 0025 GMT Metal Last Change Pct chg YTD pct chg Volume Spot Gold 1463.65 1.15 +0.08 -12.59 Spot Silver 24.01 0.03 +0.13 -20.71 Spot Platinum 1477.50 4.50 +0.31 -3.75 Spot Palladium 677.97 0.10 +0.01 -2.03 COMEX GOLD JUN3 1463.20 9.60 +0.66 -12.69 3707 COMEX SILVER MAY3 23.97 0.21 +0.87 -20.72 430 Euro/Dollar 1.3033 Dollar/Yen 97.89 (Reporting by Lewa Pardomuan; Editing by Joseph Radford)