Gold At Nearly 3-Week High On Lower Equities; China Demand Robust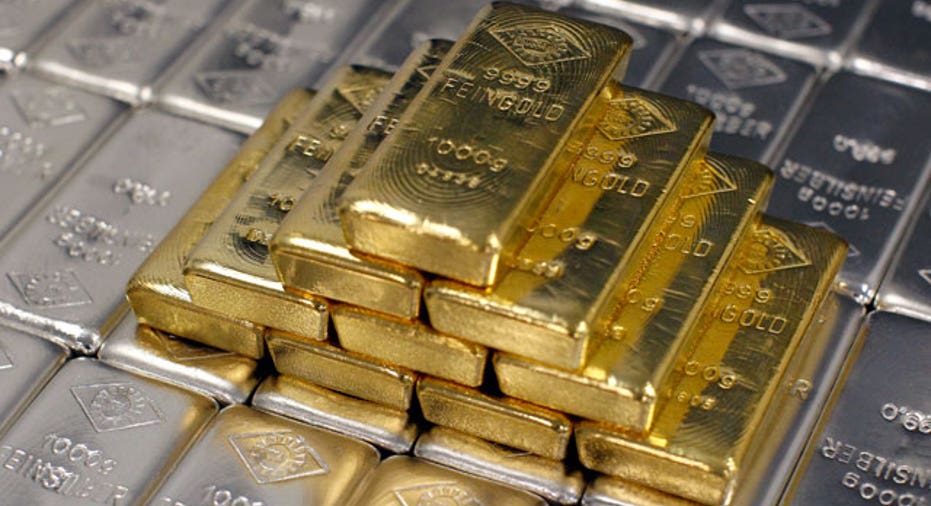 Gold edged up for a fifth day to its highest level in nearly three weeks on Monday as a flat dollar and softer equity markets drew investors to the asset while robust Asian demand also lent support.
The metal's 2.7 percent rally since the start of the year follows a 28 percent loss in 2014, its worst annual performance since 1982.
But analysts remained cautious on its current prospects and some said it might retreat during a week filled with events and data releases that could point to a strengthening U.S. economy.
"We had a bit of a bounce from the lows below $1,200 as a lot of shorts cover positions and some physical bargain hunting out of Asia emerges," Societe Generale analyst Robin Bhar said.
"This week is important, we have the Fed minutes on Wednesday and then the non-farm payrolls on Friday," he added. "Both those should continue to highlight strengthening U.S. economy and push up real yields and the dollar."
Spot gold rose to a near three-week peak of $1,245.86 an ounce in earlier trade and was up 0.4 at $1,240.90 an ounce by 1332 GMT.
U.S. gold futures for February delivery rose 0.1 percent to $1,240.30 an ounce.
U.S. nonfarm payrolls and trade numbers expected on Friday will provide clues on the strength of the economic recovery, while the minutes of the December Fed policy meeting - at which the central bank decided to cut back bond purchases - may hint at how aggressive the Fed will be with tapering.
Ben Bernanke, who steps down as head of the Fed at the end of January, on Friday gave an upbeat assessment of the U.S. economy in coming quarters, though he did temper the good news in housing, finance and fiscal policies by repeating that the overall recovery "clearly remains incomplete".
In what could be his last speech as Fed chairman, Bernanke also said the U.S. central bank was no less committed to highly accommodative policy now that it has trimmed its bond-buying stimulus.
Concerns over a slowdown in China's economy after growth in its services sector slowed sharply in December to its lowest point since August 2011, triggered a third day of falls for world shares.
The dollar was flat versus a basket of main currencies, although not far from an earlier one-month high.
PHYSICAL DEMAND
The upswing in prices failed to dent physical purchases in China, the world's biggest bullion consumer, where demand has picked up ahead of the Lunar New Year and trading volumes on the Shanghai Gold Exchange hit an eight-month high on Monday.
Premiums on the Shanghai Gold Exchange - a physical trading platform - climbed to about $20 an ounce to the London spot price from Friday's $17.
For the 99.99 percent purity gold, volumes traded on the exchange were 24.86 tonnes on Monday - the highest daily volume since May 3.
Silver fell 0.5 percent to $20.03 an ounce, having earlier risen to a four-week high of $20.33. The metal dropped 36 percent in 2013, its worst annual performance since at least 1982.
Spot platinum was down 0.4 percent at $1,401.50 an ounce, while palladium rose 0.4 percent to $727.60 an ounce.