GM Takes a Line From Netflix With Subscription Plan for Cadillacs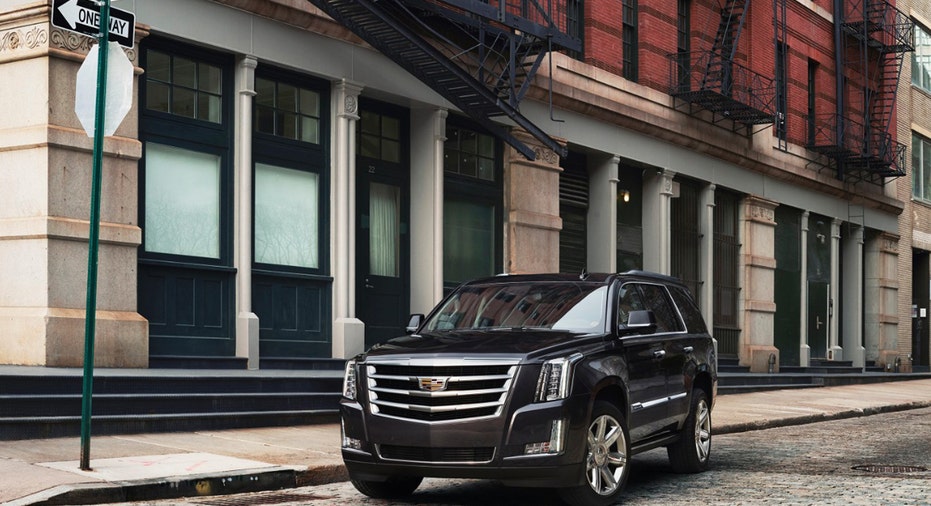 Ashley Sandall recently set aside the keys to her Porsche sport-utility vehicle for three months to try out a few Cadillacs. When the Caddy she was driving became boring or proved too small for her weekend plans, she ordered up a different model with her smartphone and it would arrive the next day.
Ms. Sandall, a 35-year-old fashion executive who lives in New York City, said she was impressed with Cadillac. She used the brand's brawny Escalade SUV for trips to the Hamptons and a football game in New Jersey.
"It was great to have your pick of the vehicle best suited for what you're doing," she said.
After participating free of charge in a three-month pilot of General Motors Co.'s (NYSE:GM) new Book by Cadillac subscription plan, Ms. Sandall said she is considering becoming a full-time member when it is time for a new vehicle. For $1,500 a month, the program covers ownership costs and lets members trade in and out of Cadillac's 10 models up to 18 times a year.
The effort is the latest experiment by a car company to test whether people are willing to treat personal transportation like a Netflix account, where temporary, on-demand access outweighs the benefits of ownership.
GM has been among the industry's chief tinkerers with the ownership model, anticipating that the century-old arrangement of consumers buying, insuring and repairing their own vehicles eventually will lose favor. In early 2016, it formed a car-sharing company called Maven and around the same time sank $500 million into ride-hailing service Lyft Inc., a ride-hailing company akin to Uber.
The Detroit company expanded its testing of Book by Cadillac in January. So far, nearly 5,000 people have registered on the plan's website, more than the program can currently handle. The company declined to disclose how many are paying for the service and how many are using a free trial offer.
The concept of shared ownership of premium cars isn't new. Startups are testing the model: Atlanta-based Clutch Technologies, begun in 2014, works much like Cadillac's service but gives users access to multiple brands and models for $950 or $1,400 a month. And exotic-car clubs and small fleet operators have long offered programs that allow people to swap in and out of high-end cars.
GM, however, believes its white-glove approach will differentiate its offering from car-sharing services such as Zipcar that operate like a commodity, with usage allocated on an hourly basis. GM is also trying to get on the radar with more luxury-oriented consumers, many of whom are ambivalent about Cadillac and don't realize the improved quality of its products, said Cadillac marketing chief Uwe Ellinghaus.
Young and affluent buyers are prized by auto makers, but those prospects often head to German brands, including Volkswagen AG's Audi or BMW AG.
BMW considered a subscription service but ultimately decided against it because of potential logistical hurdles and doubts about the potential market, said the car maker's North America chief executive, Ludwig Willisch.
"I'm not sure how big the demand really is," Mr. Willisch said in a recent interview. Instead, BMW has expanded its ReachNow car-sharing service to several U.S. cities, allowing customers to book a car through an app and drop it off at any public parking space in the area.
Hyundai Motor Corp. is offering a subscription service for electric cars, but only in California and for a vehicle class seen as niche.
Mr. Ellinghaus said GM needs to respond to changing views among younger buyers. "It's no longer for us to say, 'No, you must buy or finance this, '" he said. "If we don't offer such a solution, third parties might come in and take away this revenue stream."
Karl Brauer, a senior analyst at Kelley Blue Book, said more auto makers -- even lower-priced mainstream brands -- could adopt the approach because it offers flexibility and eases some of the "pain points" of car ownership. He said it lets car companies in on a cash-flow-driven model normally reserved for service-based companies.
"Subscriptions in general are a good business model," he said.
Still, the proliferation of mobility offerings poses a longer-term threat to GM and other vehicle makers as more people find it easier to go without a car. Barclays has said U.S. vehicle sales could decline 40% over the next 25 years amid the spread of car sharing and self-driving vehicles. And auto makers risk a backlash from their dealers as they roll out business models that potentially cut them out of the process.
GM is using Maven as an incubator for mobility offerings. The car-sharing service operates thousands of vehicles -- from cheap sedans to sports cars to big SUVs -- for 27,000 members in 17 U.S. cities. This month it began a service similar to Cadillac's Book that lets members in Los Angeles and San Francisco use the same car for a month, including dedicated parking spots around the city.
GM won't discuss Maven's financial results -- analysts believe it is a money- loser for now. GM Chief Executive Mary Barra said earlier this month the company is "learning a great deal about developing transportation as a service."
Book Cadillac is offered only in metro New York but likely will expand to Los Angeles and other major markets, Mr. Ellinghaus said. Subscribers pay month-to-month, without a long-term commitment.
Mr. Ellinhaus conceded there are steep logistical hurdles to offering next-day delivery of any Cadillac model, though he said the service "should be able to make a decent profit" as its grows. The company outsources the operation to a fleet manager.