GM Gains Again in China as SUVs and Luxury Models Shine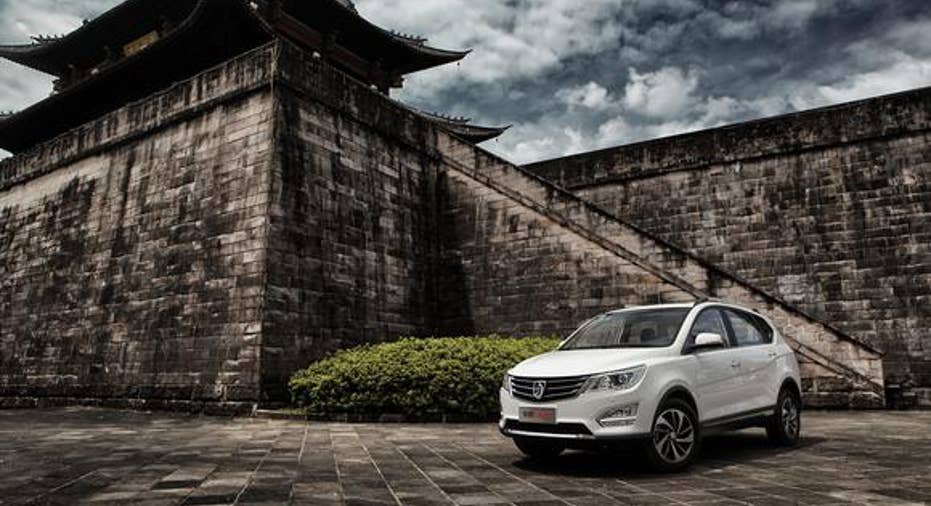 The compact Buick Envision SUV has been a smash hit for GM in China since its introduction last year. Its successful run continued to drive sales gains for GM in April. Image source:General Motors.
General Motors said on Thursday that its sales in China rose 7.5% in April, as GM was able to find solid sales growth with SUVs and premium cars while some rivals struggled.
Strong sales of SUVs and upscale modelsGM said that its SUV sales continued to shine. As a group, sales of the SUVs sold by GM and its joint ventures in China jumped 107% in April, led by two hit products -- the premium Buick Envision and the affordable Baojun 560. The entry-level Baojun brand also has had success with its 730 minivan. Baojun sales were up 56% year over year.
Sales at the premium Buick brand rose 56% over the year ago, led by the success of the Envision and the compact Excelle GT sedan, a close cousin of the U.S. market Buick Verano. One level up the luxury ladder, GM'sCadillac brand continued its slow-but-steady growth in China, with sales rising 13% as the first units of the new XT5 crossover SUV began to arrive at dealers.
The inexpensive-but-nice Baojun 560 SUV has been a big hit for GM in China. Image source: General Motors
"GM continues to grow in segments that are on top of customers' purchase lists," GM China chief Matt Tsien said in a statement. "We have more new vehicles on the way in the SUV, MPV and luxury segments to keep delivering to customers what they want and demand."
But not all of the news was good for GM in China in April, as Chevrolet sales slumped.
Pressure on the bowtie brandGM's mainstream Chevrolet brand came under significant pressure in April. Chevy sales were down 29% year over year, as mid-price brands appear to be coming under significant pressure in China's slowing market. The problem goes beyond Chevrolet: Ford's sales in China dropped 11% year over year in April. As in the U.S., Ford and Chevrolet are competing for many of the same customers in China.
GM's commercial-vehicle venture, Wuling, has also been under pressure as development in China has slowed significantly over the last year. Sales at Wuling, which makes small, inexpensive commercial vans widely used by tradespeople, were down 14% in April.
The upshot: Even as the market slows, GM's China business is doing wellGM and its joint ventures delivered a total of 277,979 vehicles in China last month, likely more than any other automaker doing business in the Middle Kingdom. Although giant archrival Volkswagen recently declared its intention to regain the China sales crown, the new SUVs and hybrids that will power VW's bid are still months or years away from market.
At least for now, that leaves GM in a position of leadership in China. As it showed in April, its product portfolio is broad enough to find good growth even when key segments of the new-vehicle market are under pressure. That should serve it well if and when the turbulence in China's market increases.
The article GM Gains Again in China as SUVs and Luxury Models Shine originally appeared on Fool.com.
John Rosevear owns shares of Ford and General Motors. The Motley Fool owns shares of and recommends Ford. The Motley Fool recommends General Motors. Try any of our Foolish newsletter services free for 30 days. We Fools may not all hold the same opinions, but we all believe that considering a diverse range of insights makes us better investors. The Motley Fool has a disclosure policy.
Copyright 1995 - 2016 The Motley Fool, LLC. All rights reserved. The Motley Fool has a disclosure policy.