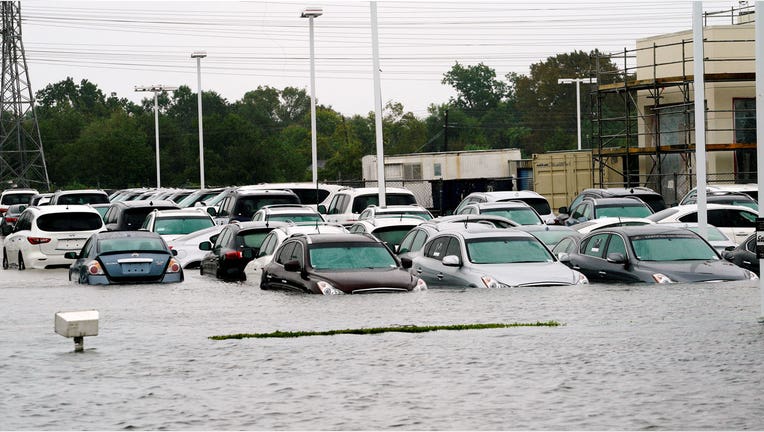 The automobile industry is prepared to ship thousands of vehicles into the Houston area, anticipating a surge in demand once residents begin to replace their flooded cars, trucks and SUVs.
Analysts estimate that Hurricane Harvey damaged up to 500,000 vehicles across southeast Texas, including new vehicles waiting to be sold. When reporting August U.S. sales Friday, automakers put much of their focus on Harvey's impact and their efforts to restock dealers. Truck and SUV makers in particular, such as Detroit's Big Three, are expected to see a spike in demand over the coming weeks and months. Houston is the nation's fourth largest city, and one of every five new vehicles sold in Texas is a pickup truck.
Ford's (NYSE:F) share of the Houston market is 33% higher than its national market share, largely due to strong sales of F-Series trucks. Mark LaNeve, vice president of U.S. marketing, sales and service for Ford, told analysts that the company likely needs to increase production in order to fulfill local demand post-Harvey. He also said Ford could move extra vehicles coming off leases to Houston-area dealers.
"We will do whatever we can to make used vehicles available to our customers," LaNeve said.
Ford dealers lost 5,000 vehicles or less, though the company has yet to receive a full assessment of the damage from Harvey. Some dealers lost their entire inventories of new and used vehicles, according to LaNeve. Others had extensive damage to buildings.
General Motors (NYSE:GM) is providing more used vehicles to Chevrolet, Buick, GMC and Cadillac dealerships so owners of flood-damaged vehicles have access to rental and courtesy vehicles. The shipment of service parts has been expedited.
For current customers, Ford is allowing affected owners to defer up to two payments. Larger assistance packages will let customers delay car payments until next year. GM also said it's offering deferred payment options for owners, as well as prospective buyers who are replacing a damaged vehicle.
GM said its August sales were up 7.5%, citing robust demand for crossovers. Ford's sales fell 2.1%, while Fiat Chrysler (NYSE:FCAU) reported an 11% decline amid sharp cuts to rental fleet shipments.
GM Chief Economist Mustafa Mohatarem noted that Harvey pressured sales during the final week in August, but "key U.S. economic fundamentals remain supportive of strong vehicle sales."
Shares of GM, Ford and Fiat Chrysler rallied on Friday in reaction to monthly results than mostly beat forecasts. Toyota (NYSE:TM) also booked a strong month, as sales rose 6.8% year-over-year.