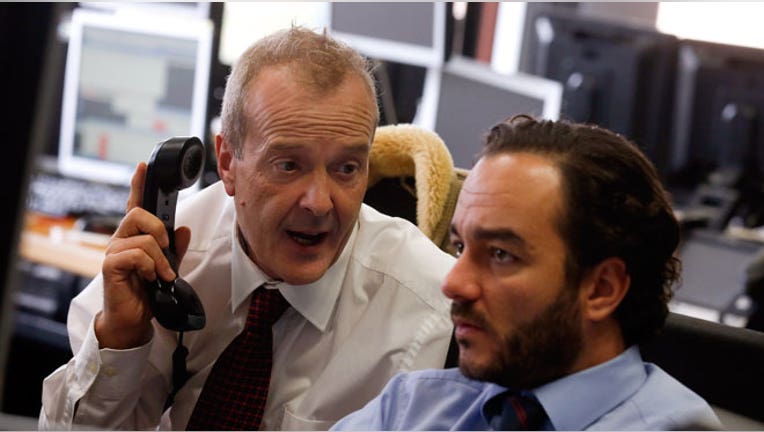 Global markets struggled Wednesday to shrug off fears of a deepening Chinese economic slowdown which have roiled stocks in recent sessions.
European stocks opened lower, tracking a late tumble in U.S. markets Tuesday that dashed hopes of a return to stability.
U.S. stock futures suggested a modest rebound Wednesday, indicating opening gains of around 1.1% for the Dow Jones Industrial Average and S&P 500. Changes in futures aren't necessarily reflected in market moves after the opening bell.
On Tuesday, the Dow Jones Industrial Average closed 1.3% lower after an early rally melted away.
The Stoxx Europe 600 index was 1.6% lower late in the European morning, following a 4.2% gain on Tuesday. Germany's DAX lost 1.6%, France's CAC 40 was down 1.7%, and the U.K.'s FTSE 100 was 1.5% lower.
The losses followed another volatile session in Chinese markets, as fresh measures to ease monetary policy late Tuesday failed to settle investors' nerves. China's central bank cut interest rates and flooded its banking system with liquidity via a cut to banks' reserve ratio requirements. The Shanghai Composite Index swung between gains and losses before closing 1.3% lower.
Some investors worry the People's Bank of China's moves, which many anticipated, won't be enough to steady markets after the selloff of the last week. Some economists expect further moves by the Chinese government.
"Chinese authorities [are] treading water...[They are] responding to recent market movements, but not more," said Rob Waldner, chief strategist at Invesco, which oversees $806.7 billion in assets, in a note to clients Wednesday.
Concerns over slowing growth in the world's second-largest economy have shaken markets over the past few weeks, hitting commodities and emerging-market currencies particularly hard.
"At the heart of investors' concern is whether the pace of economic growth in China is slowing from the government's target level," said William Fong, investment director at Baring Asset Management.
China is targeting growth of 7% in 2015, compared with its nearly 10% average annual growth for the past three decades.
"Markets want to hear from China a plan on how the slowdown is going to be managed," said Thomas Flury, head of currency strategy at UBS Wealth Management, which oversees about $2 trillion in assets.
"Volatility is spectacular on equity markets right now," he added.
However, some investors don't see a reason to panic.
"While we do expect moderation in China's growth, we continue to see it as healthy and an inevitable normalization for an economy of its size," said Michael Hasenstab, bond portfolio manager at Franklin Templeton Investments, in a note to clients Wednesday.
Some investors think China's economic slowdown could delay the Federal Reserve's plans to lift interest rates from near zero later this year. Many had previously expected a September rate increase.
"We expect the Fed to raise interest rates in the second half of 2015, although we aren't fixated on the exact timing," said Mr. Hasenstab.
Oil prices were little-changed after Tuesday's gains, with Brent crude 0.2% higher at $43.31 a barrel.
In currency markets, the euro fell 0.5% against the dollar to $1.1460. The currency has shown some resilience against the dollar amid the large selloff, acting as investors go-to currency at times of market stress. The dollar strengthened 0.6% against the yen to Yen119.364.