Global stocks slip as investors digest US bank earnings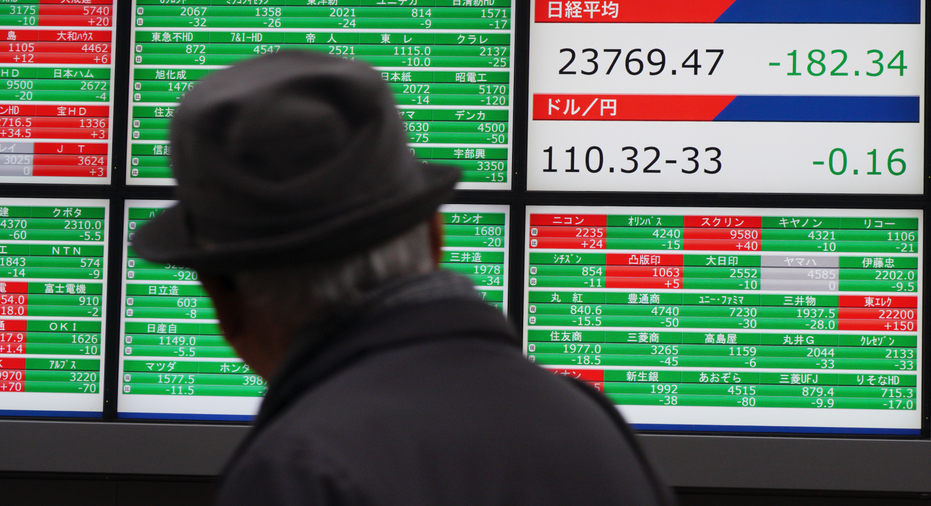 Global stock markets mostly fell on Wednesday as investors digested big losses at major U.S. banks, while bitcoin also dropped amid fears of greater regulation.
KEEPING SCORE: Britain's FTSE 100 slipped 0.2 percent to 7,740 and the CAC 40 of France was down almost 0.1 percent to 5,511. Germany's DAX lost 0.2 percent to 13,225. Wall Street looked set to regain momentum after losses the previous day. Dow futures were up 0.5 percent while S&P 500 futures were 0.4 percent higher.
BANKS: Goldman Sachs says it lost $1.93 billion in the fourth quarter, as the bank had to record more than $4 billion in charges related to the new U.S. tax law. Still, the figure was better than some analysts had feared. Bank of America said its fourth-quarter profits fell by nearly half from a year ago, as the bank had to book $2.9 billion in charges related to the tax law.
BITCOIN: The price of bitcoin extended its slump, triggered by comments by a South Korean financial policymaker who said that banning trading in digital currencies was an option. The price of one bitcoin fell 8 percent to $10,453 by early afternoon in Europe, according to the tracking site CoinDesk. The price of bitcoin soared last year after starting 2017 under $1,000, but has languished this year amid signs of increased scrutiny from governments. Many finance pros believe bitcoin is in a speculative bubble that could burst any time.
ASIA'S DAY: Japan's Nikkei 225 index lost 0.4 percent to 23,868.34 and the Kospi in South Korea shed 0.3 percent to 2,515.43. Australia's S&P/ASX 200 dropped 0.5 percent to 6,015.80. Hong Kong's Hang Seng rebounded from earlier losses to gain 0.3 percent, closing at 31,983.41 while the Shanghai Composite index added 0.2 percent to 3,444.67.44. India's Sensex added 0.8 percent to 35,035.49. Shares in Southeast Asia were mixed.
JAPAN MACHINERY: Orders for machinery were the highest in almost a decade in November, rising nearly 12 percent from a month earlier, the government reported Wednesday. The strong demand suggests companies are investing to expand production capacity that likely would support growth in coming months, analysts said.
ENERGY: Benchmark U.S. crude shed 19 cents to $63.54 per barrel in electronic trading on the New York Mercantile Exchange. It fell 57 cents on Tuesday. Brent crude, used to price international oils, lost 32 cents to $68.83.
CURRENCIES: The dollar rose to 110.77 yen from 110.49 yen on Tuesday. The euro weakened to $1.2207 from $1.2258.