Global stocks higher as investor worries on Italy ease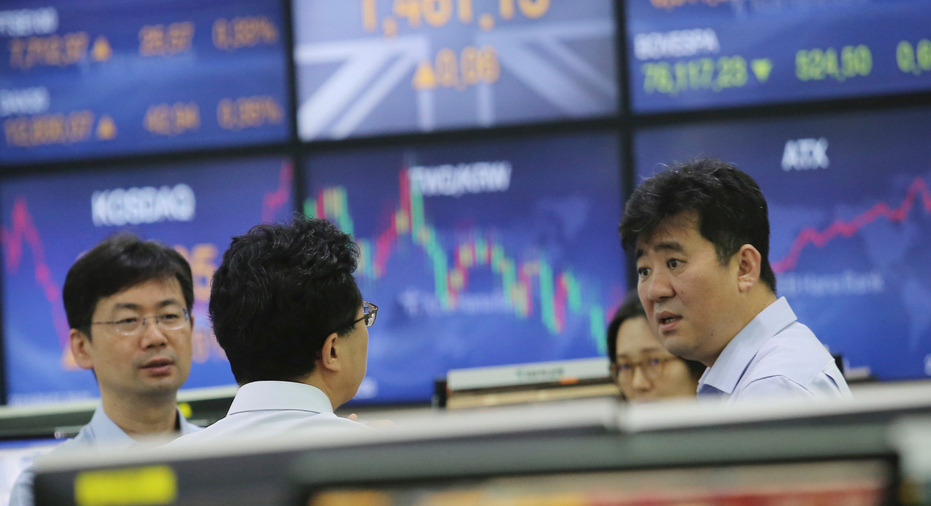 Global stock markets were higher Thursday as remarks by a European Central Bank board member eased worries about the new Italian government's spending plans.
KEEPING SCORE: France's CAC 40 rose 0.6 percent to 5,488.91 and Germany's DAX gained 0.3 percent to 12,866.20. Europe opened mostly higher. Britain's FTSE 100 was unchanged at 7,711.47. On Wall Street, the future for the Standard & Poor's 500 index was up 0.1 percent and that for the Dow Jones industrial average gained 0.2 percent.
ASIA'S DAY: Japan's Nikkei 225 jumped 0.9 percent to 22,823.26 while the Shanghai Composite Index finished 0.2 percent lower at 3,109.50. South Korea's Kospi finished up 0.7 percent to 2,470.58 and Hong Kong's Hang Seng index advanced 0.8 percent to 31,512.63. Australia's S&P-ASX 200 gained 0.5 percent to 6,057.30 and India's Sensex surged just over 1 percent to 35,547.13. Benchmarks rose in Taiwan and Southeast Asia.
EUROPE: The euro rose against the dollar after a European Central Bank board member said policymakers will discuss next week withdrawing its bond-purchasing stimulus, suggesting the ECB wasn't overly worried about Italian government plans. Peter Praet's remarks suggested the June 14 meeting would bring hints at the end of the bond purchases. The bank says it will buy 30 billion euros ($35 billion) a month at least through September.
ITALY: The coalition of the euroskeptic 5-Star Movement and the right-wing League party won the second of two parliamentary confidence votes required to begin governing. Financial markets worry its plans to spend more to help the poor might add to Italy's debt. Premier Giuseppe Conti, a political newcomer, makes his debut in the international arena at this week's Group of Seven meeting of major industrial nations in Canada.
ANALYST'S TAKE: "Overnight market action suggests investor confidence is growing," said Michael McCarthy of CMC Markets in a report. He said gains on reports the ECB would review unwinding its stimulus indicated "belief that the economic drivers of higher interest rates were sufficiently strong to sustain asset prices."
CURRENCIES: The euro rose to $1.1817 from $1.1775. The dollar halted its rise against the Japanese yen, weakening to 109.97 yen from 110.18 yen.
OIL: Benchmark U.S. crude added 20 cents to $64.93 per barrel in electronic trading on the New York Mercantile Exchange. It shed 1.2 percent to settle at $64.73 the previous session. Brent crude, used to price international oils, gained 34 cents to $75.71 per barrel in London. The contract lost 2 cents on Wednesday to settle at $75.36.