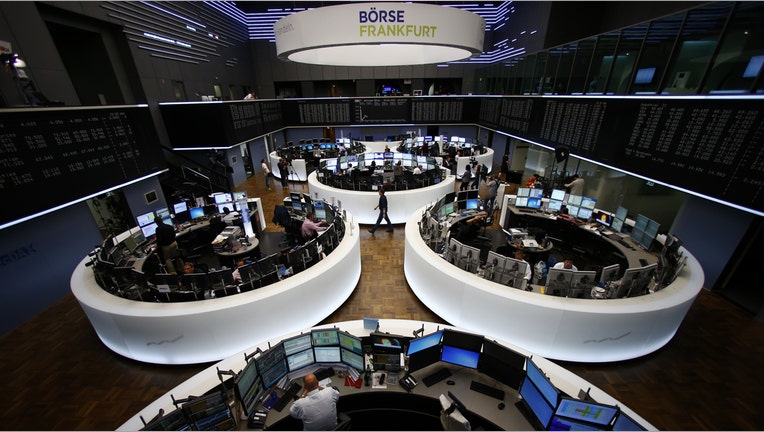 Shares of banks and energy companies lurched lower on Monday, deepening Friday's downturn in global stock markets.
The Stoxx Europe 600 fell 1.4% late morning, following a downbeat session in Asia. Futures pointed to a 0.5% opening loss for the S&P 500.
Bank shares led declines in Europe with the Euro Stoxx Banks index down over 3%, on track for its worst day since the U.K. referendum on leaving the European Union. Deutsche Bank AG was the worst performer, down as much as 6.7% at the lowest price in at least 20 years, according to FactSet.
The German lender's shares have been hit recently by fears it may need a capital increase, after The Wall Street Journal reported this month that the U.S. Justice Department proposed that Deutsche Bank pay $14 billion to settle a set of high-profile mortgage-securities probes.
Analysts also attributed some of the losses to a local magazine report over the weekend suggesting German Chancellor Angela Merkel would rule out assistance for the lender, whose shares are down over 52% so far this year.
"The bank has been limping along for months now, but reports that Angela Merkel may not step in to rescue the bank have sent the shares tumbling, " said Chris Beauchamp, analyst at IG.
Oil and gas companies were also among the biggest decliners on Monday as investors focused on a meeting of oil producers in Algiers, where some are hoping there might be progress toward a deal on limiting production.
OPEC members and Russia have substantial issues to resolve but still expect to make progress toward a comprehensive deal, energy ministers said.
"We can't come out empty-handed," said Nourredine Bouterfa, Algeria's oil minister, warning that oil prices could drop back into the $30s if OPEC fails to come to terms this week. Brent crude was last flat at $46.49 a barrel after prices sank around 4% on Friday.
Earlier, shares in Hong Kong and Shanghai fell by around 1.6% and 1.8% respectively, echoing Friday's losses on Wall Street, while markets in Australia were largely flat.
Japan's Nikkei Stock Average fell 1.3% as banks and life insurance companies were hit by a speech by Bank of Japan Gov. Haruhiko Kuroda suggesting the Japanese central bank was prepared to make further cuts to short-term interest rates. Ultralow or negative interest rates erode bank's net interest margins, keeping share prices depressed.
In currencies, the dollar fell 0.4% against the yen to Yen100.6130. The Turkish lira fell 0.5% against the dollar to $0.3354 after Moody's cut Turkey's credit rating on its debt to junk, while the Philippine peso dropped to a seven-year low against the dollar amid concerns about political instability under President Rodrigo Duterte.
The euro was up 0.1% against the dollar at $1.1239 after data showed German business sentiment unexpectedly improved in September to its highest level since May 2014.
In bond markets, the yield on 10-year German government debt fell to minus 0.102%, near its lowest since the first week of September. The yield on the 10-year U.S. Treasury note fell slightly to 1.601% from 1.615% on Friday. Yields move inversely to prices.
After central banks reassured markets last week by keeping interest rates unchanged, investors' attention is expected to shift toward the U.S. presidential election.
So far, most of the election-related volatility has been limited to movements in health-care shares and the Mexican peso, analysts say.
But the first televised debate is scheduled for Monday evening, and a new Wall Street Journal/NBC News poll found that 34% of registered voters expect the three presidential debates will be extremely or quite important in helping them decide how to vote.
"The market is not pricing in a Trump potential win even though polls have been narrowing," said Michael Arone, chief investment strategist for State Street Global Advisors.
While stock markets have risen steadily over the summer, he expects the election, alongside the price of oil, to trigger increased volatility in stock markets in October and November.
Benoit Faucon and Willa Plank contributed to this article.
Write to Riva Gold at riva.gold@wsj.com