Global Factories Parched for Demand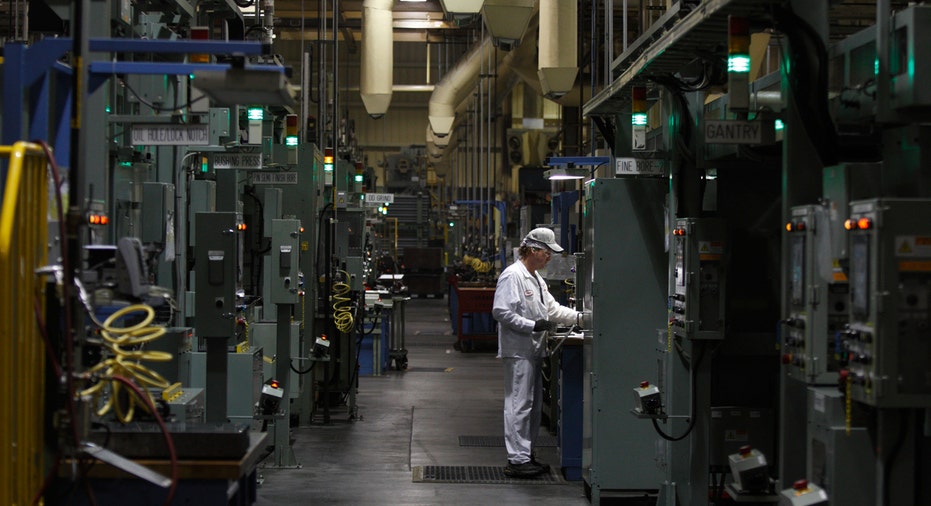 January surveys of global factory activity released on Monday showed the new year began much as the old one ended, with too much capacity chasing too little demand.
Global manufacturing expansion accelerated slightly but remained weak at the start of 2016 as faster growth in developed markets failed to offset a contraction in emerging economies.
JPMorgan's Global Manufacturing Purchasing Managers' Index (PMI), produced with Markit, came in at 50.9 last month, just above December's 50.7. The index has been above the 50 mark that separates growth from contraction since late 2012."The January PMI data signal that the upturn in global manufacturing remained lackluster at the start of 2016," said David Hensley, director of global economic coordination at JPMorgan.
Stock markets and oil prices have been battered since the start of the year by concern the Chinese economy, the world's second-largest, is struggling.
Such concern has eroded expectations for how quickly the Federal Reserve will raise U.S. interest rates, after its first increase in almost a decade in December.
ASIAN WOES
China was again the epicenter of disappointment. The official measure of manufacturing fell to its lowest since mid-2012. The weakness also encompassed such bellwethers of high-tech trade as South Korea and Taiwan.
The official version of China's PMI survey for manufacturing slipped to 49.4 in January from 49.7. The services index also disappointed, challenging hopes consumption would take over from industry as the driving force.
A private survey, the Caixin/Markit China Manufacturing PMI, underscored the trend by showing factory activity shrinking for an 11th month.
"The electricity production remained sluggish and the crude steel output continued the weak trend in January, reflecting an ongoing deleveraging process in the industrial sectors," said Zhou Hao, an economist at Commerzbank.
"In the meantime, China has started an aggressive capacity reduction in many sectors, which could add downward pressure on the bulk commodity prices over time," he said.
Japan's results were more encouraging. Its factory barometer slipped only a tick to 52.3 in January as exports picked up. The gains in exports relied on a weak yen, hinting at another reason the BOJ acted so boldly when it introduced negative interest rates last week.
India also recorded an unexpected return to growth. Its erratic PMI jumped to a four-month high after slumping to a 28-month low in December.
Other countries in the region were not so fortunate. South Korea's manufacturing index slipped into contraction. Its exports suffered their sharpest annual fall since August 2009.
China is South Korea's largest market, taking about a quarter of its exports. The story was much the same for another electronics hub, Taiwan, where factory growth slowed amid lackluster demand.
EUROPE SLOWS
Factory growth across the euro zone slowed at the start of 2016 as incoming orders failed to show any meaningful increase, even though companies cut prices at the deepest rate for a year, the Markit survey on Monday.
The Markit manufacturing PMI for the euro zone dropped to 52.3 from December's 53.2.
"The euro zone's manufacturing economy missed a beat at the start of the year. Growth of order books, exports and output all slowed," said Chris Williamson, chief economist at survey compiler Markit.
"If the slowdown in business activity wasn't enough to worry policymakers, prices charged by producers fell at the fastest rate for a year to spur further concern about deflation becoming ingrained."
With eurozone consumer price inflation at only 0.4 percent last month, nowhere near the ECB's target of around 2.0 percent, the ECB is likely to cut its deposit rate even further into negative territory when it meets next month, a Reuters poll found last week.
British factories enjoyed a brighter start to the year than expected, helped by surging output at large manufacturers, but companies cut staff at the fastest rate in three years and export orders fell, a survey showed on Monday.
The British Markit/CIPS manufacturing purchasing managers' index rose to a three-month high of 52.9 in January from 52.1 in December.
AMERICAS SLUGGISH
In the United States, the Markit manufacturing PMI rose slightly, to 52.4 in January from 51.2 in December.
An alternative reading from the U.S. Institute of Supply Management (ISM) showed manufacturing activity in January contracted for the fourth month in a row, though at a slightly slower pace, with the index at 48.2 from 48.0 the previous month.
Canadian factory activity also contracted but at a slower pace in January. The RBC/Markit Canadian Manufacturing Purchasing Managers' Index (PMI) edged up to 49.3 last month from 47.5 in December. The six-month stretch below 50 is the longest since the survey began in late 2010. "While Canadian business conditions continued to deteriorate in January, we saw signs of stabilization in the manufacturing industry supported by strong export sales alongside a pick up in the U.S. economy and a weakening Canadian dollar," said Craig Wright, chief economist at RBC.
Brazil's manufacturing activity also contracted in January, but at the slowest pace in nearly one year, according to Markit.
The HSBC/Markit PMI rose to 47.4 from 45.6 in December, but output, new orders, employment and purchasing levels at Brazilian manufacturers all dropped as the country sank into what is expected to be its worst recession since 1901.
(Editing by Larry King, Clive McKeef and Dan Grebler)