GlaxoSmithKline plc's Best Drug in 2015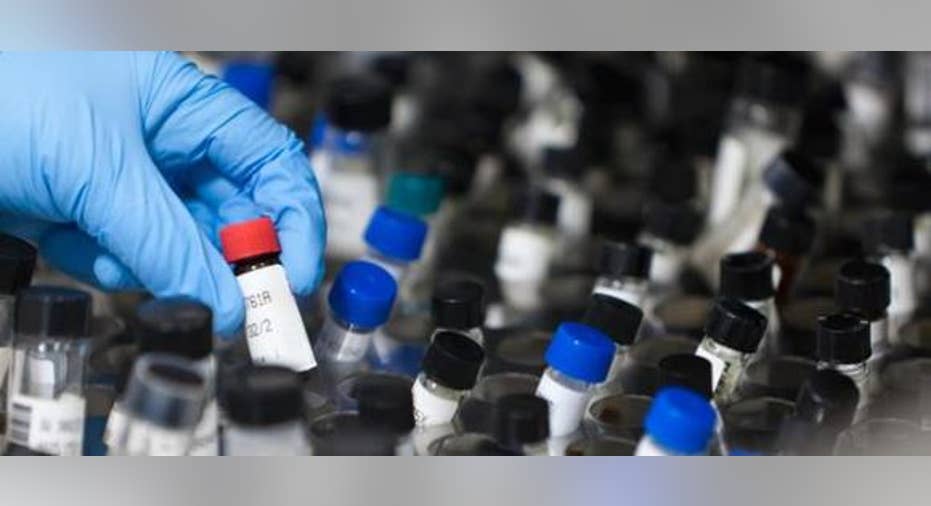 Image source: GlaxoSmithKline via Flickr.
It's been something of a rough year for U.K.-based pharmaceutical giant GlaxoSmithKline . Through Dec. 9 the Market Vectors Pharmaceutical ETF has been flat for the year, but shareholders of GlaxoSmithKline know that their stock is down 7%, mired in a seemingly endless downtrend since the spring.
The source of GlaxoSmithKline's near-term woes GlaxoSmithKline has contended with a number of challenges, but most of them point back to the loss of exclusivity on inhaled asthma and COPD blockbuster Advair (known as Seretide in overseas markets). Exposure to generics is expected to erode Advair's sales in the U.S., and even though we haven't actually seen a generic version of Advair introduced in the U.S., the need to discount Advair is already weighing on the drug's (and GlaxoSmithKline's) profitability.
Through the first nine months of 2015, Advair sales were down 19%, or $1.9 billion. This decline includes a 4% demand decrease and a 15% reduction in price, the tell-tale signs of generic competition being somewhat imminent. Seretide sales overseas declined by 17%, of which 9% represented a drop in demand due to generic activity, and 8% was a result of more competitive (and thus lower) pricing. What was once an $8 billion-plus powerhouse each year is now a fading drug generating less than $5 billion in annual sales.
Image source: GlaxoSmithKline.
GlaxoSmithKline's best drug in 2015 Although Advair/Seretide represents GlaxoSmithKline's best drug in terms of sales for 2015 by a mile, its precipitously falling sales disqualify it, in my view, from being the company's best drug in 2015. That title, in my opinion, should go to HIV drug Triumeq.
Glaxo's two fast-growing HIV drugs, Tivicay and Triumeq, are both developed by ViiV Healthcare, which is a subsidiary jointly owned by GlaxoSmithKline, Pfizer, and Japan's Shionogi. Pfizer and Shionogi only own 13.5% and 10%, respectively, of ViiV, but the success of ViiV still contributes favorably to all of their bottom-lines.
GlaxoSmithKline has to be thrilled with the launches of Tivicay and Triumeq thus far. Tivicay, which was launched in 2013, has tallied $628 million in sales through the first three quarters of 2015, whereas Triumeq, which received approval from the Food and Drug Administration in 2014, has generated $669 million through the first nine months of 2015. Sales of both drugs are up in the triple-digit percentage range so far this year.
Separating itself from the competition Triumeq is likely the drug with the most momentum in 2016 and beyond simply because it's the next-generation version of Tivicay.
Triumeq is a once-daily, three-in-one HIV-1 therapy that combines Tivicay with Epzicom. In clinical studies, Triumeq's superior efficacy and safety were on full display relative to the placebo, which wasGilead Sciences' Atripla. In the SINGLE study, 80% of the patients taking Triumeq had 50 copies or less of HIV-1 RNA per mL at the 96-week mark compared to 72% of patients in the Atripla cohort. Furthermore, the Atripla cohort had more dropouts due to adverse events than the group taking ViiV's next-generation HIV-1 pill.
Stribild pill. Image source: Gilead Sciences.
The "secret" for Triumeq could lie in its formulation. Gilead Sciences currently has three of the four single tablet regimens on the market: Atripla, Complera, and Stribild, its four-in-one pill. GlaxoSmithKline's Triumeq is the fourth. Gilead's Stribild, arguably its most advanced and fastest growing HIV-1 drug, includes cobicstat as part of the four-pronged formulation. Cobicstat is a booster medication designed to raise the blood levels of elvitegravir, another component of Stribild, but the use of elvitegravir results in numerous potential adverse drug interactions. By contrast, Triumeq doesn't use a booster, which could give it the safety one-up needed to possibly outsell Stribild and Gilead's army of HIV-1 therapies in the long run.
However, one advantage both companies share is that Stribild and Triumeq's components are both made in-house by each respective company, meaning ViiV Healthcare supplies all three components for Triumeq and Gilead develops all four components of Stribild in house. The advantage to this is lower costs and the ability to keep all revenue and profits generated in house.
One drug alone won't save GlaxoAlthough Triumeq's sales are soaring, and it's looking like every bit the blockbuster Wall Street expected when it debuted, GlaxoSmithKline is going to need more than just strong growth from its HIV segment to move past its Advair/Seretide woes.
Image source: GlaxoSmithKline.
The biggest drag for GlaxoSmithKline remains its respiratory portfolio -- and I'm not speaking strictly about Advair/Seretide. GlaxoSmithKline and its development partner Theravance have brought four new long-lasting respiratory products to market since 2013 with the intent of harnessing Advair's old customer base, as well as gaining new customers. These new inhaled medicines include Breo Ellipta, Anoro Ellipta, Incruse Ellipta, and Arnuity Ellipta.
It took about two years for Breo's sales to really begin to pick up, but insurer objections to its pricing finally appear to be waning. Unfortunately for Glaxo and Theravance, Breo failed to demonstrate a statistically significant reduced risk of death in patients at high risk for cardiovascular disease in the SUMMIT study. The news hit Theravance especially hard since the company is not currently profitable, and its shareholders were counting on strong trial results to boost Breo's demand.
The latest problem for the duo is Anoro. Physicians may not realize they have a new option available, and Glaxo has suggested that it could take multiple quarters before we witness physicians switching their patients to Anoro from Advair or Spiriva. In short, Glaxo's respiratory franchise isn't allowing investors to breathe easy.
With that being said, even taking into account Glaxo's recent successes in HIV, vaccines, and its joint-venture with Novartisin consumer healthcare, I'd still suggest remaining on the sidelines until we see substantial growth in its bread and butter respiratory franchise.
The article GlaxoSmithKline plc's Best Drug in 2015 originally appeared on Fool.com.
Sean Williamshas no material interest in any companies mentioned in this article. You can follow him on CAPS under the screen nameTMFUltraLong, track every pick he makes under the screen nameTrackUltraLong, and check him out on Twitter, where he goes by the handle@TMFUltraLong.The Motley Fool owns shares of and recommends Gilead Sciences. Try any of our Foolish newsletter services free for 30 days. We Fools may not all hold the same opinions, but we all believe that considering a diverse range of insights makes us better investors. The Motley Fool has a disclosure policy.
Copyright 1995 - 2015 The Motley Fool, LLC. All rights reserved. The Motley Fool has a disclosure policy.