Gilead Sciences, Inc.'s $10 Billion Mistake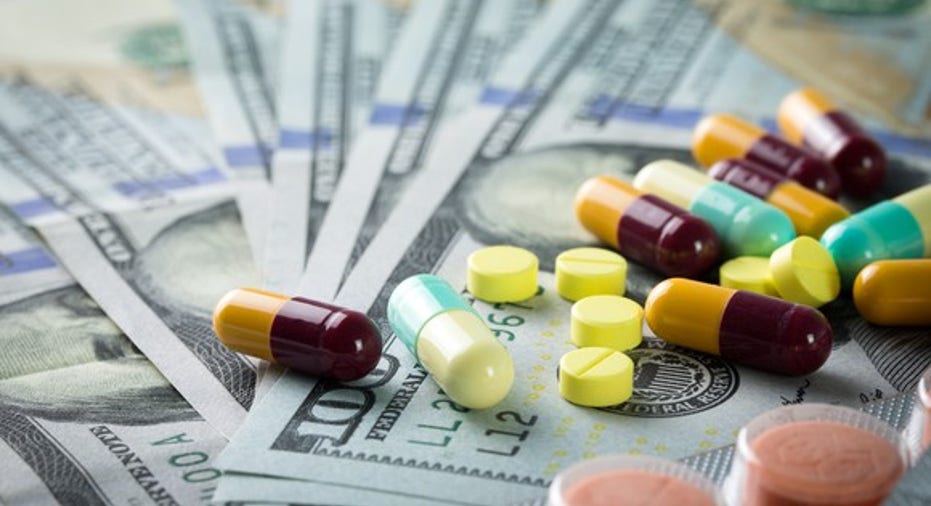 Image source: Getty Images.
Gilead Sciences, Inc. (NASDAQ: GILD) is a cash generating machine, bringing in $13.2 billion in free cash flow from operations so far this year, which allowed the biotech to close two deals:
A licensing deal to gain access to Galapagos' (NASDAQ: GLPG) JAK1-selective inhibitor filgotinib for inflammatory disease indications for $725 million,consisting of a license fee of$300 millionand a$425 millionequity investment in Galapagos. Gilead is also on the hook for up to$1.35 billionin potential milestones and will paytiered royalties starting at 20% and split profits in territories where Gilead and Galapagos co-promote the drug if it's approved.
The acquisition of Nimbus Therapeutics' Acetyl-CoA Carboxylase inhibitor program for $400 million upfront and the potential for another $800 million in development-related milestones.
Both the Galapagos and Nimbus deals are too early to assign a letter grade. Galapagos and Gilead started a phase 3 trial for Crohn's disease in November. And Nimbus' lead compound, NDI-010976, was only in phase 1 when it was acquired in April.
But Gliead also used some of the free cash flow to purchases its own shares, which, on the other hand, don't appear to be a very good investment at this point.
Data source: Gilead Sciences. *ASR includes a predetermined discount.
With Gilead's share price closing under $74 on Wednesday, those purchases aren't looking like too good of an investment at the moment.
Higher EPS, lower dividend payments
Gilead's financial department would have clearly been better off waiting until now to spend that $10 billion, allowing it to repurchase more shares at today's lower price. That said, hindsight is always 20/20 and with insider information, companies typically have small windows to make repurchases each quarter.
Despite the unrealized loss to date, Gilead still benefits from the repurchases. Each share repurchased saves Gilead having to pay $1.88 in dividends every year, which will hopefully increase over the years. At a yield around 2% based on the average price of the purchases, Gilead is saving at about the same rate as its interest payments on its notes due in 2022. And the yield is certainly more than it could get leaving the cash in the bank.
Lowering the share count also helps shareholders because Gilead's earnings are now split among a smaller number of shares, giving each shareholder a bigger piece of the pie. If you subtract the 110 million shares Gilead retired from the 1.47 billion share count at the end of last year, it would raise fourth-quarter 2015 earnings from $3.18 to $3.53, almost a 13% increase.
Best investment?
Only time will tell if the repurchases this year will result in a good long-term return on equity, but the more interesting question is whether Gilead could get an even better return on investment by spending its cash licensing or acquiring other drugs. Gilead certainly produced a good return with its $11 billion acquisition of Pharmasset; drugs containing its hepatitis C drug Sovaldi, which Gilead got in the deal, brought in revenue of $3.3 billion in the third quarter alone.
Since the Pharmasset acquisition, Gilead's track record hasn't been as good. For example, momelotinib, which Gilead got in its acquisition of YM BioSciences, recently reported lackluster data in patients with myelofibrosis.
Gilead's management has said it's interested in doing more deals to add to the pipeline but isn't in any hurry. "You don't want the sense of urgency to overwhelm your discipline because then you'll do things that don't make long-term sense," John Milligan, Gilead's president and CEO, said on the company's third-quarter conference call. "We'll do things when they make sense for us and not before then."
Gilead might want to apply that discipline of avoiding a sense of urgency when repurchasing its own shares. The share price may continue downward until the biotech announces a solid acquisition or a pipeline success that has the potential to turnaround earnings growth.
10 stocks we like better than Gilead Sciences When investing geniuses David and Tom Gardner have a stock tip, it can pay to listen. After all, the newsletter they have run for over a decade, Motley Fool Stock Advisor, has tripled the market.*
David and Tom just revealed what they believe are the 10 best stocks for investors to buy right now... and Gilead Sciences wasn't one of them! That's right -- they think these 10 stocks are even better buys.
Click here to learn about these picks!
*Stock Advisor returns as of November 7, 2016
Brian Orelli has no position in any stocks mentioned. The Motley Fool owns shares of and recommends Gilead Sciences. Try any of our Foolish newsletter services free for 30 days. We Fools may not all hold the same opinions, but we all believe that considering a diverse range of insights makes us better investors. The Motley Fool has a disclosure policy.