GE's Jeff Immelt Wouldn't Make a Great Fund Manager, but It Doesn't Matter Now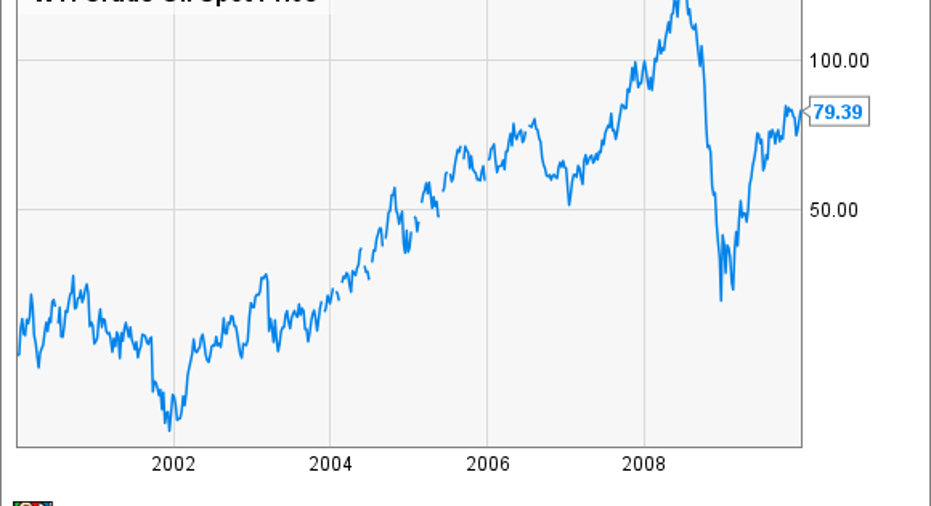 To be a successful equity fund manager you need a healthy combination of luck and skill in stock/sector selection. To be a CEO of a blue chip company, you need a similar skill set when setting the strategic direction of the company. Unfortunately, General Electric Company (NYSE: GE) CEO Jeff Immelt hasn't had much luck with end markets, and it's arguably only in the latter quarter of his tenure that his skill has shone through. Let's take a look at the difficulties during his tenure and how he's put the company in great shape now.
Aviation has become the biggest earnings generator at the company. Image source: General Electric Company
Immelt's tenure at General Electric Company
The following chart shows the total return of General Electric stock compared to the S&P 500. As you can see below, former CEO Jack Welch oversaw outstanding performance in the 90s, while the decade since the handover to Immelt in 2001 was characterized by underperformance. However, since 2010 General Electric has outperformed. What changed?
Data source: Yahoo Finance. Chart by author
General Electric from 2000-2010
Here's a chart of General Electric's segmental profit in 2001. As you can see, Immelt took over a company heavily reliant on its power segment (around a third of industrial profits) and whose largest source of income was its financial arm. Meanwhile, the portfolio contained a disparate collection of businesses, including NBC.
Data source: General Electric Company presentations. Chart by author.
From then on, four bits of bad luck -- or lack of strategic thinking -- hurt General Electric over the decade.
First, Immelt took over on Sep 7, 2001. You probably don't need a reminder of what happened four days later. It did no favors to the company's aircraft engine sales, and as you can see below, the worldwide airline industry was only profitable in two years of the decade.
Data source: IATA. Chart by author.
Second, the decade proved to be a moderate one for power spending. Third, as you can see in the second chart above, the company was significantly underexposed to oil and gas spending in a decade when energy prices soared.
WTI Crude Oil Spot Price data by YCharts
Fourth, Immelt allowed General Electric's capital arm to grow and grow, such that by 2008 it contributed a third of overall segment profits. The rest is history. Immelt's experiences through the financial crisis have surely shaped his strategic decision to pivot back to being an industrial company.
Data source: General Electric Company presentations. Chart by author.
With the benefit of hindsight it's easy to criticize Immelt, but terrorist attacks, rising oil price, and the great financial crisis were predicted by very few people, and even fewer fund managers. It's fair to say it wasn't a lucky decade for General Electric.
From 2010 to now
Fast forward to the current decade and Immelt's strategic shift since has had mixed results. Shareholders have been rewarded by the sale of GE Capital assets and the shift back toward the company's industrial roots. Meanwhile, new products such as the LEAP engine, HA-turbine, and Tier 4 locomotive have been successful.
On the other hand, Immelt's bad luck -- or inability to time the market -- has hurt him again with the oil and gas industry. He bought a raft of oil and gas businessessince the start of the decade to increase end market exposure to energy, only to watch as oil prices fell to $30 per barrel at the start of 2016.
Data source: General Electric Company presentations. Chart by author.
The company is well on its way to achieving its aim of generating 90% of its profits from its industrial businesses. Moreover, non-core assets like NBC, appliances, and plastics have long been sold off. Over time, Immelt has increased exposure to healthcare, oil and gas, and aviation, which have benefited from favorable market conditions.
Looking ahead
Broadly speaking, Immelt has either been unlucky or unskilled with end market exposure during his tenure; however, for three key reasons such considerations may not matter as much in future.
First, the Alstom energy and Baker Hughes deals are primarily aimed at consolidating core industries and generating earnings growth through cost synergies. In addition, management is applying General Electric's Industrial Internet of Things (IIOT) solutions to increase productivity.
Second, the company's aim to increase higher-margin services sales -- aided by its IIOT initiatives -- has the key advantage of leveraging its existing installed hardware base
Third, seizing leadership in the IIOT space, and in particular trying to establish Predix as the de-facto operating system for the industrial internet, means the company is establishing a marketplace of its own.
A General Electric Company gas turbine. Image source: General Electric Company
All told, the company is better balanced now, andis more focused on its core competencies. As such, the key growth drivers of the stock price largely depend on internal execution. It's taken time for Immelt to do this, but stock prices have no memory. He may not be great or lucky, but he's an excellent company manager and General Electric shareholders are likely to see the benefits in the next few years.
10 stocks we like better than General Electric When investing geniuses David and Tom Gardner have a stock tip, it can pay to listen. After all, the newsletter they have run for over a decade, Motley Fool Stock Advisor, has tripled the market.*
David and Tom just revealed what they believe are the 10 best stocks for investors to buy right now... and General Electric wasn't one of them! That's right -- they think these 10 stocks are even better buys.
Click here to learn about these picks!
*Stock Advisor returns as of January 4, 2017
Lee Samaha has no position in any stocks mentioned. The Motley Fool owns shares of General Electric. The Motley Fool has a disclosure policy.