GE's Immelt Bets Big on Digital Factories, Shareholders Are Wary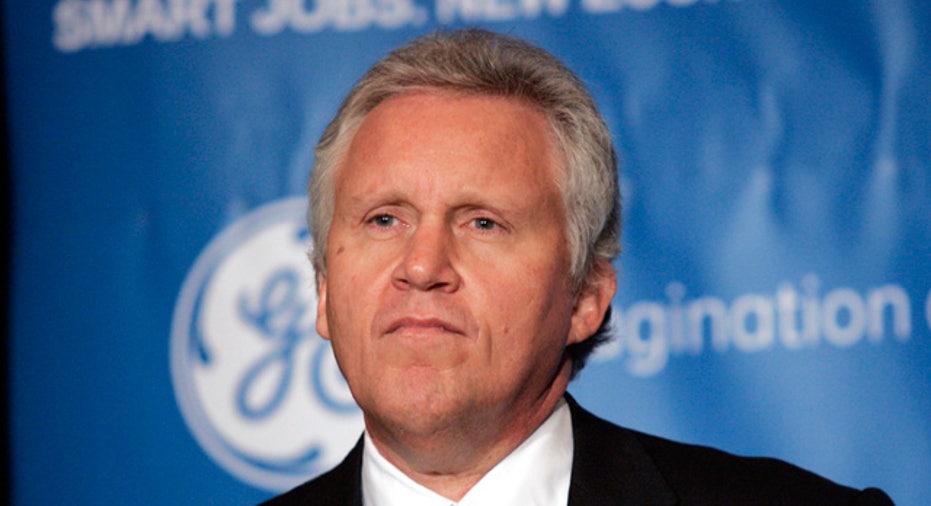 At a General Electric factory in this rural town, Keith Spahn, 60, used to take measurements of parts from railroad locomotives that are in for repair by hand.
Now he uses a tool that reads the dimensions automatically and sends them wirelessly to his computer, where software decides whether the part can be reused or must be scrapped.
"It's definitely faster," he says.
Spahn's workbench in this 240,000-square foot plant is one small example of a multibillion-dollar bet by GE Chief Executive Jeff Immelt: digital technology will transform GE's factories, generate new revenue and boost profits.
The $4 billion GE has spent on developing digital products – ranging from tiny sensors in jet engines to augmented reality and software that can crunch large volumes of data - is on the scale of investments Google and Facebook Inc made to build their businesses, Bill Ruh, CEO of GE's digital division, told Reuters.
Now that GE has shed non-essential operations, including most of its large financial unit, its fortunes will rise or fall depending on whether that investment delivers.
GE's technology - and similar systems by IBM, Siemens AG and others - is a hot new battleground in manufacturing. The companies promise they can spot problems before machines break down, yield cost savings of 30 percent or more, and raise labor productivity that has slowed sharply in recent years.
By 2020, spending on such systems is expected to exceed $500 billion a year, up from $20 billion in 2012, according to an estimate cited by consulting firm Accenture. GE says the market for the sectors it is in will be $225 billion by 2020.
The company has spent $5 billion setting up new U.S. factories in the last five years. As it now adds digital technology to its plants, it needs fewer, and higher skilled, workers than in the past.
"We're going to have a smarter worker," Immelt said in an interview. "We're not going to have as many workers."
But as investment grows, so have concerns about whether these bets will pay off - and about the cost and complexity of keeping networked machines running and secure from hackers.
GE investors are especially impatient for returns. Since Immelt became CEO in 2001, GE shares have fallen 29 percent while the S&P 500 index has more than doubled. GE's dividend is seven cents lower than it was in 2008. For more on GE's stock performance, click
That performance has some pressing for more urgency from Immelt. When activist investor Nelson Peltz bought a $2.5 billion GE stake in 2015, he pressed for asset sales and cost cutting, and barely mentioned GE's digital strategy as a source of growth. Trian declined to comment for this article.
In March, Peltz reached an agreement with GE that tied the bonuses of top executives to cutting $2 billion in costs and hitting profit targets through 2017. Those targets don't rely on GE's digital strategy.
"People aren't saying they don't like the technology" or that GE is investing too much in digital, said Deane Dray, an analyst at RBC Capital Markets. "But how does it translate into profit margins and cash?"
DIGITAL VISION
GE poses an important test of the digital factory idea. It has more than 500 factories around the globe that produce jet engines, power plants, medical CT scanners and other large, sophisticated equipment adaptable to the technology.
GE also earns very little from selling hardware. Nearly half of its revenue and most of its profit come from selling services, a natural fit for the monitoring and data analysis that are the core of a computerized factory.
In addition to improving its own productivity, GE sells the "Brilliant Factory" as a product, promising a combination of its digital systems with advanced manufacturing techniques, 3-D printing and lean production principles pioneered by Toyota Motor Corp.
Take the industrial operating system called Predix. GE spent more than $1 billion to create it along with applications that can analyze terabytes of data from jet engines or factory machines along with other data, such as weather or energy costs.
GE's venture capital arm is buying stakes in startups that adapt robots, optical scanners and augmented reality to work with Predix. Last year, GE spent $1.1 billion on two makers of industrial 3-D printers, planning both to use the printers and sell them.
Predix systems work, in part, by creating a computerized model, or "digital twin," of a machine that shows in real time how it is performing, and when parts are wearing out. This can eliminate unplanned breakdowns, GE says, saving time and money.
The system also creates a "digital thread" that logs, like a medical record, every aspect of a machine's life - from initial assembly to repairs during its years of operation.
RAPID DEPLOYMENT
At GE's Grove City factory, digital systems that were installed in the last 18 months time workers down to the second. Flat screens over work bays count how long crews are spending and turn red when jobs are taking too long.
"I can look at that screen and see everything I need to know about how things are running," said Richard Simpson, vice president of supply chain at GE Transportation, pointing to a display.
Even though it is still a grimy, greasy industrial shop, Grove City is one of 17 "showcases" GE plans to have by year-end, helping it sell its systems to outside customers.
When a massive railroad engine rolls in for repair, workers check the digital twin to see what parts need to be fixed. The system ensures spares are in stock. Older engines are fitted with sensors so they can supply that data next time. The process saves labor by eliminating unnecessary work.
"Instead of full tear downs, the factory workers can refurbish just the parts that need it," said Anup Sharma, a general manager at GE Digital. "That frees them up to do value added work and gets the engine back to the customer sooner."
GE executives say the company has reaped $1 billion in productivity gains during the last two years, with $700 million more expected in 2017. Those gains are being reinvested into Predix and applications, so they have not had a large effect on GE's earnings, the executives said. The gains are not broken out for investors to see.
GE's digital business expects new orders to jump 25 percent to $5 billion this year, said GE digital division CEO Ruh, resulting in $4 billion in revenue for the division from sales to companies such as Exelon Corp and BP PLC. By 2020, GE expects $15 billion in revenue from its digital division.
Charlie Smith, Chief Investment Officer at Fort Pitt Capital Group, with $2.1 billion under management, owns GE, IBM and other industrial companies and believes digital will ultimately pay off. But he shares the skepticism of many investors.
"I'm not completely all in on GE," Smith said. "There's very little revenue from digital so far."
GE Chief Financial Officer Jeff Bornstein said in an interview that the digital division "will become real for investors" when it begins to boost revenue and profits, starting in 2019 or 2020. GE has no choice but to invest in the strategy, he added.
"If we don't do this then somebody else is going to," Bornstein said. "That is not a good thing."
(Editing by Joseph White and Edward Tobin)