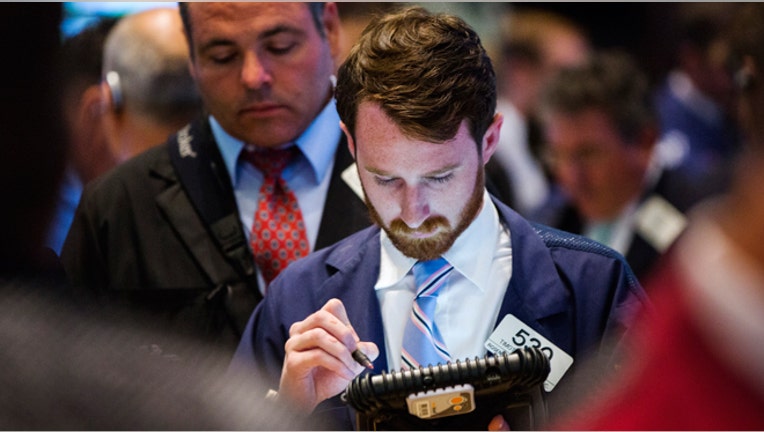 U.S. stocks skidded by 1% on Thursday as traders eyed mounting turbulence in Eastern Europe and the Middle East.
The Dow Jones Industrial Average dropped 161 points, or 0.94%, to 16976, the S&P 500 dipped 23.5 points, or 1.2%, to 1958 and the Nasdaq Composite slumped 62.5 points, or 1.4%, to 4364.
Wall Street had been on a fairly smooth ride higher recently, but fresh strife around the world sent traders dashing into safety.
Malaysia Airlines said it lost contact with a flight from Amsterdam to Kuala Lumpur about 31 miles from the Russia-Ukraine border. The embattled airline said there were 280 passengers and 15 crew members onboard the flight. A slew of news reports said the Boeing 777 was shot down, although, it couldn't be immediately confirmed.
A Boeing spokesperson told FOX Business it is "aware of media reports-- and gathering more information."
The broad S&P 500 traded flat around 11 a.m. ET, but hit session lows right around noon as headlines began crossing newswires suggesting the airliner was shot down. The CBOE's VIX, which is a measure of implied volatility in equities, surged 35% in its biggest jump since the Boston Marathon bombing. Meanwhile, wheat prices zoomed higher on concerns of a supply disruption of the key commodity used in foods.
Later in the day, Israel officially launched its ground offensive into Gaza, targeting Hamas militants that have been launching rockets into its territory. The flare up is the most recent escalation into the years-long battle between the two players in the highly-restive region.
Traders Bid Up Safe-Haven Assets
Gold, which is considered a safe-haven investment, jumped $17.80, or 1.4%, to $1,318 a troy ounce. U.S. Treasury bonds advanced as well, sending the yield on the 10-year falling by 0.04-percentage point to 2.484%.
The news of the apparent crash comes as tension between Russia and the U.S. heats up. President Barack Obama unveiled fresh sanctions against several major Russian firms Wednesday evening in response to continued fighting between Russia and Ukraine.
Michael Block, chief strategist at Rhino Trading Partners, said the news was unlikely to cause a fundamental move in U.S. equities.
Peter Boockvar, chief market analyst at The Lindsey Group, echoed that sentiment: "Generally, this geopolitical situation should pass by without major impact. I think the bigger risk to markets remains the Fed and the end of QE and sooner rather than later hiking of rates. That is what investors should be focusing on," he said.
Indeed, the benchmark averages are still trading right near session highs as corporate earnings have mostly exceeded expectations.
Still, shares of several airlines fell sharply into the red on Thursday. Among the American names were United Continental Group (NYSE:UAL) and American Airlines Group (NYSE:AAL). Airlines with a focus on the domestic markets, such as JetBlue Airways (NASDAQ:JBLU) and Spirit Airlines (NASDAQ:SAVE), outperformed their peers.
Earnings are due out after the bell from technology giants Google (NASDAQ:GOOGL) and IBM (NYSE:IBM).
Here's a look at how morning trading played out: