General Motors Worst Vehicle in 2015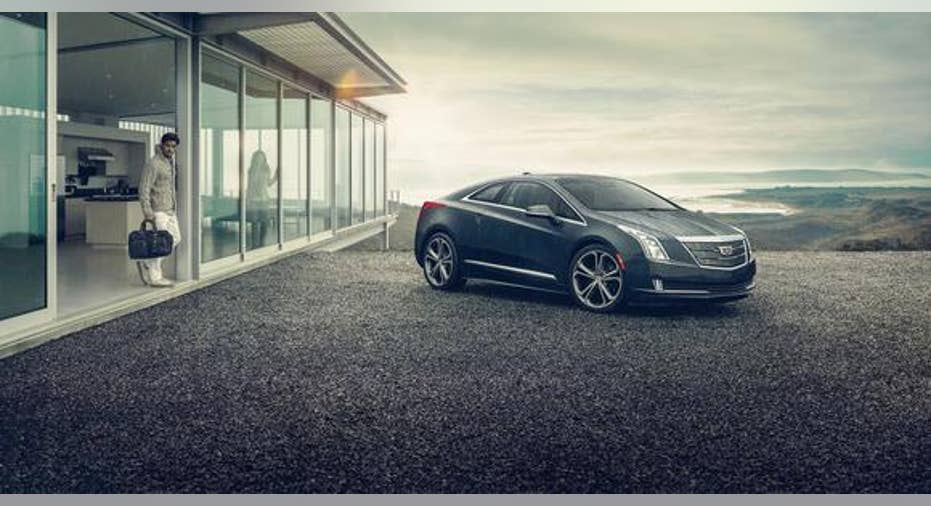 When GM's then-vice chairman Bob Lutz unveiled the Cadillac Converj in early 2009, a plug-in hybrid Cadillac coupe seemed like a great idea. But the resulting production car, the Cadillac ELR was too little, too late. Image source: General Motors
What was General Motors' worst vehicle in 2015?
That depends on what we mean by "worst." Unlike the bad old days of past decades, GM doesn't really have any awful vehicles in its current lineup. In fact, many of them are very good, and GM's quality ratings have come a long, long way.
But despite all of the big positive changes that GM's leadership has made since the battered wreck of Old GM emerged from bankruptcy protection in 2009, it's not immune to the occasional bad idea.
Or in this case, a good idea that came to market much too late.
The Cadillac ELR started out as a great idea...When GM took the wraps off a concept car called the Cadillac Converj way back in 2009, it seemed like a great idea. The Converj started out as a Chevy Volt (at the time, a revolutionary car), but GM's design team had wrapped a gorgeous, luxurious Cadillac coupe around the Volt's underpinnings.
Almost seven years later, the Converj Concept is still a terrific piece of automotive styling. And at the time, a plug-in hybrid luxury coupe was a cutting-edge idea. If GM had managed to get it to market quickly, it might have done very well: While the sales numbers for a car like the Converj would never have been huge, it would have earned its keep. It also would have given Cadillac's image a much needed high-tech boost.
That was probably GM's plan at the time, but that's not what happened. The program to develop the Converj into a production car was cancelled, along with lots of other GM programs in the dark days of early 2009.
After that, GM should have let it rest in peace. But a few years later, when then-CEO Dan Akerson demanded a quick response to Tesla Motors' electric Model S, the development program was revived and put on a fast track to production.
... but it ended up as something of a joke The result was the 2014 Cadillac ELR. Its styling had been toned down from the Converj concept, but it was (and is) still a very attractive premium-looking coupe. And truthfully, the ELR is quite nice to drive, if a bit sedate. But it had two problems: First, the plug-in hybrid technology that was cutting-edge in 2009 was old hat by 2014, eclipsed by those hot Teslas.
Second, GM priced the new Cadillac ELR at $75,995. That wasn't just a lot of money for a fancied-up Chevy Volt, it was Tesla money. What was GM thinking?
Will 2016 be the end of the line for the Cadillac ELR? Image source: General Motors
Needless to day, ELR sales never took off -- and the discounts quickly mounted. The 2016 ELR, which may be the last of the line, starts at a somewhat more reasonable $57,500. But even with the substantial price cut, sales have been, shall we say, modest: Just 889 have been sold in the U.S. this year through November, down over 25% from a year ago.
Meanwhile, even the Chevy Volt has moved aheadThe 2016 Chevy Volt has moved to an all-new platform that incorporates many technological improvements. It has leapfrogged past rivalToyota's plug-ins, leaving the world's hybrid-car leader scrambling a bit to catch up. And like the original Volt, the new one has a plush interior and a premium ride that should make even luxury-car fans feel right at home. It should do well.
Meanwhile, the ELR soldiers on with the older technology. It's still not a bad car, exactly. But it was too late to give Cadillac's image the boost that the original Converj had promised. Now that its technology has been eclipsed not just by Tesla but by Chevrolet, it's time to put the ELR out to pasture.
The article General Motors Worst Vehicle in 2015 originally appeared on Fool.com.
John Rosevear owns shares of General Motors. The Motley Fool owns shares of and recommends Tesla Motors. The Motley Fool recommends General Motors. Try any of our Foolish newsletter services free for 30 days. We Fools may not all hold the same opinions, but we all believe that considering a diverse range of insights makes us better investors. The Motley Fool has a disclosure policy.
Copyright 1995 - 2015 The Motley Fool, LLC. All rights reserved. The Motley Fool has a disclosure policy.