General Motors' Self-Driving Plans Hit a Snag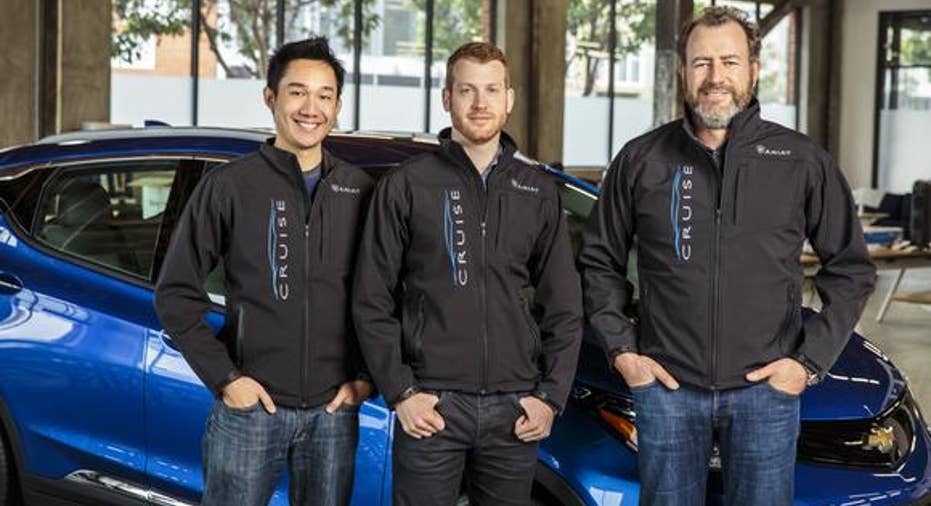 Cruise Automation's Kyle Vogt, center, stands with co-founder Daniel Kan (left) and GM president Dan Ammann (right) in this photo taken last month. Vogt is now suing a former colleague who claims he was also a co-founder of the company, which GM agreed to acquire last month. Image source: General Motors.
General Motors made waves in tech circles last month when it said it had agreed to buy tiny San Francisco-based start-up company Cruise Automation. But now, the deal may have hit a snag. One of Cruise's founders has sued a former employee, alleging that he has claimed to be a co-founder of the company and thus entitled to a share of the purchase price.
Will this hold up GM's self-driving push?
What's going on: Cruise founder Kyle Vogt and Jeremy Guillory have filed claims and counterclaims in Superior Court in San Francisco, disputing the nature of a partnership between the two at the time of the formation of Cruise Automation.
Cruise Automation makes technology that allows cars to be converted to self-driving vehicles. GM agreed to acquire the company last month; the purchase price hasn't been disclosed, but multiple reports have suggested that it could be as much as $1 billion.
According to a Reuters report, Vogt initially sued Giuillory, saying that Guillory had made "extortionary" claims to him after the GM deal was announced. Guilllory countersued late last week, saying that he had originally developed Cruise's technology before he and Vogt agreed to work together in Oct. 2013 -- and that Vogt had said that Guillory would own half of the newly formed Cruise Automation.
Guillory's complaint alleges that Vogt said he no longer wanted to work with Guillory just one month later, in November of 2013. Cruise demonstrated its technology on a retrofitted Audi sedan about five month later, according to the Reuters report.
What it means for GM: GM doesn't seem to think it means a whole lot. The company said in a brief statement that it's aware of the litigation but that it expects its acquisition of Cruise to close on schedule during the second quarter of 2016.
It's not yet clear why GM is willing to pay such a big price for Cruise, a tiny company that employed roughly 40 people at the time of GM's announcement. It's believed that there's something in Cruise's software that GM considers to be a breakthrough in self-driving technology -- something that's worth at least $1 billion to the global auto giant. But it may be a year or more before we know exactly what moved GM to make such an aggressive offer to Cruise's founders.
What is clear is that Cruise is pushing ahead with a rapid expansion in the wake of the GM announcement. The company has over 20 job openings listed on its otherwise meager website.
What's next for GM and Cruise: Disputes like this aren't uncommon when a huge offer arrives for an early stage start-up. The horse-trading that goes on as founders attempt to first turn an idea into a company is often remembered very differently by the participants later on when a nine- or 10-digit offer for the company suddenly appears.
Publicly, at least, GM is untroubled by the dispute. To be fair, GM probably knows that it will be able to pay somebody for the company by quarter-end. But whether these lawsuits will hold up the deal -- or affect Vogt's ability to help advance the technology once Cruise is part of General Motors -- is unclear right now. We'll be watching.
The article General Motors' Self-Driving Plans Hit a Snag originally appeared on Fool.com.
John Rosevear owns shares of General Motors. The Motley Fool recommends General Motors. Try any of our Foolish newsletter services free for 30 days. We Fools may not all hold the same opinions, but we all believe that considering a diverse range of insights makes us better investors. The Motley Fool has a disclosure policy.
Copyright 1995 - 2016 The Motley Fool, LLC. All rights reserved. The Motley Fool has a disclosure policy.