General Motors' Sales Jumped, but Incentives Are Up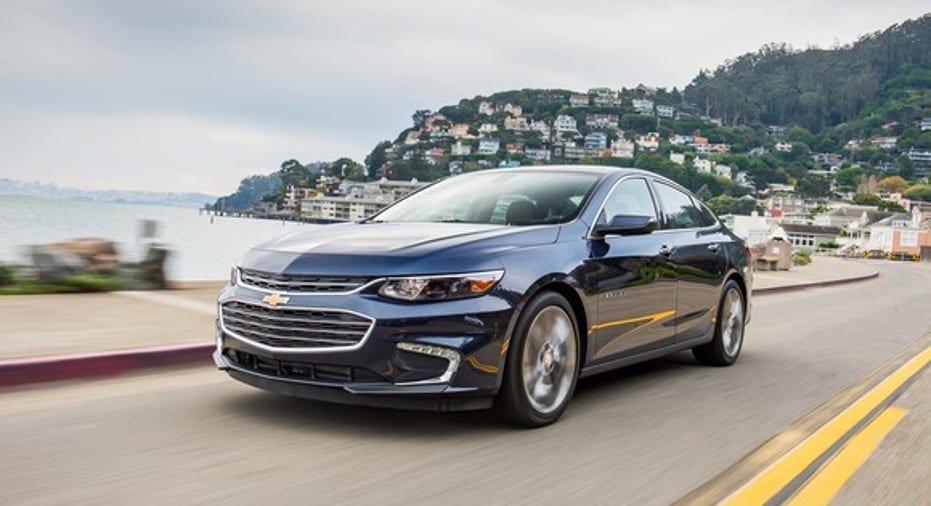 Sedan sales have slumped, but GM's ChevroletMalibu has bucked the trend. Sales were up strongly again in November. Image source: General Motors.
General Motors (NYSE: GM) said its U.S. sales rose 10.2% last month on a jump in fleet sales and strong retail demand for all four of its U.S. brands.
GM's gain outpaced gains at its five closest U.S.-market competitors, likely helping GM to an increase in its U.S. market share. But the gains may have come at a cost: GM's incentives are rising.
The key numbers: How GM's brands performed in November
Data source: General Motors. Table shows U.S. sales for the month of November, 2016. YOY = year over year.
What worked (and didn't) for GM in the U.S. last month
All four of GM's U.S. brands posted strong year-over-year gains at retail last month.
Cadillac's gain was driven by strong results for its SUVs and for the big XTS sedan. Sales of the big Escalade SUV rose 25%, while the new midsize XT5 crossover managed a 5.5% gain over strong year-ago results for its predecessor, the now-discontinued SRX. Sales of the XTS jumped 34% to 2,653 units sold last month.
Buick continues to see very strong demand for its small Encore crossover SUV. Encore sales rose almost 40% last month to 7,162, and the new midsize Envision crossover added another 1,785 sales to the month's total. Sales of Buick's Regal sedan were also up strongly (49%), but the big Enclave crossover and LaCrosse sedan both slipped from a year ago.
GMC saw strong sales gains for nearly all of its models. Sales of its best-seller, the full-size Sierra pickup line, jumped 14.4%, while the smaller Canyon pickup posted a 52.5% increase. All of the brand's SUV models posted double-digit sales gains, with the sole exception of the Terrain.
Chevrolet also saw good sales for its trucks and SUVs, but two of its car models did well in what has been a weak market for sedans. These weren't all fleet sales, either: Retail sales of the midsize Malibu and compact Volt hybrid were up 24% and 25%, respectively. Overall Malibu sales were up 71% from a year ago, reflecting strong rental-fleet interest. Sales of the Silverado pickup line (the brand's best seller) rose 0.6%, while the midsize Colorado pickup gained 39% from a year ago.
Incentives, fleet sales, and inventories
The flip side to the good sales numbers is that GM's incentives are up. TrueCar estimates that GM spent an average of $4,305 per vehicle on incentives in November, ahead of both Ford (NYSE: F) and Fiat Chrysler Automobiles (NYSE: FCAU) -- and up almost 13% from a year ago.
GM acknowledged that its incentive spending as a percentage of its average transaction prices (ATPs) was higher, at 13.7%, than the industry's 12.4% average in November. But its ATP, which reflects retail transaction prices after incentives, was a healthy $35,767. That's more than $4,000 above the industry average.
GM said its fleet sales were up 19% in November and accounted for 22% of its total U.S. sales. Commercial fleet sales were up 11%, government fleet sales rose 9%, and rental-fleet sales were up 27%. (GM noted that its rental-fleet sales are still down 25% year to date through November.)
At month-end, GM had 874,162 vehicles in its U.S. inventory. That's an 87-day supply, up three days' worth from the end of October -- and probably a higher number than GM would like, which likely explains the increased incentives.
The upshot: A good month, but...
The market for new cars is cyclical, and it's likely the U.S. new-car market is a bit past its cyclical peak. That has historically made for up-and-down monthly results, as automakers try different tactics (including increasing incentives) to generate growth in a market that isn't giving much.
GM's year-over-year sales gain in November was ahead of those of its five biggest mass-market rivals. It did come at a cost -- those incentives -- but the overall result was probably a solid profit boost for the General.
For investors, it's helpful to keep in mind that the monthly ups and downs are no big deal. But the incentives -- which will cut into profit margins if boosted too far -- are something to watch closely as the choppy market continues.
10 stocks we like better than General Motors When investing geniuses David and Tom Gardner have a stock tip, it can pay to listen. After all, the newsletter they have run for over a decade, Motley Fool Stock Advisor, has tripled the market.*
David and Tom just revealed what they believe are the 10 best stocks for investors to buy right now...and General Motors wasn't one of them! That's right -- they think these 10 stocks are even better buys.
Click here to learn about these picks!
*Stock Advisor returns as of November 7, 2016.
John Rosevear owns shares of Ford and General Motors. The Motley Fool owns shares of and recommends Ford. The Motley Fool recommends General Motors. Try any of our Foolish newsletter services free for 30 days. We Fools may not all hold the same opinions, but we all believe that considering a diverse range of insights makes us better investors. The Motley Fool has a disclosure policy.