General Motors Responds to Trump With $1 Billion in New U.S. Spending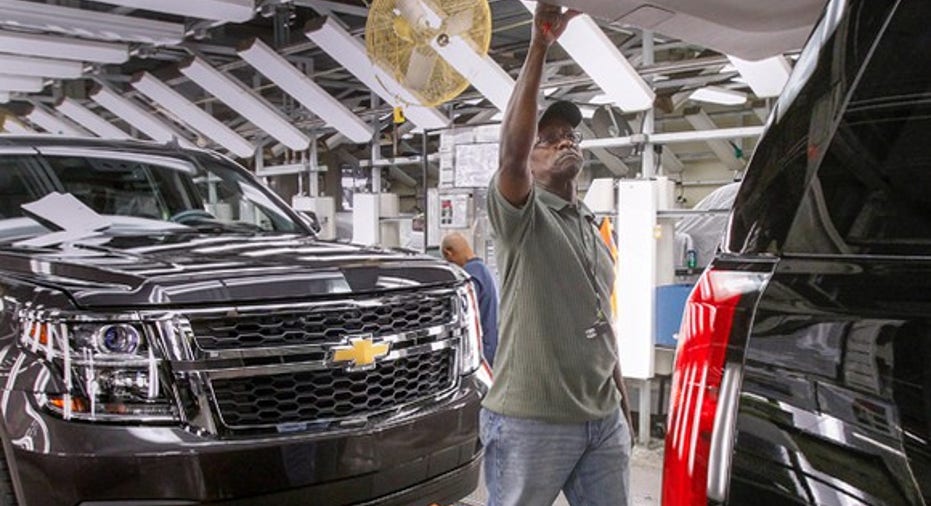 In what might be seen as an announcement intended to deflect pressure from the president-elect, General Motors (NYSE: GM) said on Tuesday that it will invest $1 billion in its U.S. manufacturing operations to create or retain 1,500 jobs.
The investment follows $2.9 billion in similar spending announced by GM during 2016. But the announcement was thin on specifics, and its timing seemed politically motivated.
GM's Arlington,Texasfactory is one of several plants benefiting from recent GM investments in U.S. manufacturing. Image source: General Motors.
GM again emphasizes that it is creating lots of U.S. jobs
GM's statement didn't contain much new news. "The new investments cover multiple new vehicle, advanced technology and component projects," it said. "A combination of 1,500 new and retained jobs are tied to the new investments. Details of individual projects will be announced throughout the year" (emphasis added).
GM also said it plans to bring production of axles for its next-generation full-size pickup trucks in-house, to a GM facility in Michigan, creating 450 new U.S. jobs. Some of the axle production for GM's current pickups is done in Mexico now. The all-new full-size pickups, replacements for the current Chevrolet Silverado and GMC Sierra, are expected to debut in 2018 as 2019 models. And GM said it's making moves to encourage key suppliers to move their manufacturing operations to sites closeto several of its U.S. factories.
"As the U.S. manufacturing base increases its competitiveness, we are able to further increase our investment, resulting in more jobs for America and better results for our owners,"CEO Mary Barra said in a statement. "The U.S. is our home market and we are committed to growth that is good for our employees, dealers, and suppliers and supports our continued effort to drive shareholder value."
GM positioned the move as part of an ongoing drive to realize efficiencies -- or put another way, to take better advantage of its massive global scale. That effort has already realized significant cost savings and -- GM said on Tuesday -- has created 25,000 new jobs in the U.S., including 6,000 manufacturing jobs.
There's more to come, Barra said (emphasis added):
Why did GM make an announcement without specifics?
"As with Ford, Fiat Chrysler, Hyundai and Toyota before, General Motors announcement today is mostly theater to play in the news cycle created by President-elect Trump's tweets," said Autotrader senior analyst Michelle Krebs, a longtime auto-industry observer. "These investments and hiring plans have long been in the works and are a continuation of what the company has been doing in recent years -- trying to run a successful, profitable business. The only thing 'new' here is GM's aggressiveness in announcing its plans."
I think that's exactly right. The spending plans underlying today's announcement have probably been in the works for several months -- maybe longer, as they're likely keyed to upcoming new products that may have been under development for two years or more at this point.
But GM clearly saw a need to make the point to President-elect Trump, who has made a practice of Twitter-shaming manufacturing companies in an effort to drive U.S. job creation.
Sure enough, after The Wall Street Journal first reported on GM's plan, Trump tweeted what seemed like an acknowledgement.
What does this mean for GMinvestors?
I don't think it tells us much in terms of GM's future plans, as the statement was so short on specifics (and mostly seemed to confirm things long in the works). To the extent it tells us anything, it's that GM is making an effort to show the incoming administration that it's willing to play ball. (Given the way these messages go back and forth, perhaps "Twitter tennis" is a better term.)
When I was in Detroit last week, I heard from officials at GM and a few other automakers that they now watch Trump's Twitter feed carefully and stand ready to respond quickly -- within hours -- if their companies are mentioned. That seems only prudent for any big business in 2017.
But the announcement itself? It's no big deal. If and when GM or its rivals are moved to change manufacturing plans in response to prods from Trump, that will be a bigger deal.
10 stocks we like better than General Motors When investing geniuses David and Tom Gardner have a stock tip, it can pay to listen. After all, the newsletter they have run for over a decade, Motley Fool Stock Advisor, has tripled the market.*
David and Tom just revealed what they believe are the 10 best stocks for investors to buy right now...and General Motors wasn't one of them! That's right -- they think these 10 stocks are even better buys.
Click here to learn about these picks!
*Stock Advisor returns as of January 4, 2017.
John Rosevear owns shares of General Motors. The Motley Fool recommends General Motors. The Motley Fool has a disclosure policy.