General Motors' Net Income More Than Doubles on Big Profitability Gains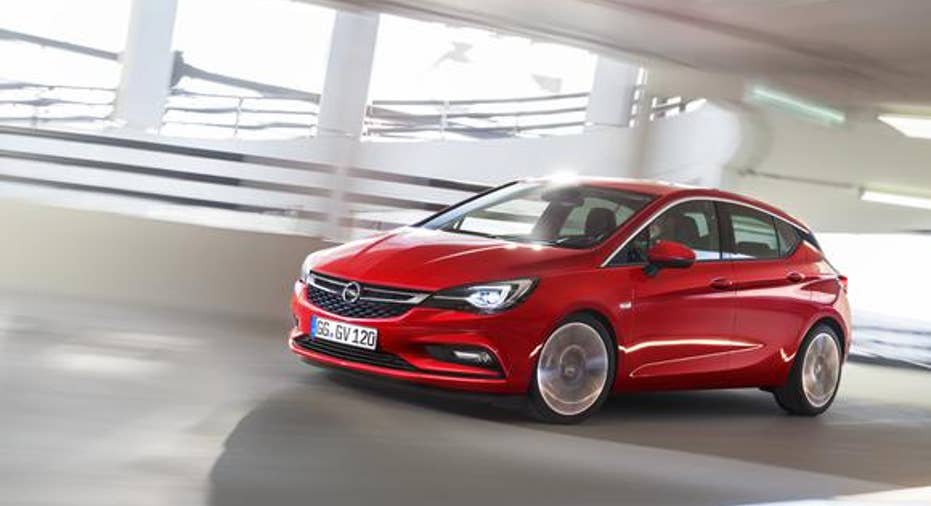 U.S. sales of the new-for-2016 Chevrolet Malibu jumped 37% in the first quarter. Better yet for GM, the new Malibu generates more profit per sale than its predecessor. Image source: General Motors.
General Motors reported on Thursday that its first-quarter net income was $1.95 billion, more than double its $945 million result from a year ago.
Excluding a couple of small special items, GM earned $1.26 per share, trouncing the consensus $1.01 per-share Wall Street estimate. Revenue of $37.3 billion was up 4.5% from a year ago, and also well ahead of estimates.
The big jump in profit came despite a 2.5% year-over-year drop in GM's global deliveries in the first quarter. It shows that CEO Mary Barra's efforts to improve GM's global profitability on a sustainable, long-term basis are already bearing fruit.
The key numbers:
| | | |
| --- | --- | --- |
| | Q1 2016 | Q1 2015 |
| Revenue | $37.3B | $35.7B |
| EBIT-Adjusted | $2.7B | $2.1B |
| EBIT-Adjusted Margin | 7.1% | 5.8% |
| Net Income | $1.95B | $945M |
| EPS (Excluding Special Items) | $1.26 | $0.86 |
| Adjusted Free Cash Flow | $(1.5B) | $(1.7B) |
| Return on Invested Capital | 28.5% | 19.5% |
How GM's regional units performed during the first quarter of 2016The best way to understand GM's quarterly performance is to look at results for each of its regional business segments. Note that all numbers at the business-unit level are on what GM calls an "EBIT-adjusted" basis, essentially equivalent to operating income.
All of GM's business segments reported improved results on a year-over-year basis.
In North America, GM earned $2.3 billion, up from $2.18 billion a year ago. It delivered about 874,000 vehicles to dealers, up from about 829,000 a year ago. Its EBIT-adjusted margin was 8.7%, down 10 basis points from a year ago in large part due to some one-time costs related to the new UAW labor agreement in the United States. CFO Chuck Stevens told reporters on Thursday morning that absent those costs, GM's EBIT-adjusted margin in North America would have been a healthy 9.5%.
The story in North America is a good one: GM is selling more vehicles at retail and fewer to rental-car fleets. Its overall sales increases are modest, but the shift in emphasis helped power a good gain in profitability.
In South America, GM lost $67 million, a solid improvement over its $214 million loss a year ago that came despite ongoing challenging conditions in key markets like Brazil. GM and most of its regional rivals have suffered as steep recessions in Brazil (and to a lesser extent Argentina) have hammered new-car sales in the region. But GM South America has restructured to reduce costs, while introducing new products that have helped improve margins. Simply put, GM is doing a good job of making the most of a very difficult set of circumstances.
GM has lost billions in Europe over the last decade and a half, but those losses may finally be coming to an end. GM Europe lost just $6 million in the first quarter, versus a $239 million loss a year ago. That's essentially a break-even result, and it comes as the first of a slew of new GM products for Europe (the Opel Astra sedan) is getting good results in the marketplace, giving GM a market-beating sales gain in the quarter. Like the Chevy Malibu and Cruze in the U.S. and China, the new Astra is not only more appealing than its predecessor, it's also more profitable. Stevens noted on Thursday that GM has several more new products, including crossover SUVs, that will be introduced in Europe over the next few quarters.
Like the new Chevy Malibu and Cruze, the new Opel Astra is more profitable than the car it replaced. Image source: General Motors
GM's catch-all International Operations unit includes its vast operations in China. The unit earned $379 million in the first quarter, up slightly from $371 million a year ago. That included $518 million in equity income from GM's joint ventures in China, roughly flat versus a year ago. As in the U.S. and Europe, GM is selling a lot of high-profit SUVs in China. That helped offset marketwide slumps in demand for small cars and small commercial vehicles. GM's Wuling joint venture is a major player in China's small commercial-van market, and its sales have suffered in recent months.
Cash, debt, and GM's pension-fund liabilities GM ended the quarter with $18.5 billion in cash and another $12.1 billion in available credit facilities for a total of $30.6 billion in liquidity available to its core automotive businesses. Against that, GM had $10.8 billion in well-structured long-term debt.
The profitable Buick Envision continued to sell very well in China in the first quarter. Image source: General Motors.
GM made a $1.5 billion "discretionary contribution" to its global pension funds during the quarter. That pension contribution, which GM funded with low-interest long-term debt, was a big part of the reason GM's adjusted free cash flow was a net outflow of $1.5 billion. GM's operating cash performance actually improved by about $800 million from a year ago, but that was partially offset by a roughly $600 million increase in capital expenditures.
On the other hand, GM's global pension plans are now underfunded by $19.4 billion, down from $21 billion at year-end.
GM repurchased about $300 million of its own common stock during the quarter and paid out roughly $600 million in dividends to shareholders.
The upshot: GM delivers another solid quarter GM's stock performance has been lackluster recently, but that's not because GM is doing badly. As this quarter shows, the company is doing a remarkably good job of executing on Barra's long-term plan to boost margins and profitability around the world by early next decade. The company still has a long way to go to meet Barra's targets, but the progress -- in the U.S. and around the world -- is increasingly easy to see.
The article General Motors' Net Income More Than Doubles on Big Profitability Gains originally appeared on Fool.com.
John Rosevear owns shares of General Motors. The Motley Fool recommends General Motors. Try any of our Foolish newsletter services free for 30 days. We Fools may not all hold the same opinions, but we all believe that considering a diverse range of insights makes us better investors. The Motley Fool has a disclosure policy.
Copyright 1995 - 2016 The Motley Fool, LLC. All rights reserved. The Motley Fool has a disclosure policy.