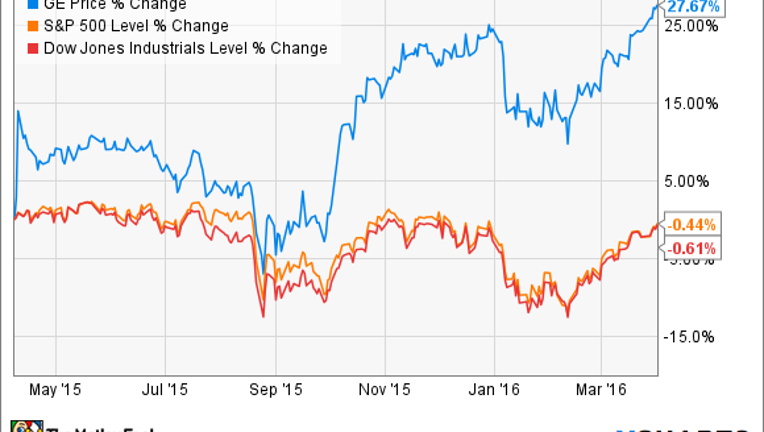 Source: General Electric Company; GE Capital Aviation Services
Last week, General Electric officially announced to the world that it's no longer too big to fail. Here's what you need to know.The Dirty DetailsOn Friday, General Electric made good on its promise to the U.S. Treasury Department, Federal Reserve, and Securities and Exchange Commission that it would get back to its industrial roots. The company officially filed a regulatory request to no longer be considered a "systemically important financial institution."
In 2013, in the midst of Great Recession finger-pointing, U.S. regulators put into place stricter regulations for big banks had the heft to take markets down with them if they were to collapse. For institution on this list, regulators were given carte blanche to engage in "consolidated supervision," a nightmare in the making for corporate management and shareholders. It included the usual characters: Bank of America, Citigroup, Goldman Sachs , etc.
But it wasn't only banks under the microscope. Mega-corporations with big financial arms also came under scrutiny. The SEC didn't want another Enron to sneak by without scrutiny, so companies like General Electric, American International Group, and Prudential Financialalso got tapped by watchdogs for extra oversight to ensure they kept their finances in order.
This designation was a moment of reckoning for General Electric. In 2012, its "GE Capital" financial arm had a whopping $539 billion in assets and had extended credit to 243,000 commercial customers, 201,000 small businesses, and 57 million consumers. That's a lot to keep track of, and GE recognized that it had moved far away from its core competitive industrial advantage. While increased regulation might make sense for Goldman Sachs, a company that thrives in the financial sector and knows how to deal with regulation, it was too much for General Electric. It had morphed into a financial monster, and GE wanted out.
The PivotIn April 2015, General Electric announced a massive restructuring to create a "simpler, more valuable industrial company." Among the plans it laid out were:
Sell most of its GE Capital assets
Have 90% of earnings coming from "high-value" industrials by 2018
Terminate its "systemically important financial institution" designation
Return more than $90 billion to investors via dividend and share buybacks
Source: General Electric Company
GE is well on its way to delivering on all these bullet points. With this latest filing, the corporation is finally saying it's ready to be treated differently by regulators. As GE Capital Chairman and CEO Keith Sherin puts it:
What Now?
General Electric investors should see this latest announcement as good news. The market has smiled upon its stock since the first restructuring announcement -- shares jumped nearly 15% on the initial news and have since headed higher for a total 28% gain. Over that same period, both the Dow Jones Industrial and the S&P 500 have flatlined.
Running away from regulators isn't always good; Goldman Sachs even went so far as to buy up GE's U.S. deposit business, the final bank on General Electric's books. But for this industrial company, a large financial industry footprint just didn't make sense, and the regulatory push was just what it needed to get back to its roots. Investors will want to keep a close eye on GE as it recenters on its core competitive advantages -- but if its progress to-date is any indication, this stock will continue to deliver solid returns to shareholders for years to come.
The article General Electric: We're No Longer Too Big to Fail originally appeared on Fool.com.
Justin Loiseau owns shares of General Electric Company and also recently restructured to focus on his comparative advantage, abandoning his quest to bake the perfect pie and making really good chocolate chip cookies, instead. The Motley Fool owns shares of General Electric Company. The Motley Fool recommends Bank of America. Try any of our Foolish newsletter services free for 30 days. We Fools may not all hold the same opinions, but we all believe that considering a diverse range of insights makes us better investors. The Motley Fool has a disclosure policy.
Copyright 1995 - 2016 The Motley Fool, LLC. All rights reserved. The Motley Fool has a disclosure policy.