General Electric May Sell Its Water Business to Blackstone. Good Idea?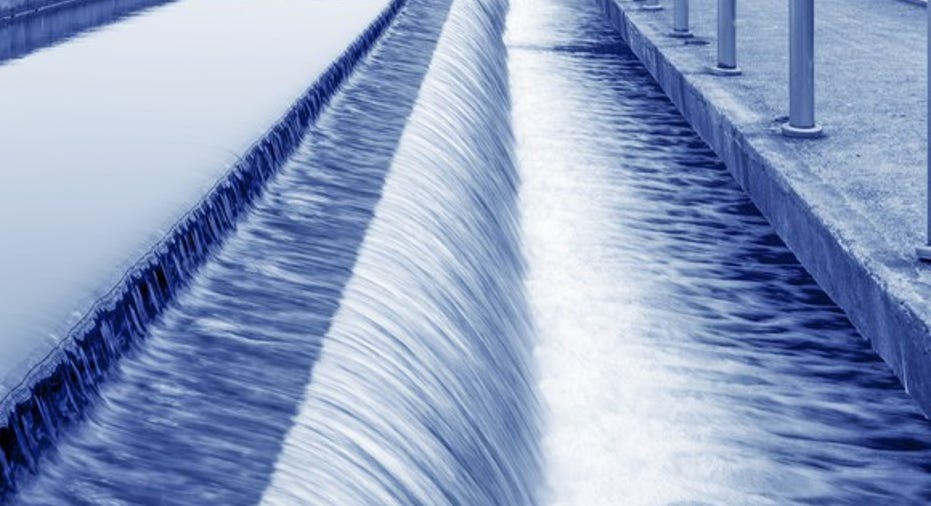 TheNew York Post has reported thatBlackstone Group(NYSE: BX) is one of three companies in the running to purchaseGeneral Electric's (NYSE: GE) water business, which is suddenly up for sale.That might seem like an unusual thing for Blackstone to want to buy -- and an unusual business for GE to try to sell.
However, the sale seems likely to benefit both companies, if Blackstone ends up putting in the winning bid. Here's why.
GE's water division serves a variety of industries, including wastewater treatment. Image source: Getty Images.
Why now
General Electric hasn't explicitly stated that it's selling off its water business to appease the regulators who will be reviewing the merger of its oil and gas business withBaker Hughes(NYSE: BHI). However, on the GE Water homepage, a statement ties the two events together, stating, "On October 31, 2016, following the announcement of a proposed combination of GE's Oil & Gas business with Baker Hughes, GE has confirmed it is exploring options for selling the Water & Process Technologies business."
While GE Water lists several industries in which it operates, including purifying water for food-and-beverage and pharmaceutical applications and treating wastewater from mining and pulp-paper operations, upstream oil and gas is clearly one of the company's big industries.
Primarily, GE Water serves the oil and gas industry by treating seawater before injection into offshore reservoirs, and conditioning and managing wastewater from oil and gas production operations.For both of these applications, the division "works closely with GE Oil and Gas."
The cost of success
It's impossible to tell exactly how successful or profitable GE Water is, because the company reports on it as part of its unit now called GE Power. It was formerly known as GE Power and Water; the name has been changed for obvious reasons. In its press release announcing that the unit was for sale, GE stated that the unit brought in about $2 billion in annual revenue.Overall, GE Power brought in $21.5 billion in revenue in 2015, so water is a very small piece of that pie.
For Blackstone, too, GE's water business would be comparatively small potatoes. While the company recordedonly $4.6 billion in revenue in its 2015 annual report, it had $22.5 billion in assets and $46.7 billion in "dry powder" capital ready to be deployed.
This wouldn't even be Blackstone's biggest purchase from GE in the past two years. In April 2015, the company teamed up with Wells Fargo to buy the majority of GE Capital's real estate division for approximately $23 billion.
What's good for the goose
Blackstone has been down this path before, teaming up withApolloManagement and Goldman Sachs to acquire another water treatment company, Ondeo Nalco, for $4.2 billion in 2003.It took the company public again in 2004 and then exited the business just three years later for a tidy profit.There's no reason to think Blackstone couldn't have similar success with GE Water.
For General Electric, if selling off this relatively small slice of its power division helps to grease the wheels for its massive $32 billion acquisition and spinoff of Baker Hughes, it's almost definitely worth it.The Baker Hughes deal should benefit GE's shareholders by improving the company's competitive position in the oil and gas market, and by separating the currently underperforming oil and gas business from the rest of the company.
It's worth noting that there's no guarantee the GE Water divestiture will ensure regulatory approval of this sale -- or, conversely, that a failure to sell would scuttle the deal. The Baker Hughes merger will create the second-largest oil-services company in the world, eclipsingHalliburton to becomeNo. 2 behindSchlumberger, and regulators are sure to give it a great deal of scrutiny. But either way, it seems a small price to pay.
Investor takeaway
GE's investors will hardly miss the water business once it leaves the company's portfolio. That's especially true considering all the turnover that's occurred in GE's holdings over the past few years from the Alstom acquisition to theSynchrony Financialspinoff to the sale of the company's appliances division.And the potential benefit -- clearing the way for a smooth Baker Hughes merger -- is worth it.
For Blackstone, the purchase makes sense as well. The company has had experience handling just this sort of acquisition and should be in a good position to turn a profit. Don't forget, though, that Blackstone is just one of three potential buyers at present. But even if it gets outbid,it shouldn't affect the long-term thesis for either company.
10 stocks we like better than General Electric When investing geniuses David and Tom Gardner have a stock tip, it can pay to listen. After all, the newsletter they have run for over a decade, Motley Fool Stock Advisor, has tripled the market.*
David and Tom just revealed what they believe are the 10 best stocks for investors to buy right now... and General Electric wasn't one of them! That's right -- they think these 10 stocks are even better buys.
Click here to learn about these picks!
*Stock Advisor returns as of January 4, 2017
John Bromels has no position in any stocks mentioned. The Motley Fool owns shares of General Electric and Halliburton. The Motley Fool recommends Apollo Investment and Synchrony Financial. The Motley Fool has a disclosure policy.