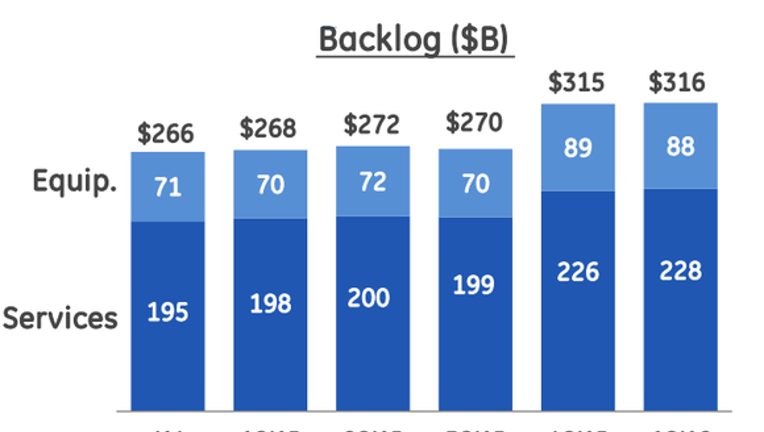 General Electric dealt with a challenging environment in the first quarter. Excluding GE Capital, which GE is in the process of divesting, first-quarter revenue increased 6% year over year to $27.6 billion. This translated to a 5% increase in earnings of $0.21 per share. Prior to the earnings release on Friday morning, Wall Street expected GE to generate $27.6 billion in sales and earn $0.19 per share.
Let's take a closer look at GE's first-quarter earnings.
The numbersGE's first-quarter industrial revenues increased 6% year over year to $25.9 billion. Excluding GE's recent acquisition of Alstom, GE's industrial revenue would've fallen 5.3% to $23.1 billion. Organically, which accounts for the impact of currency headwinds, dispositions, and acquisitions (aside from Alstom), GE's industrial revenue in the first quarter fell 1% compared to last year.
The following table breaks down GE's industrial segment by revenue, including Alstom:
Data source: GE.
GE's industrial profit before corporate activities decreased 7% annually to $3.3 billion, but it remained flat on an organic basis:
Data source: GE.
What happened during the quarter?As always, there were many notable developments for GE investors to focus on during the first quarter:
Without Alstom, GE's industrial segment margins fell 10 basis points year over year to 14.5%, which includes a 60 basis point impact from currency headwinds.
GE's cash flow increased by six times annually, thanks to GE Capital paying out a one-time $7.5 billion dividend to the parent company from the sale of financial services assets. However, GE's industrial cash flow fell 60% to $356 million.
Alstom affected GE's earnings by $0.01 per share, but it's still expected to contribute about $0.05 per share to earnings this year.
First-quarter orders increased 1% because of the inclusion Alstom, but they fell 7% on an organic basis.
GE's order backlog increased 18% year over year $316 billion with Alstom, and by 7% without it.
Image source: GE.
GE returned $8.3 billion to shareholders in the first quarter, of which $6.1 billion was buybacks.
GE's plan to exit the financial services business by divesting the majority of GE Capital remains ahead of schedule, with $166 billion of asset sales signed and $146 billion closed.
GE submitted its application to remove its status as a systemically important financial institution -- or SIFI -- which, if granted, will give the company greater financial flexibility.
What management had to sayIn the earnings release, CEO Jeff Immelt highlighted GE's diversification as a strength to mitigate the impact of a challenging oil and gas environment:
Despite lowering oil and gas' profit outlook for the year, which the company now expects will fall by 30%, Immelt reaffirmed the company's full-year guidance for earning between $1.45 and $1.55 per share, growing 2% to 4% organically, expanding industrial margins, and returning $26 billion to shareholders.
Looking aheadAlthough it was a tough operating environment for GE to drive sales growth, the company managed to grow earnings. This suggests management continues to execute well in challenging conditions. Looking ahead, GE investors should expect continued weakness in oil and gas, sluggish overall revenue growth due, and more progress toward its plan to exit the financial services business and become a highly streamlined industrial giant.
The article GE Earnings: Another Quarter of Tough Conditions originally appeared on Fool.com.
Steve Heller has no position in any stocks mentioned. The Motley Fool owns shares of General Electric Company. Try any of our Foolish newsletter services free for 30 days. We Fools may not all hold the same opinions, but we all believe that considering a diverse range of insights makes us better investors. The Motley Fool has a disclosure policy.
Copyright 1995 - 2016 The Motley Fool, LLC. All rights reserved. The Motley Fool has a disclosure policy.