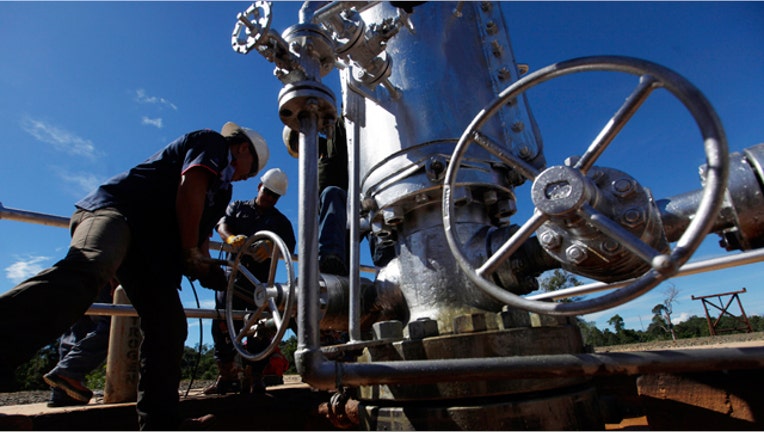 Brent crude oil surged more than $6 a barrel on Monday, the second-largest gain on record, snapping back from last week's record sell-off on a wave of bargain-hunting and a jump in gasoline prices.
The rebound reclaimed about a third of last week's losses, with many traders having anticipated a bounce after a series of automated stop-loss sales hammered prices on Thursday; additional support on Monday came from a jump in gasoline on concerns that flooding could disrupt U.S. refiners.
Trade remained heavy after last week's price collapse saw volumes jump to near twice the 30-day moving average as part of a broad sell-off across commodities markets.
Brent crude for June settled up $6.77 at $115.90 a barrel. U.S. crude rose $5.37 to settle at $102.55 a barrel, while U.S. gasoline futures jumped 6 percent.
Oil's early rebound came amid wider gains across the commodity complex, with the Reuters-Jefferies CRB index (.CRB), a global benchmark for commodities prices, up 1.51 percent after posting the biggest weekly drop since late 2008 last week.
Further strength came from concerns about U.S. gasoline supply ahead of the summer driving season. Traders eyed a fire at Chevron's Pascagoula refinery and Mississippi River flooding near several U.S. refineries, though none has been impacted.
"A premium is coming in on the potential for flood damage, not just for the refineries higher up on the Mississippi, but the refineries near the mouth that were flooded by (hurricanes) Katrina and Rita," said Richard Ilczyszyn, senior market strategist at Lind-Waldock in Chicago.
In addition, TransCanada Corp (TRP.TO) said its 591,000-barrels-a-day Keystone oil pipeline will remain closed for a few days after a fitting at a North Dakota pumping station failed and spilled about 500 barrels of oil.
Volatility increased late in the day, with the Chicago Board Options Exchange's oil volatility index (.OVX) up 0.16, or 0.39 percent, to 41.60. Last Thursday it touched 48.64, the highest in nearly a year.