Gartner Inc. Delivers 50% Earnings Growth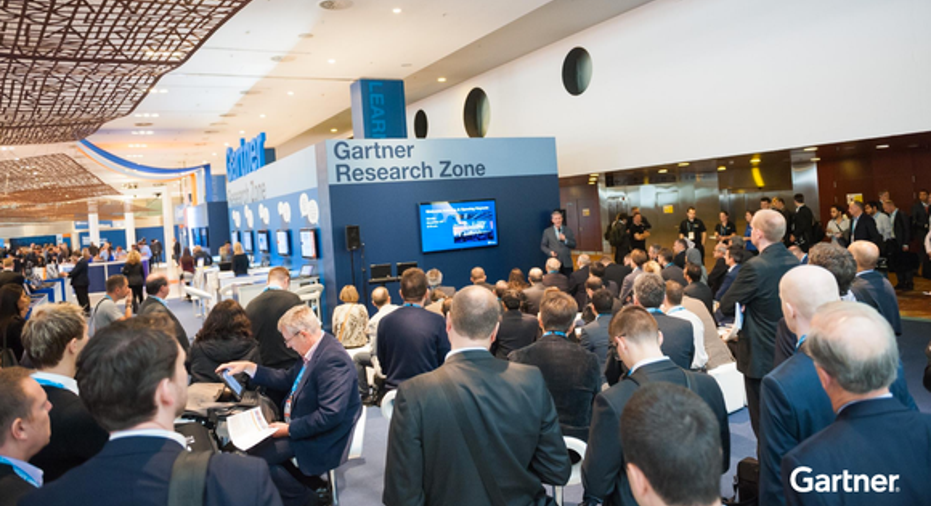 Image Source: Gartner.
Gartnerreported first-quarter results on May 5. The leading provider of research and analysis on the global information technology industry enjoyed solid increases in revenue and earnings, and boosted its outlook for the year ahead.
Gartner results: The raw numbers
| Metric | Q1 2016 | Q1 2015 | Growth (YOY) |
| --- | --- | --- | --- |
| Revenue | $557.266 million | $471.186 million | 18% |
| Net income | $40.167 million | $28.351 million | 42% |
| Earnings per share | $0.48 | $0.32 | 50% |
Data Source: Gartner Q1 2016 earnings press release.
What happened with Gartner this quarter?
Total revenue jumped 18% year over year to$557.3 million, and 21% excluding the negative impact of foreign exchange movements.
Normalized EBITDA, which excludes stock-based compensation and certain acquisition-related charges, surged 28% to$103.3 million, and 31% on a constant-dollar basis.
Adjusted earnings per share, which excludes acquisition-related charges, soared 65% to$0.61.
Business segment results
Drilling down into Gartner's individual business segments, we see that research revenuerose 16% (18% in constant currency) to $440.3 million. Gross contribution margin held steady at 70%, while client retention and wallet retention (retention times revenue per customer) each declined 1 percentage point to 84% and 105%, respectively, compared to the year-ago period. And contract value was$1.72 billionatthe end of the quarter, an increase of 9% (14% in constant currency).
Consulting revenue grew 11% to $84.9 million, and 12% on a currency-neutral basis. Consulting segment gross contribution margin improved to 35% from 34% in Q1 2015, and utilization remained at 67%. Gartner also grew both its consultant force and backlog, with its billable headcount rising to 618 and backlog expanding to $114.1 million as of March 31, compared to 547 and$101.4 millionatthe end of the first quarter of 2015.
Revenue for Gartner's event business was $32.1 million, representing a year-over-year increase of 141% (143% in constant currency). And gross contribution margin for the events segment climbed to 41%, up from 18% in the prior-year quarter.
Looking forward
Gartner's strong first-quarter results encouraged management to raise its full-year guidance, including:
Total revenue of $2.405 billion to $2.465 billion, up from a prior forecast of $2.39 billion to $2.45 billion.
Adjusted EPS of $2.67 to $2.89, up from $2.55 to $2.77.
Normalized EBITDA of $450 million to $489 million, vs. $440 million to $470 million.
Operating cash flow of $370 million to $395 million, vs. $350 million to $375 million.
Free cash flow of $352 million to $377 million, vs. $345 million to $370 million.
"Gartner had a great start to 2016," said CEO Gene Hall in a press release. "We continued our trend of consistent, double-digit growth in contract value, revenue and EPS, with strong cash flow conversion. We have raised guidance following our first quarter performance and remain confident in our ability to deliver tremendous value to our clients and long-term growth in cash and earnings to our shareholders."
The article Gartner Inc. Delivers 50% Earnings Growth originally appeared on Fool.com.
Joe Tenebruso has no position in any stocks mentioned. The Motley Fool owns shares of and recommends Gartner. Try any of our Foolish newsletter services free for 30 days. We Fools may not all hold the same opinions, but we all believe that considering a diverse range of insights makes us better investors. The Motley Fool has a disclosure policy.
Copyright 1995 - 2016 The Motley Fool, LLC. All rights reserved. The Motley Fool has a disclosure policy.