Garth Brooks Wins Top Prize at Country Music Awards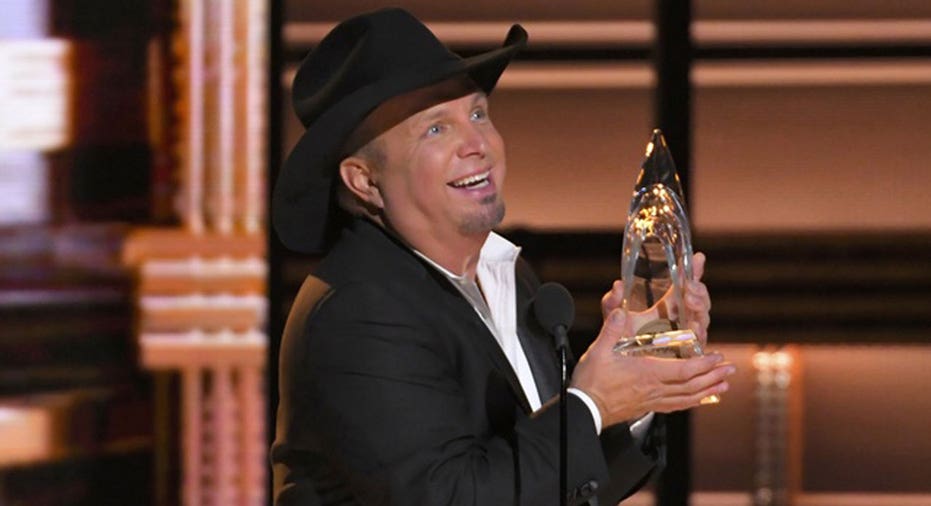 It's billed as country music's biggest night, but it was pop-R&B queen Beyonce who commanded the spotlight at the 50th annual Country Music Awards on Wednesday with a thumping performance of "Daddy Lessons."
Accompanied by the Dixie Chicks, the Texas-born star appeared more than two hours into the more-than three hour long show, which was broadcast live from Nashville on ABC, frustrating fans who tuned in specially and expected her widely touted performance to open the show.
Working a glittering, beaded gown, Beyonce brought the A-list audience to its feet with the country-blues "Daddy Lessons" from her newest album "Lemonade," joined by a bevy of on-stage musicians and the Dixie Chicks.
Social media lit up with posts debating Beyonce's inclusion on an awards show traditionally featuring few people of color.
"Tim McGraw on point with that diversity theme performing "Humble And Kind," wrote one Twitter user, while another posted "This the first time black twitter has live tweeted the CMAs. Hilarious."
Legendary country stars Dolly Parton and Garth Brooks were among the big honorees, with Brooks taking home the top award Entertainer of the Year, presented by Taylor Swift.
Parton was lauded with the Willie Nelson Lifetime Achievement Award, quipping "I would cry, but I didn't want to mess up my eyelashes."
The crowd roared with appreciation at Parton's observing that her Willie Nelson Award "is an absolute high, for me," as she emphasized the word 'high' in a nod to Nelson's well-documented marijuana use.
Kenny Chesney was presented the special Pinnacle Award, only the third time the honor has ever been presented.
Female vocalist of the year went to Carrie Underwood, her fourth win in the category.
After blurting thanks to the many legends in attendance, Underwood was seemingly at a loss for words, saying "I've just become suddenly stupid."
Chris Stapleton was named male vocalist of the year, and ended his speech saying "It takes a village," a line often associated with U.S. presidential candidate Hillary Clinton.
Co-hosts Brad Paisley and Underwood also mined the presidential campaign in opening banter that included the lines "this show is rigged," "will you accept tonight's results?" and "You're a nasty woman."
Other top awards included single of the year, won by Thomas Rhett for "Die a Happy Man," and Lori McKenna's "Humble and King," named song of the year.
An emotional Maren Morris won for new artist, noting "Last year I sat across the street in a bar and watched this show."
Eric Church won album of the year for "Mr. Misunderstood."
Other awards went to Little Big Town for vocal group of the year and the Brothers Osborne, named vocal due of the year.
(Reporting by Chris Michaud; Editing by Michael Perry)