Gap Inc. Crashes on Weak April Sales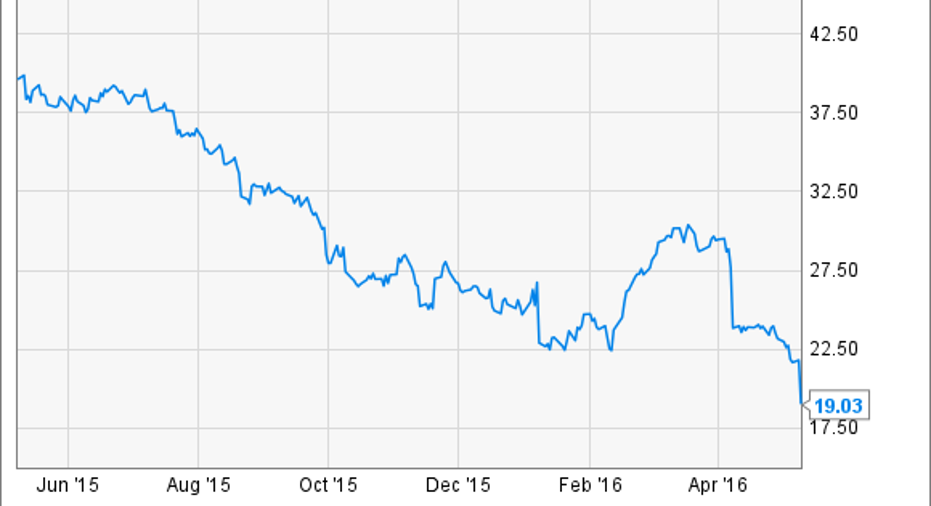 Image source: Gap.
What: Shares of apparel retailer Gap tumbled on Tuesday following the release of the company's April sales numbers. At 11:20 a.m. ET, the stock was down about 13%.
So what: Gap reported April sales of $1.12 billion, down from $1.21 billion during the same period last year. Total comparable sales were down 7%, driven by declines in all of the company's major brands. Gap Global suffered a 4% comparable-sales decline, while Banana Republic Global and Old Navy Global saw comparable sales slump by 7% and 10%, respectively. First-quarter numbers weren't any better, with a 5% decline in total comparable sales.
The company expects first-quarter EPS between $0.31 and $0.32, well below the $0.56 Gap reported during the same period last year. The company pointed to gross margin pressure due to high levels of inventory as one driver of the earnings decline. First-quarter results will be reported on May 19 following the market close.
In response to the ongoing sales declines, Gap announced that it's taking steps to improve performance. The company is evaluating its Banana Republic and Old Navy stores outside of North America, and it's looking for ways to streamline its operations. Gap CEO Art Peck tried to reassure investors. "We are committed to better positioning the business to recapture market share in North America and to capitalizing on strategic international regions where there is a strong runway for growth."
Now what: Following Tuesday's rout, shares of Gap are down about 50% over the past year. Gap's struggles to grow sales aren't new, and the company doesn't appear to be making much progress based on its first-quarter results.
Gap now trades at the lowest level since early 2012, and with the stock valued at just about 0.5 times sales, investors appear to have very little confidence that the company can turn itself around.
The article Gap Inc. Crashes on Weak April Sales originally appeared on Fool.com.
Timothy Green has no position in any stocks mentioned. The Motley Fool has no position in any of the stocks mentioned. Try any of our Foolish newsletter services free for 30 days. We Fools may not all hold the same opinions, but we all believe that considering a diverse range of insights makes us better investors. The Motley Fool has a disclosure policy.
Copyright 1995 - 2016 The Motley Fool, LLC. All rights reserved. The Motley Fool has a disclosure policy.